Love spending time outdoors in your backyard and can't wait for it to be warm enough to sit outside at night? A good patio heater will allow you to enjoy fresh air in your backyard and keep you warm and toasty all year round. You may have seen these appliances in restaurants and enjoyed the cozy warmth wrapping around your whole body, making your evening much more enjoyable. Today we're giving you a list of our top 8 best patio heaters in 2022 to make every night outside in your backyard special and extra cozy.
What to Consider When Buying a Patio Heater?
There are numerous different sizes, power supplies, and designs for patio heaters, so you need to consider several things if you want to buy the best patio heater for your needs. 
Power Source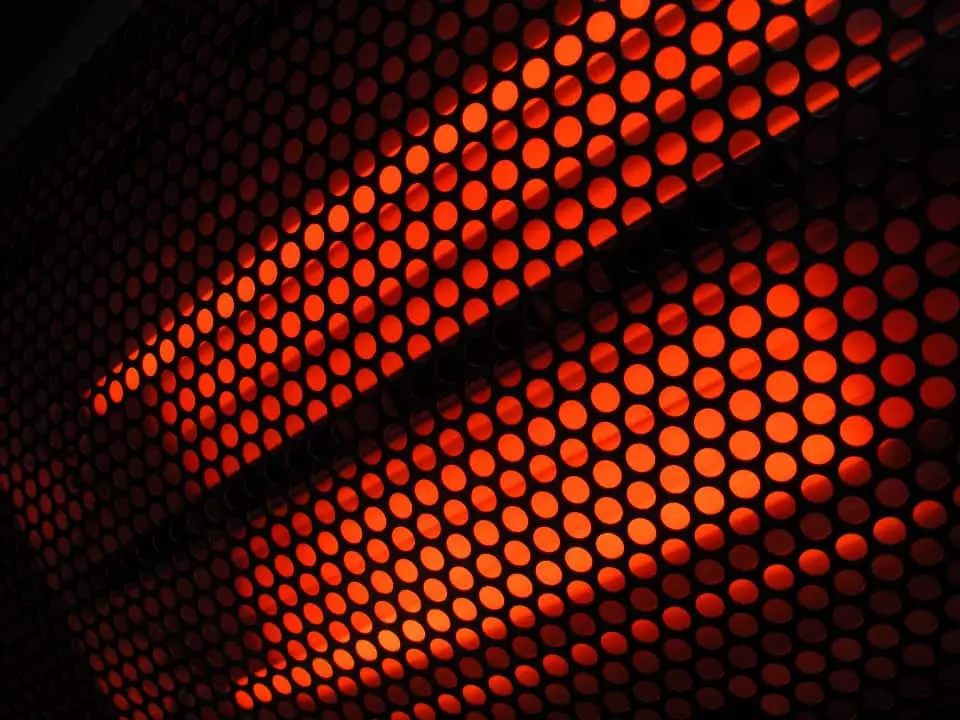 Nowadays, there are three primary power sources for patio heaters:
Electric – Electric patio heaters are very popular since they are straightforward to use, don't require much maintenance, can be mounted to a wall or patio, and can also be used indoors if they are portable. However, they are not as energy efficient as gas heaters, so you might end up spending quite a lot on electricity.
Propane Gas – This is the most popular patio heater option because of its energy efficiency and low carbon emission. Propane patio heaters also heat up quickly to provide hot air around the area in just a few seconds.
Natural Gas – Natural gas is a bit greener option than propane. If you are very eco-friendly, this is your best option. However, remember you'll need a natural gas conversion kit to connect to your house's natural gas supply.
Heat Output
All gas heating appliances' heat output is measured in BTUs (British Thermal Unit). The higher BTU, the more heat you will get. You'll find patio heaters BTUs ranging from 10,000 to 48,000 BTUs. If the weather is not very cold and you need to heat a small area, 10,000 – 12,000 BTU heater might be enough, but for larger areas and patios, go for over 30,000 BTUs.
Electric patio heaters emit infrared light energy and warm up your clothes and skin instead of the air around you. Their heat output is measured in Watts. If you want to heat a larger area with an electric heater, go for 1500W or more, while a small room or table area can be a heater with 500W – 1000W of power.
Style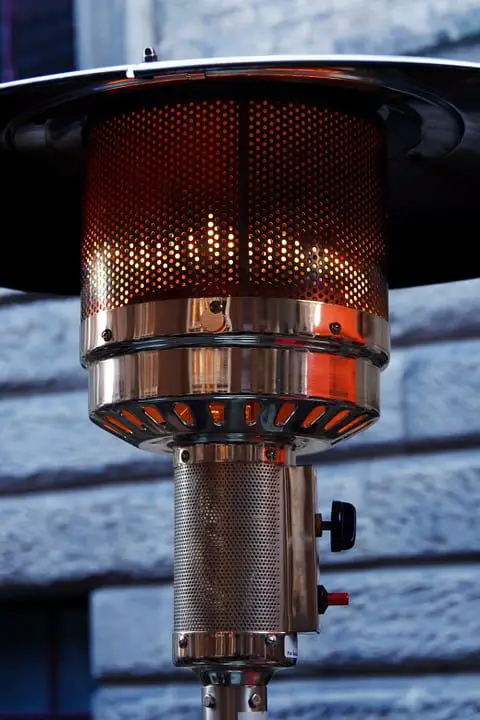 You'll find various styles of patio heaters currently in the market. Some people love the mushroom-type gas heaters, while others find them ugly and love the pyramid-shaped ones. Electric patio heaters can be wall or ceiling-mounted. If efficiency or heat output is not an issue, you'll be able to find a heater that perfectly fits your backyard or patio exterior and theme.
Best Patio Heater Reviews in 2022
---
Oscillating Ceramic Outdoor Heater with Adjustable Thermostat
Let's start with the best small patio heater on our list for people who only need an occasional source of heat while sitting on the porch. This oscillating ceramic heater is perfect for indoor and outdoor use because of its portability and space-saving design. 
The rotating design allows it to cover a 120-degree area around the heater. This electric heater has a low (750W) and a high (1500W) heat setting and an additional fan-only mode to use as a fan. For safety, there is tip-over and overheat protection.
We love that you can easily bring it outside or inside depending on your needs, but keep in mind that the electrical cord is relatively short, just 70 inches, so you'll need to position your lounging near an outlet.
This is definitely not a heater for large areas but is a perfect budget option to keep a small room warm or to keep a couple of people toasty while lounging on the porch.
Key Features:
Rotating heater covers 120 degrees area
It can be used indoor and outdoor
Portable
Space-saving
Safety features
Over-heat and tip-over protection
Budget-friendly
Weaknesses:
Short cord
Not suited for larger areas
---
Kracie electric outdoor patio heater
The Kracie electric heater is a great option to keep your patio warm. The adjustable height and 1500W power are enough to heat a small patio or a room. Compared to other electric heaters Kracie heater heats up very quickly. You can also change the inclination angle by 45 degrees to divert the heat more efficiently.
The stainless steel base makes the heater very stable. Along with overheat protection, tip-over protection shuts off the power if somebody accidentally tips the heater.
We love that there is a long power cord to better position your heater in larger areas like the patio, backyard, or garage. The only disadvantage of this heater is that the heating element is not very wide, so you need to strategically place and direct it to precisely the spot you'll be staying in.
Key Features:
Powerful
Adjustable height
45 degrees inclination angle
3-meter cord
Stable base
Over-heat and tip-over protection
Cheap
Weaknesses:
Heater elements could be wider to cover more space
---
IQ Heat Portable Outside Heater with Stand – 1500W
IQ Heat 1500W heater is the best electric patio heater on our list. If you don't mind spending a bit more on a quality product that will last you many cold seasons, this is your best bet. 
IQ Heat heater is very versatile, it comes with a tripod to position it anywhere on the ground, or you can mount it on a wall or patio frame to provide heating from above. If you're using it on a tripod, it does take a bit more space because of the three legs but is very stable and hard to tip over. Even if somebody manages to tip it over, there's an automatic shut-off along with overheat protection. The longevity and reliability are reinforced by a 2-year limited warranty against manufacturing defects. 
The remote-controlled heater has three heat settings to find that perfect temperature no matter what the weather is. If needed, you can use the heater indoors too, but we feel it's a bit large to use unless it's a big indoor area. IQ heater is very quiet and won't disturb anyone even during nighttime. 
Key Features:
Very quiet
Over-heat and tip-over protection
Stable tripod
It can be wall-mounted
Three heat settings
Remote controlled
2-year warranty against manufacturing defects
Weaknesses:
---
Hampton Bay 38,200 BTU Bronze Propane Gas Patio Heater
Propane gas heaters are very powerful and energy-efficient; that's why you usually see them in restaurants' outside areas all the time. The Hampton Bay 38,200 BTU patio heater is a bit expensive but very well built with unique features that other heaters lack.
This bronze propane gas heater is easy to set up and stands stable on the surface because of its weighted base. If needed, there are wheels on the bottom for easy relocation. Also, you'll have a head vinyl cover included to protect the heater against dust and moisture, prolonging its lifespan. 
Despite having a bit lower BTU output than other similar mushroom-type propane heaters, the Hampton Bay heater features an adjustable reflector cap that allows diverting heat exactly where needed. 
Even though the heater has a very sturdy build and weighted base to protect against tipping, there is additional tip-over and flame failure protection to shut off the gas in case somebody manages to tip it over, or there's a flame interruption.
Key Features:
Sturdy build
38,200 BTU
Adjustable reflectors
Wheels to move around
Weighted base and anti-tilt design
Flame failure cut-off
Includes head vinyl cover
Weaknesses:
Expensive
Not as powerful as other similar heaters
---
Hampton Bay 48000 Btu Stainless Steel Patio Heater
If you're looking for sheer power, then the Hampton Bay 48000 BTU heater is the best patio heater on this list for you. This stainless steel heater is an excellent option if you need to provide a lot of heat in a patio or backyard during cold evenings.
The easy to assemble stainless steel construction stands solid on any surface, but make sure to plan where you'll keep the heater since it doesn't have moving wheels. Additionally, the heater is in plain stainless steel color that might look off-putting for some.
All in all, this is a simple but very powerful patio heater to heat large areas if you don't mind the plain looks.
Key Features:
Great quality
Very powerful 48,000 BTUs
Easy to assemble and use
Weaknesses:
Plain silver look
No wheels to move it
---
Avenlur Pyramid Patio Propane Heater
This pyramid heater is an option that provides heat, is stylish, and stands as a beautiful fixture in your outside area. The 48,000 BTU heat output is enough to heat medium to large outdoor spaces while also providing a mesmerizing flame show.
The 90-inch tall pyramid heater is perfect for heating a lounging area or an outdoor dance floor on the patio. Because of its design, this heater provides heat in a 360 degrees circle and has a sturdy base to protect against tipping in case someone bumps into it. The wheels at the base will allow you to easily relocate the heater if needed.
The high-quality solid construction with quartz glass flame tube makes this heater not only exceptionally looking but also long-lasting. However, good quality and beautiful design come at a much higher price compared to other propane heaters.
Key Features:
Pyramid style
Great exterior addition
Safety shut-off valve
48,000 BTU heat output
1-year warranty against manufacturing defects
Weaknesses:
---
Amazon Basics Outdoor Patio Heater with Wheels, Propane 46,000 BTU
This Amazon private label patio heater is a powerful propane gas heater that looks pretty good, has everything you would want from a standard heater, and won't leave your pockets empty.
The 46,000 BTU heat output is enough to keep a party of 4-6 people warm on your patio or backyard. If you want to provide heat for more people, you'll most likely need more than one heater.
The heater is made from rugged steel, aluminum, and sturdy plastic. You can even choose from seven different colors. While the looks are a plus, the build itself is a bit flimsy and not very solid. However, it is straightforward to install and comes with a 1-year limited warranty.
Amazon Basics patio heater is for sure the best propane gas patio heater if you are on a budget. The flimsiness of the build is a bit annoying, but the high BTU heat output, design, and low price redeem it to be a worthy purchase.
Key Features:
46,000 BUT
Great price
Multiple colors
Easy to set up and use
Base with wheels
Amazon basics 1-year limited warranty
Weaknesses:
---
JIYU 1500W Patio Hanging Electric Heater
If you are tight on space and looking for something unobtrusive? JIYU 1500W heater is one of the best electric patio heaters that you can hang over your table or lounging area. This suspended electric heater is perfect for porches that need a little warmth during chilly evenings.
JIYU heater has three heat levels (600W, 1000W, 1500W) and heats up in just three seconds. You can easily switch between the levels or turn on/off the heater with remote control. It also comes with a 24h auto shut-off if you forget that it is on.
This heater can be used as a light source so that you won't need extra light fixtures. It's straightforward to set up; just unpack, and you can attach the harness to a hook on the ceiling. We would advise hanging it as low as possible. If you have a very tall porch ceiling, you might not get enough warmth from the heater. Finally, one minor inconvenience is the 70-inch cord, so when installing, keep in mind to have an outlet nearby.
Key Features:
Great for porches
Heats up in 3 seconds
3 heat settings: 600W, 1000W, 1500W
Easy remote control
24h auto shut-off
LED lights to provide warm light
Can be a source of light
Easy to set up
Weaknesses:
The power cord is quite short
Not enough heat on tall porches/ceiling
---
Frequently Asked Questions
Is it safe to put a patio heater on my deck?
Yes, all free-standing patio heaters will have a heat source at the top or middle of the construction, so the bottom and base of the heater won't get hot. This allows the heater to be placed on flammable decks like wood. 
Is it safe to place a patio heater under a porch?
Yes, putting a patio heater under a porch is safe as long as you have enough ceiling clearance and air ventilation. All mushroom-type heaters have shields to reflect heat downwards, thus reducing the heat going upwards, but just to be safe, always have at least 20-inch clearance to the ceiling. If your patio is enclosed with no ventilation, it's advised not to use gas heaters to avoid poisoning in case of a gas leak.
Electric heaters should have some clearance as well, but in general, they provide way less heat and no direct flame. They can also be used in enclosed porches or indoors since they don't have a poisoning risk or open flame.
Which patio heater is better, electric or propane gas?
It depends on your needs. If you want to provide more heat to a larger area, go for a powerful propane gas heater that can output 35,000+ BTUs. Propane gas heaters usually provide more heat to a larger area and are cheaper long-term because of cheap fuel. 
Electric heaters require way less maintenance and are easier to set up and a bit safer since you don't need to deal with open flame. They can also be used indoors. However, they can run up your electricity bill quite quickly if used often and for long periods.