Professional gardeners, landscapers, or anyone who owns at least a few plants or a tree should have a pair of quality pruning shears among their landscaping tools. When you need to cut some vines, thin branches, or handle something as delicate as flowers pruning shears is your best option since they are very maneuverable, ergonomic, and easily fit in your pocket. Today, we will talk about different types of pruning shears and how to pick the best one for you. We'll also give our recommendations for the top 8 best pruning shears for your garden in 2021. 
Types of Pruning Shears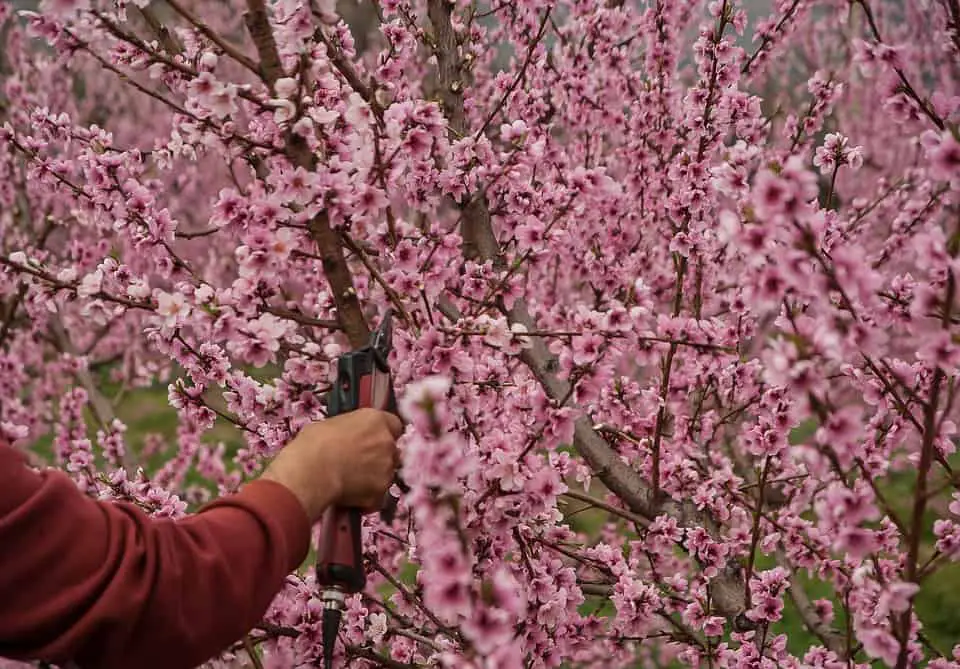 There are so many pruning shears designed for almost every landscaping and gardening task. But which one is the best? It always depends on your needs, but without specializing too deep, we'll look at the most popular ones, which should cover all your basic softscaping needs.
Bypass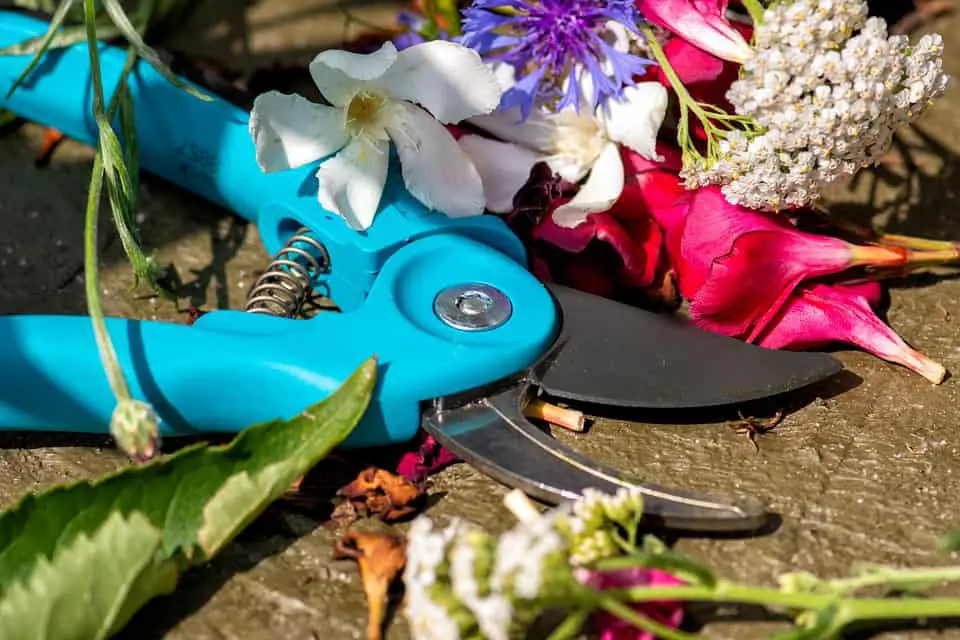 Bypass pruners are probably the most common type and should be your first pruner if you don't have a pair yet. As the name suggests, Bypass pruning shears will have a blade that will bypass the other blade providing an extremely clean and precise cut if the blade is sharp enough. Pruning small live branches, vines, flowers, or fruit and veggie harvesting is a breeze with a pair of bypass pruners.
Anvil
These pruners are called anvil shears because when the blade goes down, it pinches anything in the way against the anvil and crushes instead of cutting. Anvil pruning shears are great to use on already dead plants and things you don't care about the integrity of the stem afterward. They are most popular for their speed at cleaning up small dead branches, rose bushes, and unnecessary vines. 
Ratchet
Ratchet pruning shears are the heavy lifters in the realm of pruning shears. They are pruners with a mechanism that allows cutting in stages. The extra leverage allows to cut through thicker and more rigid materials and handling larger branches and roots. Ratchet pruners are very popular among people who have weak wrists or injured hands. 
What to Consider When Buying Pruning Shears?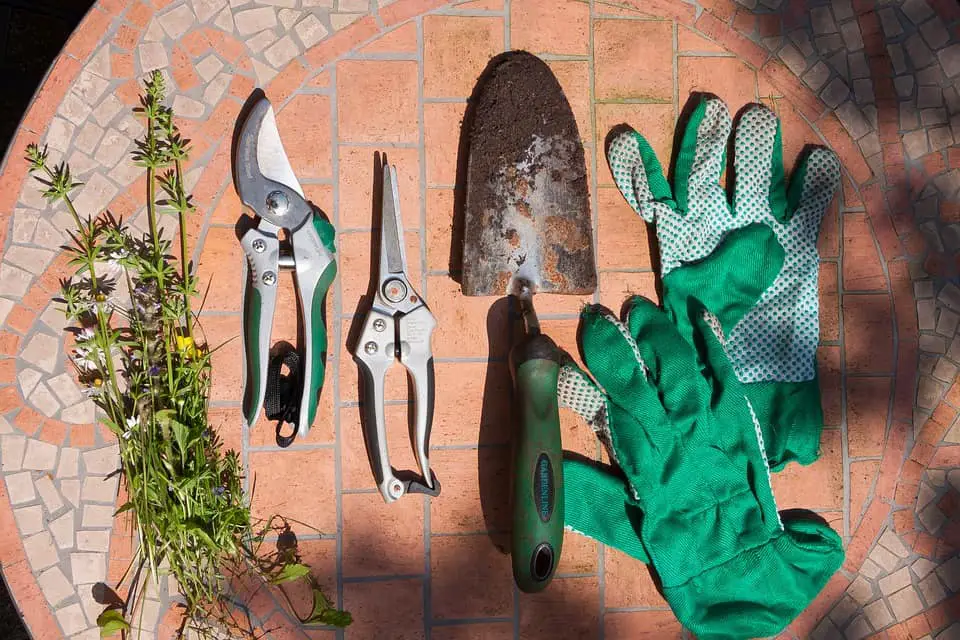 With so many different pruning shears on the market, it might be a little challenging to pick the best one because, honestly, everyone needs a different type of pruner. Here are a couple of points you should consider to choose the best pruner for your personal landscaping tasks.
Blade Quality
Most pruning shears will either have a high carbon steel blade or stainless steel one. None of them are better or worse, so it depends on how you use your pruners or what you're going to cut or trim. Carbon steel is a bit tougher metal and should last a bit longer since it's more resistant to scratches and scrapes but does rust faster, so you need to keep it away from moisture.
Pruners with stainless steel blades also rust, but they rust way slower. Most stainless steel blades are not as tough as high carbon ones but are a bit cheaper. Great for light pruning tasks that don't require a lot of force.
Ergonomics
The grip handle is a very important piece of a pruner. If you use your pruner constantly, you want to have a comfortable and, most importantly, tight grip on your pruner. A soft rubber material or coating will deteriorate over time, but comfortable pruning and tight grip are worth the extra amount you'll spend over simple hard plastic grips. 
Blade Style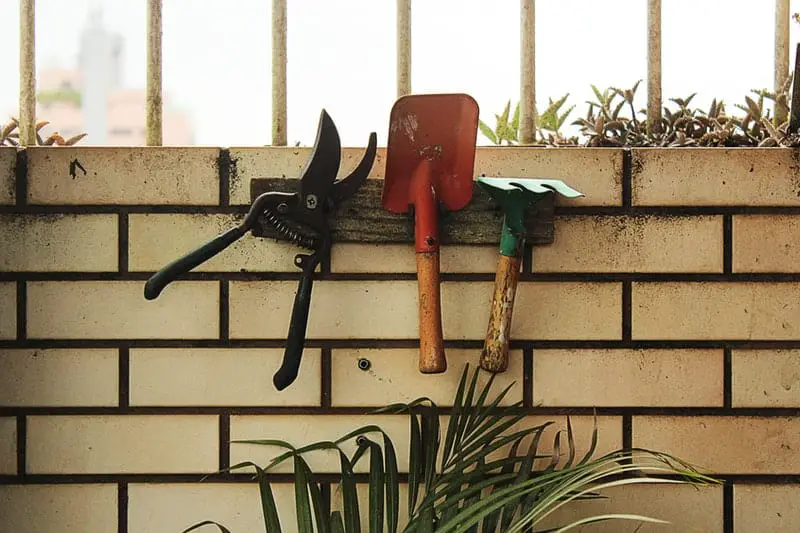 As we've already covered the two main styles of pruning shears, all you need to do is figure out what landscaping task you need the pruner for. If your backyard or garden has been abandoned and has a bunch of dead branches, bushes, roots, or vines, go for the anvil pruner for a quick cleanup. 
If you're looking to trim and cut down live plants, need precision cuts, or just a pruner for general garden maintenance, bypass pruner is a go-to for casual and beginner gardeners.
Cutting Mechanism
You'll have either a ratchet or spring mechanism on your pruners. If you want extra power and pressure on your pruner, pick a ratchet anvil pruner. They are designed to cut thicker branches, roots, and even plastic. It is also an excellent option for people with arthritis or weak hands in general. 
Spring pruners are the most common ones and probably the cheapest ones. When going for a spring-loaded pruner, remember spring mechanism is a bit more delicate and is easier to damage. If possible, go for a pruner that has its spring covered to protect from things getting into the spring.
Safety features
One of the most critical safety features for pruning shears is the locking mechanism. Non-spring pruners could get by without it, but spring pruners will always have blades open if you release the handles. The locking mechanism in spring pruners allows the blades to be closed when you're not using them. This feature usually adds extra cost to the pruner but will save you from cutting yourself with extra sharp blades.
Top 8 Best Pruning Shear Reviews in 2021
---
Fiskars 379451-1002 SoftGrip Pruner
Fiskar landscaping tools are among the best in the market, so it's not hard to guess that we'll have Fiskars pruning shears on top of our list. These bypass shears have razor-sharp blades with an anti-rust coating that provides low friction extremely precise cuts even when dealing with saps. 
You'll have no trouble cutting live plants of up to ⅝ inch thickness without damaging the stems. The high-quality build is solid and gives a comfortable and tight grip because of the soft handles. We appreciate the bright orange color, which allows you to quickly find your shears if you leave or drop them in the grass.
All in all, Fiskars 379451-1002 bypass pruner is one of the best pruning shears on our list for beginners or people on a budget. 
Key features:
Cut capacity: ⅝ inch
Anti-rust coated blade
Precision ground razor-sharp blade
Soft grip handles
Excellent price to quality ratio
Weaknesses:
No locking mechanism
Spring is open to debris
---
Mueller Soft Grip Garden Pruning Shears
Mueller hardened titanium blade pruning shears are amazingly sturdy and feel very durable. It seems to be built very well with no flimsiness or loose screws. The hardened titanium blades are extra sharp and can cut through branches of up to 1.2-inch thickness. The locking mechanism will allow you to lock the blades and carry the shears without fear of cutting yourself.
We find the padded handles very comfortable and enjoy a tight grip even if they are wet or dirty, but we doubt their durability in the long term. 
Excellent build, sharp blades, and comfortable grip make Mueller Garden Pruning Shears one of the best bypass pruners on our list.
Key features:
Cut capacity: 1.2 inch
Extra durability with hardened titanium blades
Very sturdy
Protected spring
Comfortable grip
Locking mechanism
Cheap
Weaknesses:
Padded handles might not last too long
---
Corona BP 3180D Forged Classic Bypass Pruner
Corona is a landscaping tools company from the USA that makes high-quality, affordable tools for your garden. We've already given praise to their hand pruning saw, and now Corona BP 3180D is one of the best bypass pruners on this list too. 
The heat-treated forged steel alloy construction doesn't have the best looks but is very solid and designed for heavy use in your backyard or even professional landscaping projects. It even has a sap groove that protects the blades from sticking when dealing with heavy sap vegetation.
It is nice that the blades open wide enough to handle larger branches; however, we felt that the shears struggled quite a bit cutting 1-inch thickness branches. You should also take into consideration that this bypass pruner is a bit heavier than the competition.
Key features:
Heat-treated forged steel alloy
Locking mechanism
Sap groove
Non-slip grips
Weaknesses:
Quite heavy
Couldn't deal with 1 inch thick branches as advertised
---
Fiskars Micro-Tip Pruner Non-Stick Blades
Looking for something very precise for fine cuts when pruning delicate flowers, herbs, or leaves? The Fiskars micro-tip pruner is basically a very sharp and sturdy scissors for your landscape. 
The fully hardened, precision-ground stainless steel blades provide a clean cut without damaging the plant's stem. You'll also have a handy lock mechanism to keep the blades closed. It's also nice to have a non-stick coating that reduces friction and protects from buildup. 
If you're very meticulous and love shaping and cherishing plants, flowers, and bushes to the smallest detail, Fiskars micro-tip pruner snips are the best snips on our list for micro gardening tasks.
Key features:
Perfect for small plant shaping 
Precision-ground stainless steel
Very sharp blades
Lock mechanism
Non-stick coating to reduce friction and buildup
Weaknesses:
Can't handle thicker plants
---
Fiskars Power-Lever Anvil Pruner
Another Fiskars pruner? Yes, this time, it's an anvil pruner for dead greenery cleanup. The Power-lever anvil pruner from Fiskars offers excellent quality, durability at an extremely low price, so it's a no-brainer why it takes a spot as one of the best anvil pruners on our list.
The power leverage technology allows for up to 2x more cutting power as the Fiskars four-point pivot design maximizes leverage. Combine that with sharp precision ground blades and low friction rust-resistant coating to get a pair of anvil shears that can cut up to ⅝ inch thickness dead branches with ease. 
Cushioned handles allow for a steady and slip-resistant grip even when you need to use a lot of force. The only disadvantage we've spotted in Fiskars build is that the locking mechanism is tough to engage. 
Key features:
Cut capacity: ⅝ inch 
A perfect tool to quickly clean up dead plants
Precision-ground extra sharp blade
Lifetime warranty
Power leverage technology
Cushioned grip
Locking mechanism
Weaknesses:
Locking mechanism hard to engage
---
Gardenite Power Drive Ratchet Anvil Hand Pruning Shears
Suffer from arthritis or just don't have enough power for those ½ inch branches? This Power Drive ratchet anvil pruner is great for people who have weaker hands but still want to deal with more formidable hedges and thicker live branches. The ratchet mechanism is great for improving the cutting power without using much force. Pruning with this ratchet anvil pruner will take more time, but you won't put a strain on your arms.
The Gardenite ratchet anvil pruning shears have a comfortable handle with a non-slip grip and locking mechanism to carry and store the shears safely. We did experience that the ratchet function and the whole build are a bit flimsy, but for the budget price it's being sold, you can't complain too much.
Key features:
Effortless cutting with ratchet mechanism
Hardened steel blades
Ergonomic design
Lock mechanism
Budget price
Great for beginners or casual landscapers
Weaknesses:
Ratchet function a bit flimsy
The build could be sturdier
---
The Gardener's Friend Pruners, Ratchet Pruning Shears
Last but not least on our list is Gardener's Friend ratchet anvil pruning shears. These premium shears come at a pretty high price tag but do offer excellent quality and durability.
A sharp blade allows cutting through even thicker branches, twigs, or roots without using much force. The ratchet mechanism makes it a perfect gardening tool for elders or people with injured hands. The only flaw of this tool is that the blade locking mechanism is slightly hard to engage or disengage.
If you don't mind spending extra for quality and durability, the Gardener's Friend anvil ratchet pruning shears is the best anvil pruner on our list in terms of durability and build quality.
Key features:
Great for people with weak hands
Very sturdy
Can handle delicate and tough cuts
Sharp blade
Weaknesses:
---
Felco F-2 068780 Classic Manual Hand Pruner, F 2, Red
For my money, the Felco brand of pruner is the absolute best on the market. I have been using them for many years of landscape construction and maintenance and have found them to be consistently the best. I have tried countless other varieties and none of them have held a sharp edge and held up longer than the Felco brand.
Key features:
Very strong and durable blades
The ability to buy replacement blades
Trouble free coiled spring
Comfortable handle
Light weight
These will cut whatever you have to strength to cut.
Weakness:
As with any pruner, the blades can be bent if twisted sideways while in a large branch
best hand pruning saws