Are you tired of taming flame on your wood-burning fire pit or waiting for your coals to get hot in a charcoal grill? Consider getting a propane gas grill that will let you start grilling in 5-10 minutes. If you are a beginner or just lazy like we are, you'll love the convenient and quick heat control whether you're searing a steak or BBQing tasty ribs. To save you the hassle of researching which propane gas grills are the best, we have compiled a list of the Top 7 Best Propane Gas Grills in 2021 with detailed and compact information about top-performing grills in various categories.
What to Consider When Buying a Gas Grill?
Before jumping in and buying the first recommended gas grill, take some time and think about what kind of gas grill best fits your needs. Here are a couple of points you should take into consideration.
Price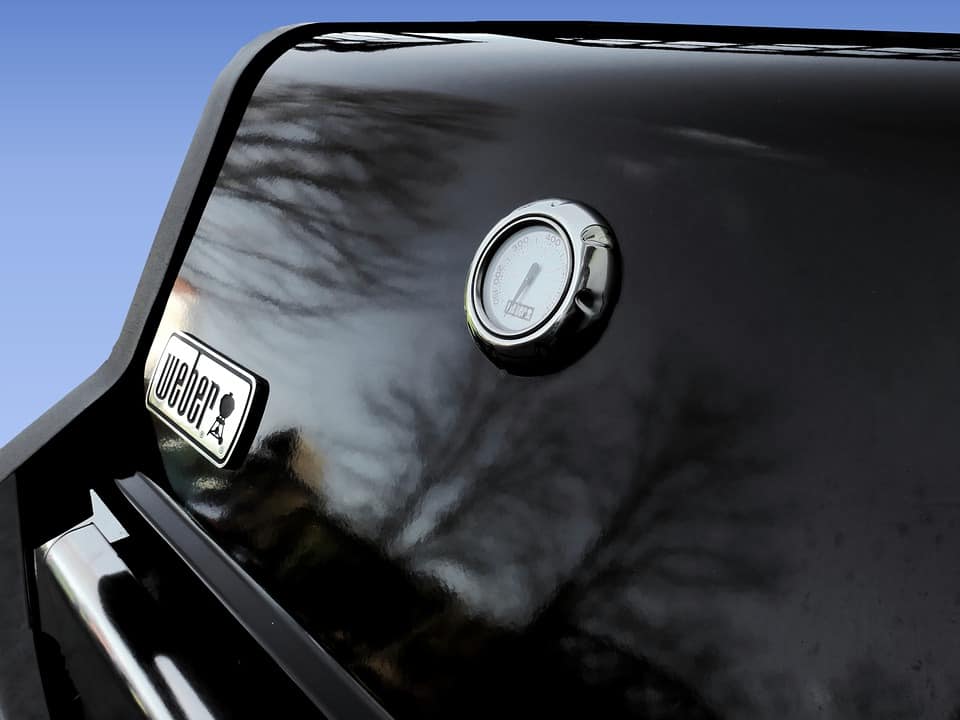 As always, your budget is one of the most significant factors when looking for a gas grill. If you're looking for a budget option, be ready to sacrifice quality, durability, and special features. However, you don't need to spend $10,000 (yes, there are grills for $10,000 or more) on a grill to get high-quality. Our list contains propane gas grills with the best price-to-quality ratio, so you don't spend a single dollar for something you don't need.
Size
Reflect on your previous grilling experience. How many people do you usually need to feed? Is it just your family of 4 or large parties? Large gas grills are pretty chunky and take a lot of storage space, so if you're going to fire up the grill only occasionally for a few burgers, go for a compact two-burner gas grill or even a tiny portable tabletop grill.
For bigger households or events, get a four-burner grill or at minimum three burner one to avoid cooking your food in multiple batches and making a part of your guests wait while others already munch on your delicious burgers.
Features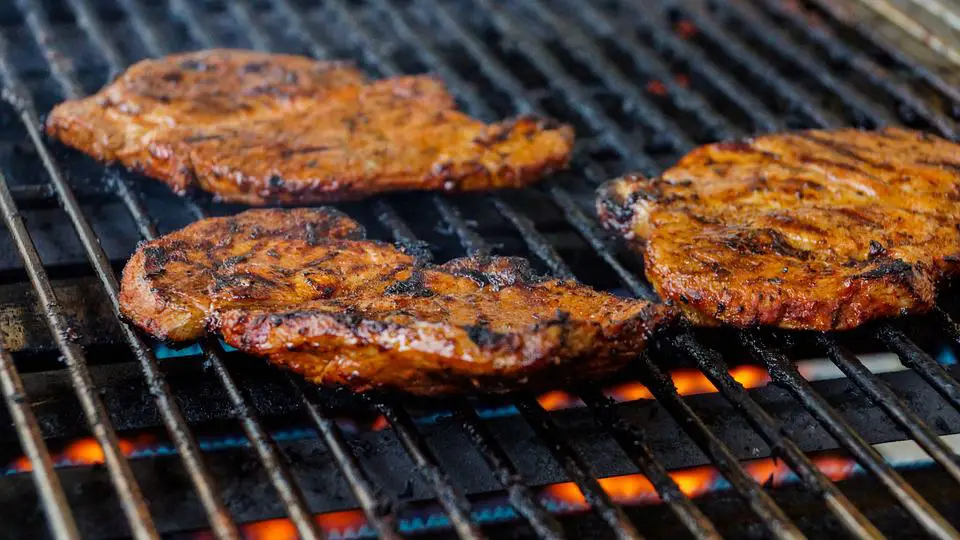 Warmer rack, rotisserie forks, a side burner for side dishes or sauces, safety gadgets, LED lights for night cooking, fuel conversion, and many other various features can be found on a propane gas grill. Just remember, the more special features a gas grill has, the higher your total price will be. 
In our opinion, a good gas grill should have a good igniter, high-quality grill grates, a warmer rack, and maybe a side table. Anything extra is optional and should be picked depending on your needs.
Best Propane Gas Grill Reviews in 2021
---
Coleman Portable Propane Grill for Camping & Tailgating
The Coleman portable propane grill is excellent for camping trips or tailgating events for 2-4 people. The 28.81 x 18.31 x 10.63 inches size will fit in any car trunk and will be easy to store during the cold season.
The high-quality cast iron grill construction and stationary legs provide stability and extra sturdiness to the whole build. The grill grates are enameled cast iron which is dishwasher safe but can be easily cleaned with some hot soapy water. However, avoid using metal utensils, or you'll scratch and damage the non-stick surface.
We love that this Coleman grill is very easy to maintain. The grates can be washed with soap without any strenuous scrubbing, and the bottom of the grill has a water pan to catch all of the nasty grease drippings.
This small 225 sq. in. grill has two burners; however, they are divided into an inner and outer ring instead of separate heat zones.
All in all, the Coleman Portable propane gas grill is not the most powerful gas grill you can get but is the best portable gas grill for camping, tailgating, or tabletop cooking for a small family.
Key Features:
225 sq. in. cooking surface
Two burners
11,000 BTU power
Water pan to catch grease
Solid build
Very portable can be used tabletop
Easy to clean
Weaknesses:
It cannot be adapted to natural gas line
Just one heat zone
Expensive for a small grill
---
Cuisinart CGG-750 Portable, Venture Gas Grill
Look at this beauty! If you're a sucker for beautiful builds and aesthetics, the Cuisinart CGG-750 portable grill is one of the most beautiful portable propane gas grills on our list. It's perfect for trips to the beach, park, or short BBQ sessions in your backyard.
The Cuisinart CGG-750 has an innovative stacking design with a bottom with space for a 1-pound propane gas cylinder, the middle part containing the grill itself, and the top cover with an integrated cutting board. Everything stacks up nicely, and you can carry it like a small picnic basket.
The small 154 sq. in. cooking surface is best suited for two people. 9,000 BTU power is also a bit weak and won't give you scorching heat to properly sear a steak. 
The most significant advantages of this small grill are its beautiful aesthetic build, looks, and portability to take it almost anywhere. This is a perfect option for an occasional tableside grilling in your beautiful backyard, park, or beach.
Key Features:
154 sq. in. cooking surface
9,000 BTU burner
Integrated cutting board
Portable and lightweight
Efficient stackable design
Beautiful looks
Weaknesses:
Small cooking surface
The grilling grate is more like a grill pan
Shallow drip pan
Weak BTU power
---
Char-Broil 463673519 Performance Series Propane Gas Grill
Let's leave portable grills and move on to grills for your backyard. The Char-Broil 463673519 is a two burner and 24,000 BTU powered propane gas grill which is excellent for 2-4 person households. 
This model ignites very easily with a battery-powered ignition by a button push. Two burners allow you to have different heat zones on the 300 sq. in. primary cooking surface. There is also an additional warming rack (100 sq. in.) to place already cooked protein or veggies. If you don't have a table nearby, you'll love the two folding side tables to place any dishes or barbecue equipment while grilling.
The Char-Broil 463673519 propane gas grill is very easy to maintain. Porcelain-coated cast-iron grates are non-stick and easy to clean after use. A removable grease pan is convenient to take out and clean up. When grilling and cleaning are done, you can unfold the side tables and conveniently store the grill even in small storage spaces. 4 caster wheels allow you to easily transport the grill no matter if it's on your brick patio or thoroughly groomed lawn.
This is one of the best compact gas grills on our list for small households that don't have a lot of space in their backyard or patio.
Key Features:
300 sq. in. primary cooking surface
24,000 BTU power
Two burners
The thermometer on the lid
Compact design
Porcelain-coated cast-iron grates
Electronic ignition
Two side tables
Easy to move wheels with lock ability
Weaknesses:
Less at the front of the grill than in the back
Requires quite a bit of assembly
---
Huntington 30040HNT Liquid Propane Gas Grill
The Huntington 30040HNT propane gas grill is one of the best mid-sized gas grills if you're on a budget but still want to enjoy all the perks of proper grilling. Huntington products are made in North America and actively compete with overseas brands by offering customers lower price points while maintaining high quality.
The Huntington 30040HNT propane gas grill has a cast aluminum box that helps retain more heat and is less prone to rusting, increasing the grill's longevity. The whole body is made from North American steel, which should be very sturdy; however, the steel is relatively thin, so the build does feel a bit flimsy when assembled.
As mentioned above, it's a mid-sized gas grill with 430 sq. in. of primary cooking surface and 130 sq. in. space on the warming rack. You'll have no trouble feeding 3-5 people, but a bigger party will have to wait in line.
The Huntington 30040HNT is a fantastic option on a budget for occasional grillers. It may not be the most powerful grill and a bit flimsy, but the quality of materials is quite good. It delivers everything you would want from a propane gas grill without costing a fortune.
Key Features:
430 sq. in. primary cooking surface
30,000 BTU power
Two burners
Porcelain-coated grates
Two side tables
Affordable
Weaknesses:
---
Weber 61016001 Genesis II E-335 3-Burner Liquid Propane Grill
If you're a regular reader, you know that the Weber company name pops up in almost every article about grilling. They've been producing consumer-boasted grilling equipment since the invention of the kettle grill in 1952. The Weber Genesis II E-335 is no exception. The superb build quality, power, and numerous accessories take us to the professional grillers league.
The GS4 high-performance system is backed up by a 39,000 BTU power main burner and 12,000 BTU side burner for sauces or side dishes. Additionally, there's a 9,000 BTU sear station explicitly made to add fantastic sear and grill marks on your meats.
A large 513 sq. in. cooking surface grates are made from 7mm solid stainless steel rods and will fit up to 20 burgers. The grill has three burners, so you can multitask on three separate heat zones and rest your food on a warming rack.
Genesis II E-335 is a very versatile and convenient grill. You'll have quite an ample storage space under the grill for your disposables or cleaning equipment. Tables on the sides give you enough space for prepping or keeping dishes and drinks.
The whole build of the grill and accessories are protected by a 10-year warranty making it the best large propane gas grill in 2021 on our list. You'll have to spend a bit more, but it is a long-term investment that should serve you a decade.
Key Features:
513 sq. in. primary cooking surface
39,000 BTU power main burner, 12,000 BTU side burner, and 9,000 BTU sear station
Solid stainless steel grates
Interactive 3D assembly instructions
Storage space under the grill
Sear station
Side burner
10-year warranty on all parts
Weaknesses:
---
Char-Broil 463377319 Performance 4-Burner Liquid Propane Gas Grill
The Char-Broil Performance 4-Burner gas grill is an excellent option for large households or party caterers who are on a budget but still want to entertain a large group of people. 
The 425 sq. in. primary cooking surface is large enough to cater 10 to 15 people at a time while also cooking up a sauce or side dish on the side burner. The cooking grates are made from porcelain-coated cast-iron, which helps retain heat and is easy to clean. Having four burners allows you to divide the grill into multiple heat zones to cook multiple dishes simultaneously. 
The grill construction is made from gauge steel with stainless steel finish on other parts. We felt that the steel is a bit thin, making the grill flimsy if moved around, but you probably shouldn't expect superb quality for a budget price. The Char-Broil 463377319 is our pick for the best large propane gas grill on a budget.
Key Features:
425 sq. in. primary cooking surface
The temperature gauge on the lid
Side burner
Side table
Warming rack
Four burners
Porcelain-coated cast-iron grates
Budget price
Weaknesses:
Thin gauge steel construction is a bit flimsy
---
Blackstone 36 Inch Cooking 4 Burner Flat Top Gas Grill
If you can't live without pancakes, eggs, and bacon, consider getting a flat-top gas grill in your backyard. Imagine waking up early in the morning and firing up a tasty diner-style breakfast on your own flat top!
The Blackstone 36-inch flat top grill has four burners and a 720 sq. in. cooking surface to create various heat zones for multiple dishes at a time, even for a large party. Want to have a large barbecue party? No problem, this grill can handle up to 30 burgers at a time, and the flat top will allow you to get that crunchy sear by using burger grease, which would usually be lost on a regular grill. Additionally, you have less hassle when cooking bacon or small veggies, and cleaning is much easier since you have only one surface to clean.
This flat-top grill has 4x 15,000 BTU burners and a thick rolled steel surface for fantastic heat retention to sear your steaks and burgers properly.
Because of the thick steel surface and wide-spread legs, the whole grill feels very solid on the ground and stays in place with the help of lockable caster wheels. This flat top is not the best to take camping since it is pretty bulky and weighs 120 pounds.
All in all, Blackstone 36-Inch flat top grill is one of the best flat-top grills currently on the market and a fantastic budget option for large catering events and parties.
Key Features:
720 sq. in. cooking surface
15,000 BTU power
Four burners
Budget price
Thick rolled steel surface
Easy to clean
Weaknesses:
Heavy
Not as powerful as other large grills
Gas Grill Maintenance Checklist
Preheat before grilling
You should always cook on a hot grill. When a grill is preheated, you'll have indirect heat cooking your food (when the lid is closed, of course). If the grill is just turned on and you slap a burger on cold grates, it most likely will get stuck, and only the bottom will be cooking by direct heat for the next 5 minutes.
Clean your cooking grates
Before and after every use, you should clean your grilling grates or flat top to avoid burnt charcoal on your next meal or even food poisoning. Use necessary grilling tools like grill brushes or just soapy water, depending on your cooking surface material.
Empty the grease drip pan
Avoid nasty smells by occasionally removing and cleaning your grease drip pan. We like to clean it every other grilling, but the more often you clean it, the better.
Use a grill cover
If you want your grill to last long, you need to get a grill cover. Rain, wind, sun, leaves, and other debris will have a toll on your grill very quickly despite it being rust-resistant. A cheap water-resistant cover will keep your grill clean and moisture-free.