Add a bit more authenticity, sophistication, and rustic atmosphere to your garden with a chiminea fire pit. This pear-shaped outdoor fire pit has been used for warmth and cooking for over 400 years, with origins tracing back to Spain and Mexico. These days chimineas are gaining even more popularity because of their exquisite looks that add character and authenticity to your garden or a backyard. Take a look at our list of the top 7 best chimineas for your backyard in 2021 to find the perfect option for your garden.
What to Consider Before Buying a Chiminea?
Size and Shape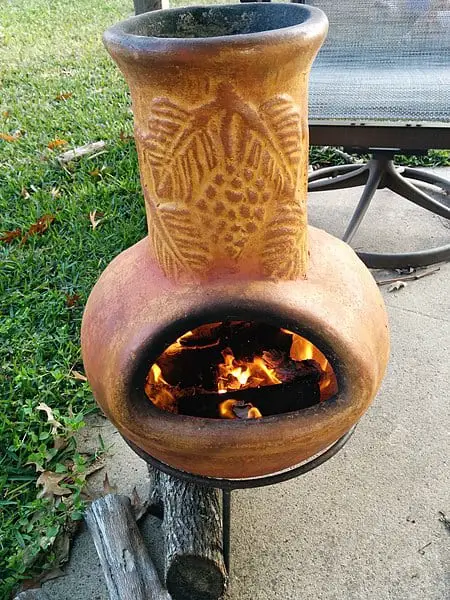 Depending on your needs, you might want a larger or smaller chiminea. If you're looking for a cozy night outside on your patio with your significant other, then a small chiminea is perfect. If you're looking to provide warmth for a group of friends, go for a chiminea with a larger base so it would fit more fuel. Larger chimineas are quite similar to big wood-burning fire pits with mesh on top, except the pits don't have chimneys to collect some of the smoke. Just remember, the larger the chiminea, the more care and maintenance it might need.
Design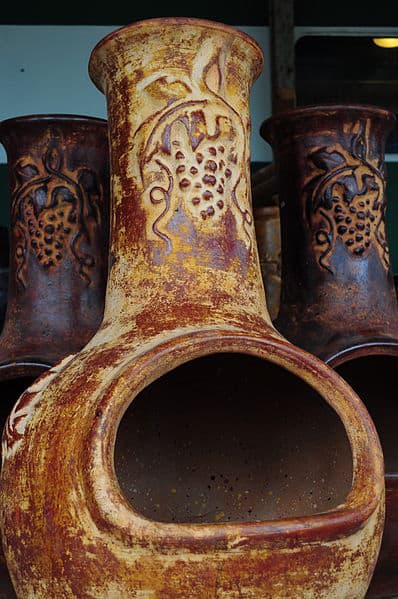 Chimineas are all about the looks! Traditional-looking ones are pear-shaped with a bubbly bottom and chimney going upwards. They are excellent if you're looking for something rustic and need to provide heat to a smaller area. If you want to do some grilling and provide heat for a larger area, you might want to go for a chiminea with a mesh. It will provide a 360 degrees view of the fire and usually has more space for grilling. However, you'll have more smoke coming through the mesh instead of going out the chimney, and if the steel supports rust away, you will be left with an open fire pit.
Material
Traditional chimineas are made out of clay, usually by hand. These authentic chimineas are much heavier than most metal ones and require a lot of maintenance and care. For first-time buyers, we suggest staying away from clay chimineas. They look amazing but are extremely fragile, heavy, expensive, and require a ton of care.
The most common choice these days are metal chimineas. You'll be able to find cast iron, cast aluminum, steel, or even copper chimineas. If you want something very sturdy, go for cast iron or cast aluminum. Steel and copper chimineas are very easy to move around if you decide to rearrange your backyard, but they are also prone to corrosion and rust.
Accessories
Chimineas usually don't have a lot of accessories. A chiminea might have a wood grate at the bottom to provide more airflow for your fuel, but it is not a necessity since most chimineas usually have an air vent. If you want to cook, grill or smoke something, look at a chiminea that allows inserting a grilling grate. Some chimineas have mesh in the build to protect you from jumping embers.
Top 7 Best Chiminea Reviews
Esschert Design FF109 Small Terrace Heater
Esschert FF109 is a genuine cast iron chimenea for people looking to add extra coziness and a small fire source on their patios. Its dimensions are 15.75 x 14.96 x 27.95 inches and weighs 46 lbs. since it's made from cast iron. Yes, it weighs quite a bit and is not very portable, but the whole cast iron construction is exceptionally sturdy and durable. It also comes with a lid for the top to protect against rain and unnecessary debris falling inside.
Don't be mistaken and think that it won't produce enough heat. This black beauty might be petite, but it packs a punch. When you have a proper fire going, cast iron gets really hot and will heat 6-8 feet around the chiminea. Depending on your patio or backyard layout, that might be enough to heat 4-8 people around the chiminea. If you want, you can also pop a grill grate on the tube top and cook some food.
The 14-inch mouth on this chimenea and a smaller chamber does limit the size of logs and kindling you can use. Anything over 8 inches in length will be hard to fit inside.
Other than that, the FF109 is one of the best small chimineas currently on the market that will add a rustic look and exclusive style to your outdoor living space.
Key features:
Cast iron construction
Sturdy and durable
Authentic design
High heat output
Cheap
Weaknesses:
The small body requires short logs.
B H & G C0. Antique Bronze Cast Iron Chiminea
If you're looking for something more elegant and sophisticated than a simple firewood burning fire pit, B H & G chiminea might be a perfect option for you. The 46-inch height chiminea has a 360 degrees view of the fire through a thin mesh. A large 28-inches width chamber allows you to hold a lot of wood and provide heat for your whole patio.
This antique-style chiminea is made of cast iron and has a bronze finish. Compared to other cast iron chimineas B H & G Antique chiminea is much cheaper. We can see that the construction is a bit thinner than you would expect, so the longevity might be shorter than thick and heavy cast iron chimineas. However, it does come with a poker, lid on top, and even a nylon cover to protect against rain, snow, or other debris when not in use.
This large 360 degrees chiminea is the best budget chiminea on our list today and a perfect addition to any lounging area if you want something different but don't want to spend a fortune.
Key features:
Cast iron construction
Large capacity
Nice bronze finish
360 degrees view of the fire
Cheap
It comes with a lid and cover
Weaknesses:
BALI OUTDOORS Outdoor Fireplace Wooden Fire Pit, Chimenea
We have already reviewed a bunch of wood-burning fire pits from Bali Outdoors, so it's no surprise to see their product on the best chimineas list too. Their cast iron chiminea has a black matte look to represent classic authentic chiminea and features a ton of accessories for easy use and care.
The 22 x 22 x 45 inches cast iron construction weighs almost 53 lbs. and stands on three sturdy legs to elevate the chiminea from the ground. A wide 22-inch cage has plenty of room for 16-inch firewood logs. The whole middle sectioned has fine mesh for a nice view of the fire all around the chiminea. A wide sliding door provides easy access to add more fuel or when using a grill grate for food. We love the small sliding ash drawer at the bottom for an easy clean-up after use.
As mentioned above, if you want, you can grill or cook food in this chiminea with the included grill grate and a convenient poker. The best part is that this lovely looking, high-quality, and nicely designed chiminea is not expensive at all! For this reason, it takes the overall best chiminea spot on our list today.
Key features:
Cast iron
Sturdy construction
Beautiful classic look
Large capacity
360 degrees fire view
It can be used to grill, cook, or smoke.
Easy clean-up
Lid
Weaknesses:
Kotulas Cabin-Style Outdoor Cooking Steel Chiminea
Love grilling but want something different than a regular fire pit? Kotulas Cabin-style chiminea is an amazing heat and fire source that looks like a small cabin. You'll have plenty of space for grilling, while the small chimney will protect you from the pesky smoke.
The 0.8 mm – 1 mm thickness gauge steel construction is sturdy enough to stand firmly on any surface. The whole chiminea has a high-temperature finish and lovely deer engraved at the front to add some Northwoods vibes. You'll also have poker and an ash shovel included in the purchase.
The chiminea's unusual design makes it the center of entertainment during gatherings with friends and family. The opening and inside are big enough to add a grill grate for 4-6 people or use it for a cozy fire and marshmallow roasting.
The only disadvantage with this great-looking chiminea is the steel construction that is much more prone to rusting. Make sure to get a cover for it or add an additional heatproof paint coat.
Key features:
Exceptional design
Gauge steel construction
Large enough to grill food
Poker and shovel included.
Weaknesses:
Deckmate Sonora Outdoor Chimenea Fireplace Model 30199
Standing at over 4 feet tall, Sonora is the best chiminea from Deckmate to date. Not only that the tall tube will protect everyone around from the smoke, but the build itself is remarkably sturdy with an alluring rubbed bronze finish.
The 21 x 21 x 51.6 inches chiminea weighs 75 lbs. making it very stable on any surface. It features a fine wire mesh body to provide an all-around view of the fire. The big chamber can easily fit 16-inch logs and even some 18-inch ones. A sliding door will give easy access to add firewood, while the ash drawer makes it easy to clean up after every use with the provided poker.
We love the construction of the chiminea and the whole build in general; however, the grate to hold burning wood seems to lack quality. Other than that, Sonora is the best large chiminea on our list in 2021.
Key features:
Large capacity
Cast iron construction
Rubber bronze finish
Tall tube for smoke
Can fit large logs
Ash drawer
Poker with hanger
Weaknesses:
Grate quality seems sub-par.
Quite expensive
Venetian Grill Wood Burning Chiminea Charcoal Color
Blue Rooster is one of the top chiminea manufacturers you can find. They strive to engineer their chimineas to last a lifetime and put their money where their mouth is with a lifetime warranty! If you are willing to splurge and want a product to last you a lifetime, then Blue Rooster Venetian chiminea is the best luxury chiminea for you.
The large opening allows you to easily add firewood logs of up to 16 – 18 inches. The company says the chamber easily fits up to 20-inch logs, but we think they're pushing it a little bit, but you probably could fit one or two such length logs.
Ok, so the chiminea is for a lifetime and is big enough for big parties, but for us, the best part is the stunning Venetian-style exterior. The black matte finish with engravings mimicking old Italian Gothic-style columns will be an eye-catcher, and you'll definitely get a ton of compliments. Even if you don't use the chiminea often, it will be a fantastic addition to your outdoor living space style and decor.
Key features:
Cast aluminum construction (will not rust)
Large capacity
Amazing Venetian style
Very durable and rust-resistant
Lifetime warranty
Weaknesses:
Sunnydaze Modern Chiminea
Tight on space but want a bigger fire source to heat up the patio? Sunnydaze heavy-duty cold-rolled steel chiminea is large enough to heat big spaces but doesn't take half of your patio. The 18-inch wide chiminea body (22-inch width legs) and large opening easily fit standard-sized logs. The sturdy steel provides a lot of heat around the chiminea, making it a perfect lounging spot during cold nights.
You can use the chiminea for grilling if needed. Just remove the wood grate and add your own grilling grate (not included).
This chiminea is made from a bit thinner steel compared to other chimineas; that's why it weighs just 30 lbs. On the one hand, yes, it's a bit more portable, but on the other hand, it's not as sturdy and might rust faster. Sunnydaze does give a 1-year warranty in case of any early malfunctions or breaks. There is also no lid or cover with chiminea, so if you want it to last more than a year, make sure to get a cover that protects chiminea from rain and moisture in general.
Key features:
Cold-rolled steel construction
Space-saving design
1-year warranty
Lightweight
Easy to assemble
The rustic, old-school log cabin design
Weaknesses:
A bit flimsy
No chimney lid
No spark guard
Frequently Asked Questions
Which is better: clay or metal chiminea?
Clay chimineas usually are a bit more expensive (thick cast iron chimineas come close), but they do provide an exceptionally authentic, rustic, and warm atmosphere to your backyard. Clay can deteriorate over time, and you really shouldn't try to move a clay chiminea once it's been used for a while. The combination of extreme heat, outdoor moisture, and freezing may cause the clay to crack and fail. If it fails while you have a fire burning, it could be a real hazard.  Metal chimineas come in many varieties.  Sheet steel is light, cheap, portable, and prone to rust through.  Cast iron are very heavy and durable.  Cast aluminum are probably the best chimineas out there as they will not rust like steel, they will not break apart like clay, and they aren't as heavy as cast iron. 
If you want a short-term chiminea that is portable, go sheet steel.
If you want a chiminea to last a lifetime, go with cast aluminum.
Is a chiminea better than a fire pit?
Not necessarily; it depends on how you want to use it.  Wood-burning fire pits are better for big open fires that everyone can gather around and see.  Chimineas are better for smaller fires for several people with less smoke and more heat holding capability due to the chimney and surround.  Chimineas are a bit safer because a strong wind won't blow hot embers across your yard.
Will chiminea produce enough heat to keep people warm in the backyard?
The bigger space you are trying to heat, the bigger fire you will need.  To warm a large group, you will need a larger chiminea.  You will never warm the yard with any size fire (unless you have a small yard and a large bonfire).  If you are trying to warm a circle of friends gathered around the chiminea on a chilly evening, then yes, any of these will work.
If you want to heat a larger area of your patio or backyard, take a look at the Best Patio Heaters in 2022.[1] 
Can I put my chiminea on a wood deck?
Yes, you can put your chiminea on a wood deck; just keep in mind that there might be sparks and embers shooting out. To protect your deck, you can put chiminea legs on bricks or other non-combustible surfaces and have mesh grates so falling sparks won't cause damage. If your budget isn't too tight, we advise getting a heatproof fire pit mat[2] ; it's an easy option to keep your deck safe.
Do I need a cover for my chiminea?
Some chimineas have lids for the chimney, but only a few include a cover. In general, all chimineas, no matter if they are made of clay, cast iron, steel, or copper, should be covered from rain or snow. A clay chiminea must be kept dry in freezing temperatures, or it will crack. The more you protect your chiminea, the longer it will last.  Sheet metal chimineas are prone to rust, so covering them will extend their lifespan.  Covers also help you avoid having a fire pit full of rainwater the next time you want to start a fire.
---
place to interlink future article on best patio heaters.
interlink fire pit mat article