Many of us delight in the opportunity to fire up the old charcoal grill and display our long practiced meat grilling skills. We take enormous pride and comfort in the process and the tasty outcome. Before we can start sizzling steaks on the grill, we need to get those coals to just the right temperature and shade of grey. We have many options for how to get the coals glowing, but some are clearly safer and more efficient than others. Starting your charcoal effectively and evenly allows you to control and time your heat and, in turn, properly plan your cooking, grilling, or smoking. These days there's no need to douse charcoal with liquid fuel and risk seasoning your food with petroleum aroma; let's just stick to salt and pepper on our food. Learn how to effortlessly and effectively get your charcoal going with these top 9 best charcoal starters in 2021.
What is a charcoal starter, and why do I need one?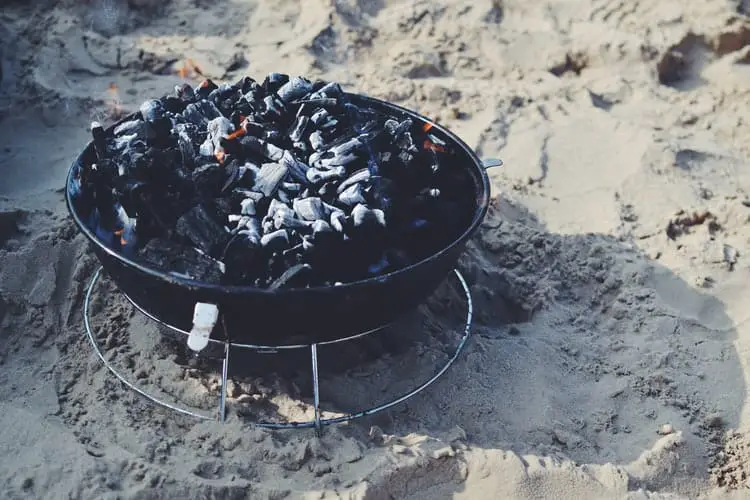 A charcoal starter is a device or a consumable that allows you to effectively heat the charcoal until it is ash grey white and ready for your charcoal grill or chiminea. You might ask why would I need one if I can take a ball of rolled-up paper, cover it with charcoal, and light it up? But be honest with yourself, how many times has your paper or tiny kindling fizzled out under the charcoal, forcing you to begin again and pushing back your dinner schedule by another 1/2 hour? Or the charcoal lit up unevenly, and your grill temperature kept on changing every 5 minutes, making it hard to time your cooking? Save time and hassle by picking one of our best charcoal starters and move onto what you do best – grill!
Different types of charcoal starters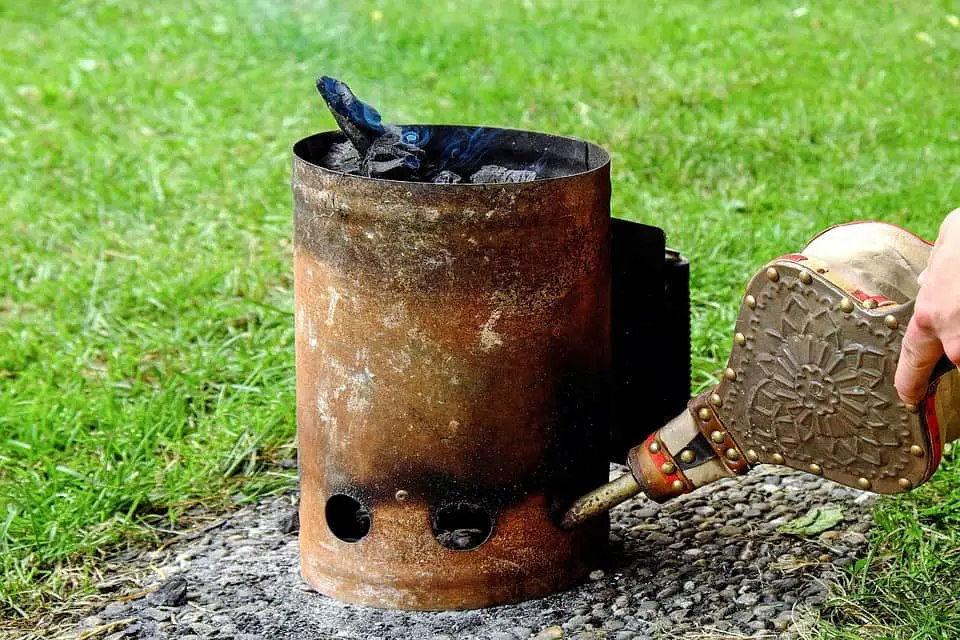 There are several types of charcoal starters you can get your hands on; they are very different in how they operate, but in the end, how much they cost or how fast they can light up the charcoal are the main differences. 
Chimney charcoal starters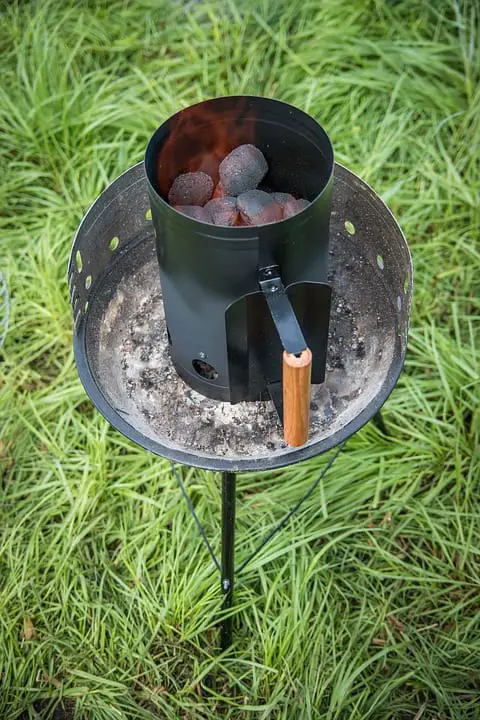 Chimney charcoal starters are probably the most popular way to effectively and evenly light up your charcoal. A basic chimney starter construction consists of an upper compartment for your coal, a bottom compartment for a fire source, and a handle to transport or pour out hot coal. These starters are popular because they are easy to use, budget-friendly, and heat the coal evenly. It will take around 20 minutes in a chimney starter to have your coals ready for cooking.
Electric charcoal starters
A new trend among beginning and seasoned grillers are electric charcoal starters. They usually have a heating element or a very hot air fan to heat the coals. The most significant advantage of electric coal starters is that some of them can heat your coals in just a few minutes; however, they require an electric outlet and are a bit pricier.
Propane gas charcoal starters
You may have used a standard torch to light up a fire or grill yourself at one time or another. These are very portable and relatively cheap, but they are not as efficient in heating coals and require you to manually hold and point the torch towards the coals until they get hot.
Consumable charcoal starters
These starters are usually made from wood chips, paraffin wax, paper, or a mix of all of them. There are a lot of eco-friendly options that are made with nontoxic products and are very portable. However, they are not as reliable in quickly and evenly heating the charcoal.
Best Charcoal Starter Reviews
---
Weber 7447 Compact Rapidfire Chimney Starter
Weber Grilling equipment is one of the most popular BBQ equipment brands worldwide, so you know you're on the right track with the Weber 7447 chimney charcoal starter. It's made from stainless steel and features a heat protection plate to protect the handle from getting too hot, which also increases the sturdiness of the whole chimney.
The Compact Rapidfire chimney can fit around 40 briquettes, making it a perfect size for small to medium grills. The Weber 7447 Compact Rapidfire innovative grate inside the chimney lets you heat your coals in about 15 minutes. A cool-to-touch handle protects from burning your hand; however, always wear a heat-resistant glove or oven mitt to be safe.
This Weber grill is the best chimney starter on our list for a small grill or if you're on a budget.
Key Features:
Well recognized brand
Fits around 40 briquettes
Compact
It gets coals hot in 15 minutes
Cool to touch handle
Sturdy construction
Budget price
Weaknesses:
It might be small for larger grills
---
Oklahoma Joe's 9848125R04 Half-Time Charcoal Starter XL
If you have a huge grill that needs a lot of charcoal, you might be interested in Oklahoma Joe's Charcoal Starter XL. This large chimney starter can fit up to 100 briquettes at a time, and as the company boasts, the charcoal lights up twice as fast compared to competition chimneys. We're not entirely sold on this statement, but the coal heats up at least a bit more quickly due to many air intake holes in the chimney.
We love the two handles on this chimney. The main heat-resistant handle (improved design, nonplastic) with a heat protection plate allows lifting the chimney safely. Since the XL chimney is large and becomes heavy when full of charcoal, an extra handle will enable you to use two hands and control the pouring of hot charcoal.
While the main handle is solid and sturdy, we did feel the second one was a bit flimsy, so you might want to tighten the bolts yourself.
Despite having a bit higher price point, Oklahoma Joe's XL is the best large chimney starter on our list if you have a large grill and want to avoid lighting 2 or 3 batches of coal.
Key Features:
Extra-large capacity of 100 charcoal briquettes
Stainless steel construction
Improved heat resistant handle and shield
Extra handle for controlled dumping of the coal
Weaknesses:
Construction is a bit flimsy
A bit expensive
---
BBQ Dragon Chimney of Insanity Charcoal Starter
BBQ Dragon Chimney is an innovative chimney charcoal starter with a 90-degree elbow inside to fit their grill fan and supercharge the heating process. This allows the charcoal to heat up in just 3 minutes. All you need to do is grab a couple of crumpled balls of paper, stuff them into the elbow, and light them up. Now turn on the fan, stick it into the elbow, fasten the fan onto the grill and leave it running for 3-4 minutes. (fan not included)
The thick galvanized steel construction feels really solid and easy to handle. As with all chimney starters, you have a heat protection shield and a heat-resistant nylon handle.
Be informed that the chimney itself is sold separately and is quite expensive compared to other chimney starters. Without the fan, you won't be able to utilize the unique design elbow tube. The chimney and fan combination is quite expensive but allows you to heat the charcoal in just 3 minutes and makes it the best luxury charcoal starter on our list.
Key Features:
Innovative design
Lights up charcoal in 3 minutes
Thick gauge galvanized steel
Thick heat shield and heat resistant nylon handle
Weaknesses:
Quite small
Expensive
Have to buy the chimney starter and the fan
---
MIGI WOLF Electric Charcoal Fire Starter
Hot airstream charcoal lighters are probably the most popular charcoal starter currently on the market. They blow hot air of up to 1100°F to light up the charcoal in around 60 seconds. By heating 2-3 spots of the charcoal pile, you'll have your coal ready for grilling in just 3-5 minutes. This is the fastest charcoal starter on our list.
This electric charcoal starter doesn't use any flame or gas, so it's much safer for you or your party-goers. The long heating fan stick allows you to safely hold it without burning your hand.
The only disadvantage of the looftlighter is that it's pretty expensive, and like with most electric lighters, you'll need an electric socket nearby to use it.
Key Features:
Heats up to 1100°F
Very powerful 
An extended heat stick protects the hand from getting hot
No gas or flame used
Can heat targeted charcoal in 60 seconds
Weaknesses:
It needs to plug into an electric socket
Expensive
---
BISON AIRLIGHTER 520 Cordless Fire Starter
Love camping and need a portable option or just don't have an electric socket? The Bison Airlighter 520 is a cordless charcoal starter perfect for on-the-go grilling where there's no easy access to electricity or space is tight.
The refillable butane tank powers a small flame to light up the coal first, and then you can switch to the fan to quickly heat the coals.
The fan is a bit weak but enough to get your coals going in 3-5 minutes. The small size and no need for electricity make it one of the best portable charcoal starters in 2021.
Key Features:
Cordless
Portable
Convenient and versatile
15 minutes of burn time
Refillable butane tank
Weaknesses:
---
GGC Electric Charcoal Fire Starter
This GGC electric charcoal starter is an excellent option if you're on a budget but still want to light up your coals in less than 5 minutes. With this fire starter, you can safely light up your charcoal using nothing but hot air. Just plug it into the socket, aim it at the charcoal until it gets red and move onto the other side of the charcoal pile. In about 5 minutes, the charcoal should be ready for grilling.
The build and fan might not be as strong as other top brands, but GGC electric charcoal starter is pretty cheap, making it a great budget option.
Key Features:
No gas or flame used
Budget price
Heats coals in several minutes
Weaknesses:
It needs to be plugged into an electric socket
Not very powerful 
---
Stanbroil 600W Electric Charcoal Starter
Here we have a Stanbroil 600W electric charcoal starter that uses a heating element instead of a fan. It's a great passive way to heat your charcoal without the need to stand next to your grill. Just stick the heating element into a pile of charcoal and plug it in. In about 8-10 minutes, your charcoal will be started.
The 600W powerful heating element can cover a large amount of charcoal at the same time, so you don't need to relocate it during the process. It may not be the most conventional charcoal starter, but it requires little to no attention. This is the type of charcoal starter that I use and I find it very effective and has lasted me for at least five years without any sign of failure.
Key Features:
600W heating element
Large heating element
Easy to use
Cheap
Weaknesses:
It needs to plug into an electric socket
---
Naked Flame Fire Starters Natural Fast Lighting Charcoal Starters 
These wood wool fire starters are dipped in food-grade wax, making them 100% natural with no unpleasant odor. Just grab a couple of rolls, stick them in different sides of your charcoal pile and light them up. The perfect option for camping and traveling when space is really tight.
Key Features:
100% natural
Easy to light up
8-10 minutes burn time
Weaknesses:
---
Weber Lighter Cubes
This is another consumable charcoal starter, this time from our famous grill master Weber. These lighter cubes are very easy to light up even if they are wet or during conditions. You don't need any paper or kindling, just a touch of fire. 
All it takes is 1-2 Weber lighter cubes in a pile of charcoal and 15-20 minutes of burn time to get the coals hot.
Key Features:
Lights up fast
Lights up even wet
Burns for 15-20 minutes
Weaknesses:
Messy packaging
It has some lighter fluid smell
Frequently Asked Questions
How to use the chimney charcoal starter?
Using a chimney starter is quite simple. The first step is to fill the top container with charcoal of your choice. Make sure to fill it up with as much coal as you're going to use, so all coals light up at the same time. Now roll up some paper, paraffin wax, lighter cubes, or small kindling on your grill grates and light it up. Put the chimney starter with coals on top and let it burn. 
The air intake holes at the bottom part of the chimney starter will get the fire going upwards straight to the coals. You can leave the chimney burning for around 20minutes; by that time, your coals should be ash grey white and ready for grilling. Grab a heat-resistant glove or oven mitten and pour out the hot charcoal into your grill.
How to use an electric charcoal starter?
An electric charcoal starter is even easier to use. You'll usually find two types of electric charcoals – heat guns that blow hot air onto the coals or starters that use a heating element that you need to bury into charcoal.
Using a heat gun is pretty easy; just plug in your starter, push the button, and aim into the coal. When a few pieces of coal start sparking and are red hot, continue with the next charcoal and repeat until all the coals in your grill are turning ash grey white and are red hot.
If you have a heating element coal starter bury the element into the coals, plug it in and leave for a good 8-12 minutes. You can check-in between if some coals are not getting any heat and rearrange them with a poker. Be sure to follow the directions, these starters can melt in the charcoal if left for too long.