Have your magnolias, crabapples, or boxwood shrubs started getting out of control that even the best pruning shears have a hard time cutting through? It's time to get a pruning saw to help you deal with branches, stems, or roots thicker than 1,5 inches. A good pruning saw is very easy to use, doesn't take a lot of space, and can be easily carried around. You'll see that there are hundreds of pruning saws with different shapes, sizes, and price points. Continue reading our round-up of the top 7 best hand pruning saws in 2021 for landscaping to find the best option for your needs.
Different Hand Pruning Saw Types
Non-folding hand pruning saw
Probably the oldest and most common type of pruning saw. The straightforward construction of a handle at one end and saw blade at the other end. Non-folding pruning saws are usually more durable and sturdier because they don't have a folding mechanism. They do require some sort of a case or sleeve if you want to carry it around. Saw blades are extremely sharp, so you can't just put an uncovered blade in your pocket.
Folding hand pruning saw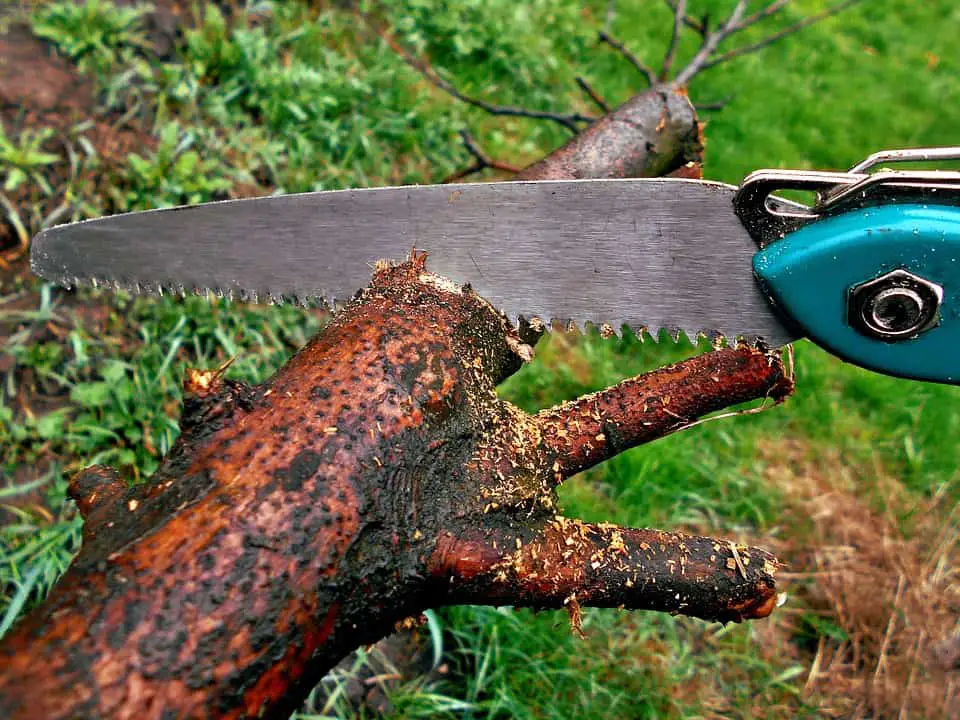 These have the same construction as non-folding hand pruning saws except that they fold in the middle, which allows for safer storage and takes up less space. Folding hand pruning saws are very popular with regular homeowners and professional landscapers as well. You can quickly take the saw out of your pocket to deal with small branches, roots, or shrubs and go back to other tasks in seconds.
As we already mentioned above, folding hand pruning saws can be a bit flimsier because of the folding mechanism, so it's essential to pay attention to build quality, especially when picking budget options.
Straight blade
A straight saw is designed to work at the waistline. If your backyard is full of small trees or bushes (or you use a ladder for larger trees) and most of your sawing is done between the waist and shoulder level, then a straight saw blade is more efficient. It doesn't mean you can't use a straight blade to cut up high or down low; it's just that it will provide the most efficient cut at that level.
Curved blade
A curved saw blade is designed to use above the head or below the waist. The angled position, whether it's up or down, gives comfortable arm movement, and the curved blade will naturally dig into the wood with all of the saw blades.
You can use it at waist level, but it won't be as efficient or comfortable. When doing the push and pull action, you'll see that the blade lifts up a little and misses the wood with the middle of the blade. This, in turn, makes us do a weird curved motion to try and use all teeth of the blade. This hand movement is inefficient and non-ergonomic.
What to Consider Before Buying a Hand Pruning Saw
Blade length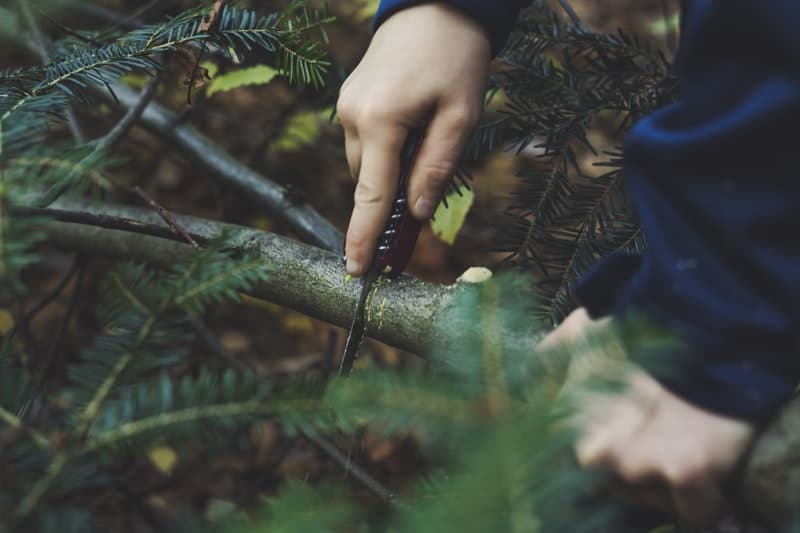 If you're going to be pruning thin 1 – 4-inch branches, then even a small folding pruning saw is sufficient and easy to handle. But thicker trees or branches are better tackled with longer 10+ inches saw blades. A longer blade means more teeth and quicker sawing.
Teeth Per Inch
Most hand pruning saws have coarse to medium toothed blades with 5-10 TPI (teeth per inch). In general, smaller TPI is better for softwoods and dry wood since it allows the teeth to snatch and break off larger pieces of wood. Anything from 5-7 TPI will do great.
For hardwoods or wet wood, go for a larger 8-10 TPI to allow for a slower, more precise cut with less friction.
Material
Almost all hand pruning saw blades are made from high-quality carbon steel, making the blade very hard and durable. There are two different hardening techniques used for hand pruning saws: Quench hardening and Impulse hardening. 
Quench hardening is the process of heating the blade to a very high temperature and dipping it into oil, water, brine, or air. Impulse hardening is a new technique that uses impact energy to heat and cool the blade at very precise time intervals. Impulse hardened saw blades are up to 3x harder and more durable than quench hardened blades but come at a higher price.
Finally, pay attention to the saw handle. Weak and low-quality plastic handles might come at a very low price but won't be comfortable and can even crack when sawing with a lot of force.
Top 7 Best Hand Pruning Saw Reviews in 2021
Corona RS 7265D RazorTOOTH Folding Pruning Saw, 10-Inch
If you have read our Best Manual Pole Saws and Pruners article, you should remember that Corona makes incredible quality landscaping tools at very competitive prices. RS 7265D folding pruning saw has a massive 10-inch blade full of 3 sided impulse hardened teeth. This allows for a quick and effortless pruning of branches up to 6-inch thickness.
The impulse hardening technique allows the blade teeth to be sharp for a very long time, and the chrome-plated blade is rust-resistant. Still, we advise keeping any stainless steel tools away from any moisture to improve longevity and occasionally lubricate the blade.
We love the comfortable non-slip handle that allows for a tight grip with any type of gloves or when wet. This Corona folding saw is excellent for camping as it's lightweight (360 grams) but still can cut through thicker branches and wood. The only weakness of the build is that when folded, some of the blade teeth as exposed.
Despite the small design flaw Corona RS 7265D gives is very sharp, sturdy, and easy to handle, making it the best folding pruning saw on our list.
Key features:
Blade length: 10-inches
Weight: 360g
3 sided razor impulse hardener teeth
Up to 6 teeth per inch
Chrome plated
Great price
Perfect for cutting up to a 6-inch thickness
Weaknesses:
Teeth are a little exposed when folded
---
FLORA GUARD 7.7 Inch Folding Hand Saw
Constantly on your knees in your backyard or need to get into tight spaces between tree branches, bushes, or hardscapes? Flora Guard 7.7-inch folding pruning saw is an excellent tool that will fit in any pocket to deal with that annoying branch or stem in your way.
This small folding hand saw is excellent for the occasional pruning job in your backyard. It is very compact and easy to transport when landscaping and dealing with branches up to 4-inch thickness.
Triple-cut razor teeth are very sharp, but the blade itself is a bit thinner than other blades in the market. The whole build seems lower quality, too; however, for the price it's selling, you can't ask for more. 
If you have a few smaller trees in your backyard that need pruning once a year, then Flora Guard is the best small folding saw on a budget.
Key features:
Blade length: 7.7-inches
Lightweight
Very compact
Triple cut razor teeth
Perfect for occasional small pruning jobs
Great budget price
Weaknesses:
---
Silky GomBoy Curve Professional Folding Saw 240mm Large Teeth
Silky GomBoy folding saw is a fantastic Japanese-made curved saw. It is designed to be used by pulling, not pushing, thus saving energy and giving better results. The excellent quality of the build is no surprise as they are manufactured in Hyogo, Japan. Impulse hardened teeth are precision ground and mounted on an ergonomic handle.
The whole pruning saw weighs around 270 grams making it a perfect addition to any homeowner, backpacker, or camper looking to cut wood for a campfire or clean up fallen branches. They also include a carry case for the saw to protect it from unwanted debris or moisture.
If a gas chainsaw is a bit of an overkill for your backyard firewood needs, the Silky GomBoy folding saw is an excellent high-quality alternative and one of the best folding saws on our list.
Key features:
Blade length: 9.5-inches
Weight: ~270g
Light and portable
Impulse hardened teeth
Precision ground
Excellent quality
Ergonomic Japanese handle
Carrying case included
Weaknesses:
---
Bahco 396-LAP Laplander Folding Saw, 7-1/2 -Inch Blade
Bahco 396-LAP is probably the best pocket pruning saw for homeowners who often go camping and hiking but also need to do seasonal pruning in the backyard. The Laplander saw is a very solid but lightweight (just 200g!) folding saw. 
The 7.5-inch sharp blade can cut through both dry and wet wood. Seven teeth per inch are perfect for smaller up to 4-inch thickness tree branches or wood.
Even though Bahco is not the most popular tools manufacturing brand, their saws are very high-quality, sturdy, and long-lasting. The 396-LAP saw blade has a special coating for rust protection and better friction. The handle is made from two-component plastic for a soft but sturdy grip with a safety lock to protect the saw from accidentally opening up.
Key features:
Blade length: 7.5-inches
Weight: 200g
Solid build
Specially coated blade for rust protection and lower friction
Comfortable plastic handle with leather strap
Safety lock
Weaknesses:
Anything over 4-inch thickness will take more effort and time
---
Fiskars 15 Inch Pruning Saw with Handle
Fiskars, well known for their excellent quality landscaping tools, is introducing an entry-level non-folding curved blade pruning saw. 
Why entry level? First of all, the amazing budget price makes it affordable to everyone. An ergonomic soft-grip handle allows for safe and easy sawing. The D-shaped handle also allows you to flip the saw for easy undercuts.
The 15-inches blade will allow you to cut anything from small branches, stubs, or bushes to medium-sized trees and wood. The long blade full of triple-sided sharp teeth produces long and effortless strokes; however, since the blade is manufactured for pull and push sawing, this blade doesn't bite into the wood as well as competition. But in the end, the versatility, high quality (lifetime warranty), and budget price make it the best hand pruning saw for beginners on our list.
Key features:
Blade length: 15-inches
Weight: 340g
Triple side teeth
Ergonomic soft-grip handle
Full lifetime warranty
Easy to control for beginners
Budget price
Weaknesses:
It doesn't bite into the wood as well as the competition.
---
Könnig Professional Heavy Duty Pruning Saw
Love spending your weekend afternoons in the backyard cherishing your landscape by doing all the manual work yourself? The Könnig saw is a fantastic heavy-duty pruning saw that is designed for rough handling and thick cuts. 
This non-foldable pruning saw has a 14-inch curved saw blade best suited for overhead tree pruning, large bush trimming, or cleaning up after fallen branches. The Japanese tooth design allows for a smooth cut even through thicker branches and flexible control when using overhead.
The pruning saw comes with a set of gardening gloves and also a saw case for safe storage. 
All in all, it's a straightforward tool with no special features, but the sharp blade and durability of the build make it one of the best heavy-duty hand pruning saws for larger landscaping projects.
Key features:
Blade length: 14-inches
Weight: 230g
Strong heavy-duty design
Japanese tooth design
It comes with a protective case and gardening gloves
Weaknesses:
Not the most comfortable handle
---
Silky ZUBAT Arborist Professional Hand Saw 330mm XL Teeth
To finish off the list, we have another Silky pruning saw. This time it's a premium curved hand pruning saw Zubat. A 13-inch blade is full of Japanese steel razor-sharp teeth, perfect for cutting dry and wet trees. The build of the saw is very sturdy because it's a full tang saw with the metal going all the way through the handle. Along with a high-quality plastic handle and metal screws going through the tang, this eliminates the risk of breakage and provides more stability.
It is also nice to have a professional scabbard come with the saw. Store your saw safely in your tool shed or attach it to your belt or leg straps.
The only negative thing about this saw is the very steep price. If your budget allows, Silky Zubat is one of the best hand pruning saws currently in the market. 
Key features:
Blade length: 13-inches
Weight: 300g
Professional Scabbard
Full tang saw
Sturdy and stable
Weaknesses:
 best pruning shears article
best pole saws and pruners article
best gas chainsaw article