Properly watering your lawn when it is first getting established is probably one of the most important things to help you grow a healthy and beautiful lawn. Stop standing outside like a dud for half an hour every second day watering your lawn with a garden hose and get a lawn sprinkler. Sprinklers are very useful for ensuring that you get even and consistent coverage when watering. Today we'll be going over the different types of lawn sprinklers and how to pick the best one for your landscape. We've also reviewed some of the most popular lawn sprinklers in the market and compiled our list of the top 7 best lawn sprinklers for your backyard in 2021.
Types of Lawn Sprinklers
Oscillating sprinklers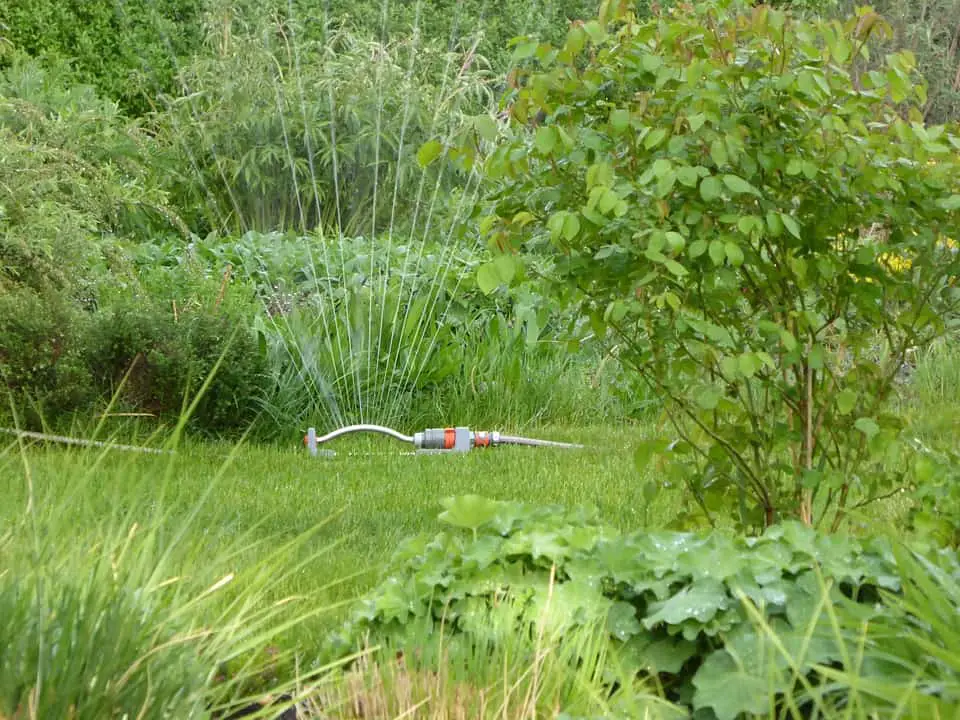 Oscillating sprinklers are one of the most popular sprinklers that are super easy to use and set up. Oscillating means that the sprinkler moves from one side to another or back and forth, spraying water in a set area that mimics how rain falls. Oscillating sprinklers are pretty good at covering a large area, considering they are stationary.
Rotary sprinklers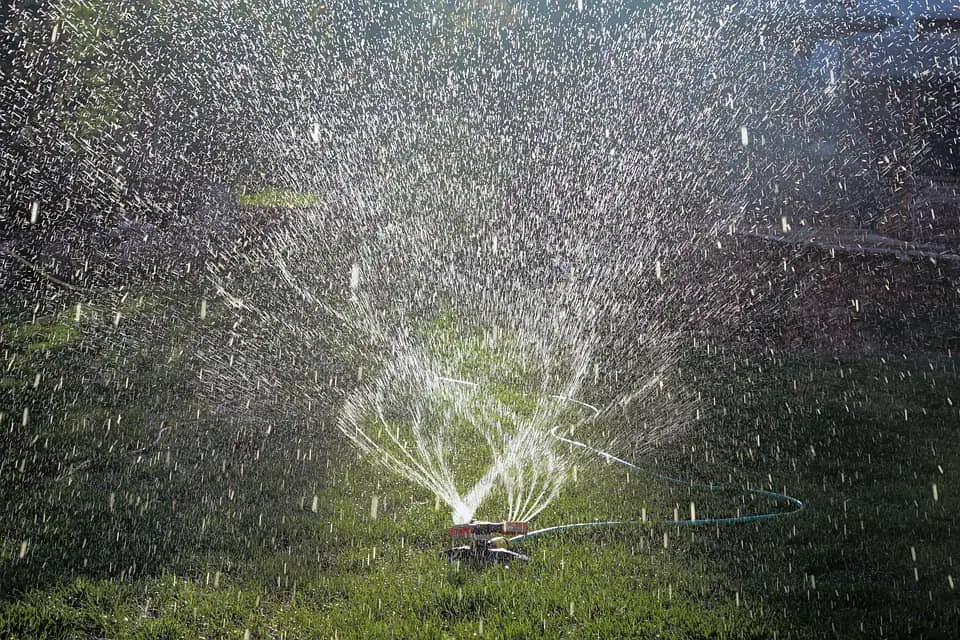 A sprinkler with a rotating head with several sprinkler tips attached to it is called a rotary or rotating sprinkler. When the sprinkler receives pressure from turned on the water, it starts spinning the head and the arms pushing the water in all directions around itself. They are great at covering large circle-shaped areas. The higher pressure your hose can provide, the larger area it will cover.
Misting sprinklers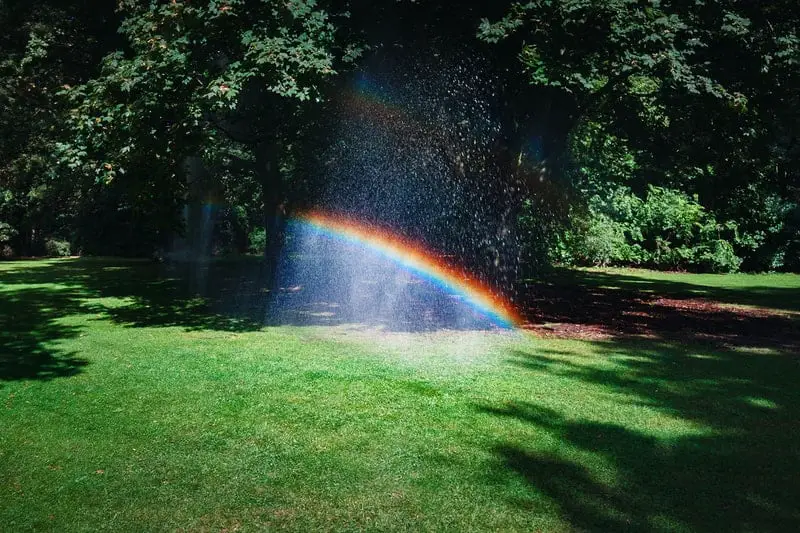 Misting sprinklers deliver water in a mist-like pattern and are perfect for greenhouses with seedlings or small or raised garden beds with flowers or delicate plants in general. The most significant disadvantages of misting sprinklers are evaporation and spray drift. If you live in an area with high winds or very hot days, the amount of water delivered from misting sprinklers will be much lower than more powerful water stream sprinklers.
Sprinkler hoses
Sprinkler hoses are garden hoses with many holes in them. A sprinkler hose can be used as a sprinkler if you point the holes upwards or as a soaker if they face the ground. Sprinkler hoses are great for watering garden beds or just seeded grass areas. They are great for occasional seasonal watering tasks as you can manually set them up in any pattern but don't look very appealing on your landscape.
Fixed Pop-up sprinklers
A fixed spray pop-up sprinkler provides a constant circular fan-like flow of water for your garden and lawn. The most significant advantage is that when the watering is done, they automatically retract into the ground out of sight and don't require any physical labor. Your grass and garden can be watered even when you're on holiday. However, they do require some time and labor to install initially into your landscape.
Raised sprinklers
Raised fixed sprinklers are almost identical to pop-up sprinklers, but instead of popping up at a set time, they stay raised all the time. They are great to set up in smaller gardens close to your house, making them less visible but still providing water over plants and flowers to your grass.
Traveling sprinklers
The traveling sprinkler, as you can guess from the name, is one that can travel. These sprinklers are pretty new to the market but gaining popularity fast. A traveling sprinkler is moved by the water pressure and guided by the hose in a pattern that you can set up yourself. They have a rotating head on top to reach a larger area, but there are models with stationary spray heads too.
These sprinklers are great for larger landscapes that don't have automatic or in-ground irrigation systems installed.
Impact sprinklers
Everyone knows the clacking sound some sprinklers make when they operate. These are the impact sprinklers, and the sound is created when a small paddle on the sprinkler hits the constant stream of water. Impact sprinklers can provide a lot more water at the same time compared to oscillating sprinklers. They can be adjusted at how far or wide the water stream will go.
What to Consider When Buying a Lawn Sprinkler
Lawn size
If you have a small backyard, you might be ok with just a simple oscillating sprinkler that you can relocate in a few spots to cover the whole area or install a couple of stationary raised fix-spray sprinklers.
If you have a large backyard with a lawn that needs constant watering, you something that doesn't require a lot of manual labor like pop-up sprinklers, traveling sprinklers, or an impact sprinkler that can shoot the water stream very far. 
Materials and Construction
Most lawn sprinklers will either be made from plastic or some kind of metal. Plastic sprinklers will be cheaper than metal ones, but their construction will be weaker and won't last as long. Metal sprinklers are more expensive and heavier but will last much longer because of their sturdy construction.
We would advise going for a metal construction sprinkler if you'll be using it with high water pressure. Impact, traveling, or rotary sprinklers should have a sturdy build and construction to withstand constant water pressure.
Top 7 Best Lawn Sprinkler Reviews in 2021
---
Melnor 65074-AMZ XT Turbo Oscillating Sprinkler
We're starting our list with Melnor 65074-AMZ XT Turbo, the best oscillating sprinkler on our list for a budget price. It can cover up to 4,500 sq. ft. area and has adjustable spray width and length. This allows to set up the sprinkler in a position where one side can spray water far away while the other can water only a thin bed of flowers.
Melnor gets a lot of praise for their budget pricing while still having sturdy plastic construction to last way longer than other plastic sprinklers. The only weakness of the sprinkler is that the oscillation sometimes gets stuck, and you may need to wiggle it a little.
Key features:
Covers up to 4,500 sq. ft. area
20 precision nozzles
High-quality build
Comfortable stream adjustment
The durable Infinity turbo motor
Nice exterior
Budget price
Weaknesses:
Sometimes the oscillation stops
---
Dramm 15075 ColorStorm Spinning Sprinkler
Dramm 15075 is a relatively heavy but sturdy spinning sprinkler that can cover up 38 ft. in diameter with a thin spinning water stream similar to a mist. It is perfect for low water pressure systems like wells as it only needs the PSI to be above 20. 
It is a very simple sprinkler with no adjustments. On the one hand, all you need to do is connect the fittings and let the water run, but on the other hand, you can't adjust the radius or water stream. The only workaround would be to play with your water pressure, increasing or decreasing how far the water mist will go.
The downside of the Dramm sprinkler is that many parts are made from brass and might contain some lead making the sprinkler not a suitable option for organic lawn growing or organic edibles.
Key features:
Water stream goes up to 38 feet in diameter
Heavy-duty sturdy build
Powder-coated and rust-free
Very simple and easy to use
Great for low-pressure water systems
Weaknesses:
Brass parts are not fit for organic grass or plants
No adjustments
---
GrowGreen Sprinkler, Rotating Lawn Sprinkler
The GrowGreen sprinkler is made from ABS plastic and rust-proof polymer. The build does feel very sturdy and has connections on both sides for multiple sprinkler systems. 
The rotating heads spin at 360 degrees radius while the three hands shoot out water up to 32.8 ft. distance and can cover up to 3,600 sq. ft. area, making it great for smaller lawns or backyards.
We were impressed that the plastic construction feels pretty solid and should be more durable than your regular plastic sprinkler. The only weakness we saw was the plastic connection which didn't feel as it tightened properly and did leak a bit on higher pressure. Other than that, it's a cheap but high-quality rotating sprinkler designed for small lawns.
Key features:
360 degrees rotation
32.8 ft. spray distance
Covers up to 3,600 sq. ft. area
Lightweight
Great for small lawns
Low price
Can connect multiple sprinklers
Weaknesses:
---
GARDENA ZoomMaxx Oscillating Sprinkler
Garden ZoomMaxx is a modern oscillating sprinkler designed for small lawns as it covers up to a 2,300 sq. ft. area. It has a stable base, so even high pressure won't flip over the sprinkler. This oscillating sprinkler's most significant selling point is that you have a lot of water stream customization freedom, making it perfect for weirdly shaped areas. You can adjust the width and the length of the water spray and even control the flow rate to avoid hitting an overhead hanging roof.
The sprinkler does cover quite a small area; however, if your lawn and garden have complex compositions with regions that don't need watering, a few ZoomMaxx oscillating sprinklers could be set up to only water the area you want.
Key features:
Covers up to 2,300 sq. ft. area
Lightweight sprinkler
Stable base
Easy to adjust the width and length of water spray
Variable flor rate
Compact
Perfect for irregular lawns or gardens
Weaknesses:
It covers only a small area
Expensive
---
Kadaon 360 Degree Garden Sprinkler
If you're looking for a cheap option, Kadaon 360 sprinkler is the best budget lawn sprinkler on our list that is super lightweight and easy to set up. All you need to do is connect the sprinkler with your hose and stick it into the grass in the area you want to be watered. It covers only a 3,000 sq. ft. area, but you can connect multiple sprinklers for more extensive coverage. The flow rate of the sprinkler is not very strong, so it takes a bit of time to water an area. However, when you connect multiple Kadoan sprinklers, they don't lose pressure and evenly saturate the whole area.
The build is plastic and doesn't feel very durable but comes at a bargain price for people on a budget.
Key features:
Covers up to 3,000 sq. ft area
Easy to set up
Very cheap
Weaknesses:
Not very durable
Small area coverage
---
Melnor 65067-AMZ Pulsating Sprinkler
This is another excellent product from lawn and watering products supplier Melnor. The 65067-AMZ Pulsating Sprinkler can shoot water streams up to 85 ft. in length, which is ideal for large landscapes. You can easily adjust the spray distance, coverage radius, and water diffusion. If needed, you can take out the radius adjustment pin, and the sprinkler will turn in circles covering 360 degrees area.
We love that the spray head and the base are made from metal, making it much heavier. Impact sprinklers operate at a higher water pressure to shoot out water further away. A heavier base allows the sprinkler to be much more stable. The only disadvantage of the build is that the head sometimes gets stuck at one side of the cycle and doesn't get back. Increasing the water pressure seemed to fix the issues. 
Other than that, it's the best impact sprinkler on our list suitable for a large lawn and won't leave your pockets empty.
Key features:
Covers up to 5,600 sq. ft area
Shoots water up to 85′
It can be adjusted to cover 360 degrees radius
Durable metal sprinkler head
Sturdy metal base for stability
Easy to adjust distance, radius, and diffusion
Seven-year limited warranty
Budget price
Weaknesses:
Sometimes gets stuck at one end of the rotation cycle.
---
Orbit 58322 Traveling Sprinkler
Last on our list is Orbit 58322 traveling sprinkler. This is the best traveling sprinkler on our list and most likely on the market overall. Orbit tractor-shaped sprinkler is guided by the hose and pushed by water pressure. You can set up the hose in a pattern you want the sprinkler to go and position the little ramp at a point you want the sprinkler to stop. This allows you to turn on your sprinkler and leave as it will stop when it finishes its route. 
Orbit traveling sprinkler has a very sturdy and durable cast-iron construction. It will be hard to knock over with a ball or by pets, but it is quite hard to carry around. However, unlike any plastic sprinklers, Orbit is a wise investment that might serve you for decades.
If you have a large lawn, this sprinkler is great because you can create any path you like by laying your hose where the sprinkler needs to go. You can also adjust the spray diameter and traveling speed for various water output needs. 
Key features:
Can cover up to 13,500 sq. ft. along a 200 ft. hose
Three speeds
Extremely durable cast-iron construction
15-50 ft. adjustable spray coverage diameter
Great for large lawns
Can leave unattended
Weaknesses:
Frequently Asked Questions
How often do I need to water my lawn?
If you live in a very dry area where grass would usually not grow, then we advise watering your lawn 2-3 times a week to get 1-1½ inches of water into your lawn per week. It's better to heavily water a couple of times instead of daily to allow the water to get deep into the soil. If you live in an area where grass grows naturally, you won't need to water once your lawn is established and continued, frequent watering may even be harmful to your lawn's root developement.
When is the best time of the day to water my lawn?
It is best to water your lawn early in the morning as it reduces water evaporation allowing you to water your lawn faster and use less water. You could also water early evening when it's warm as long as there is enough time for the plants and soil to soak up the water.
 best garden hose article link
interlink with best garden hoses article