A big part of landscape maintenance is collecting and disposing of debris left after cleaning up your trees from dead branches, trimming down, or removing unwanted bushes and shrubs. If you've been throwing away all of that debris or paying someone to collect it, you should consider getting a small wood chipper to save money and improve your softscape by returning all of the debris in the form of mulch back into the soil. A wood chipper shredder is one of the best tools to deal with unwanted branches, twigs, shrubs, and leaves. Today we'll go over different types of wood chippers, how to pick the best one, and will provide our picks for the top 7 best small wood chippers for your landscape in 2021.
Types of Wood Chippers
Gas
Wood chippers and shredders running on gas are most used in both residential and professional landscaping. They provide much more power than electric wood chippers as their power ranges from 4-10 horsepower. More power means that the shredder can work faster while also tackling thicker and harder landscape debris. The disadvantages of gas-powered wood chippers are louder noise, heavier weight, and more maintenance.
Electric
Small electric wood chippers are great for landscapes with smaller trees as they have a hard time handling tree branches larger than 2 inches, but they are much lighter, easier to transport, and most importantly, produce way less noise and no smoke. They are an excellent option for eco-friendly gardeners looking to build a sustainable landscape. The most significant disadvantages of the electric wood chippers and shredders are that they require a nearby outlet and shred slower than gas chippers.
PTO
Power Take-Off (PTO) wood chippers and shredders are connected to a tractor's PTO shaft, which allows it to power the wood chipper. Because of the higher power a tractor can generate, PTO wood chippers are much more powerful than gas or electric chippers. Even though you can find smaller PTO wood chippers, they will still be quite bulky, loud, and, most importantly, require a tractor to power them. PTO wood shredders come at a higher price tag, so most casual gardeners and landscapers will use small gas or electric wood chippers, which are not as powerful but are cheaper and easier to use. If you are serious about landscaping or own a vast landscape with many trees, then it might be wise to own a PTO wood chipper as a long-term investment.
What to Consider When Buying a Small Wood Chipper?
Feed Capacity
The feed capacity is one of the most important considerations to take before buying a small wood chipper. It determines the size of branches you can feed into the chipper. Most small gas and electric wood chippers can handle 2-5 inch thickness branches. If your main goal is to clean up small 1-3 inch diameter branches and use larger ones for your fire pit, then almost all small wood chippers will do great. If you have plenty of thicker branches, you need to look for a higher-capacity chipper designed for professional use.
Power type
If you're doing casual landscape cleaning a couple of times a year, a small electric wood chipper will be plenty. Electric-powered shredders are much quieter than gas ones, so you can use them in highly populated neighborhoods without disturbing anyone. They are also low maintenance and lighter, but you're tied to an electrical cord and can't use it in an area without a power source. Gas-powered wood chippers are also a touch more powerful and will complete your yard cleanup a bit faster.
Reduction Rate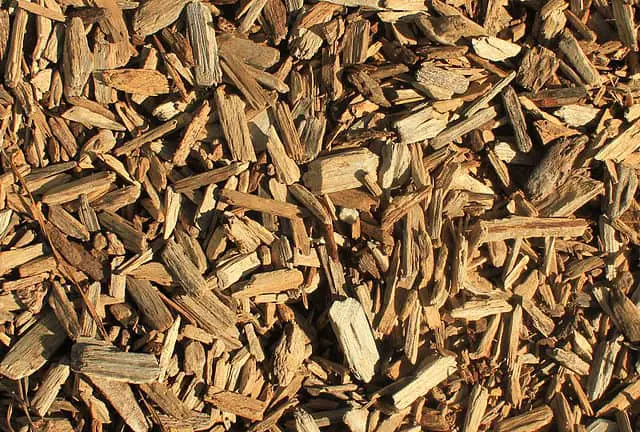 The reduction rate is pretty straightforward; it means how much the chipper will reduce original debris volume. Most small wood chippers' reduction rate will be from 8:1 to 20:1, meaning they can shred branches, twig, or leaves to 4-10% of their original volume. A smaller reduction rate shredder will require less power, while a higher reduction rate chipper needs to be more powerful to spin the blades faster. 
If you're going to use mulch for your landscape, think how big you want the pieces to be, this might be a good indication of what reduction ratio to go for.
Blades
In general, it's better to go for a wood chipper with more blades. If there are fewer blades, the individual blade is used more often, will dull faster, and require sharpening. If there are more blades, then the wear of the blades splits more evenly, allowing the blades to be sharp for longer.
Additional Features
A simple but convenient additional feature to look for is a mulch or debris bag that you can attach to the chipper. It collects everything that goes through the chipper and allows for easy disposal or scattering of the mulch. You can also find chippers with multiple feeding chutes, a bigger one for branches and twigs, and a smaller one for leaves and other soft debris. Finally, some chippers will have vacuum attachments which are handy to collect small debris and keep the grass clean.
Top 7 Best Small Wood Chipper Reviews in 2021
---
Sun Joe CJ603E Electric Silent Wood Chipper/Shredder
Sun Joe CJ603E is a very silent electric wood chipper that is great for everyday gardening needs. This model has 15 Amp power and has a reduction ratio of 21:1, meaning you'll have very fine mulch for your flower garden bed or compost box. 
CJ603E capacity is up to 1.73 inch thick branches and twigs. It can't handle thick branches, but the ones that fit are shredded with ease. This small electric wood shredder weighs just 38.6 lbs. And can be moved around on the 7-inch wheels. Very portable as long as you have enough extension cord length.
All in all, Sun Joe CJ603E is the best small wood chipper for regular homeowners who want to regularly clean up small branches, twigs, or leaves and reuse them as mulch. 
Key features:
Power: 15 Amp
Capacity: up to 1.73 inch
Reduction rate: 21:1
Weight: 38.6 lbs.
Very compact 
7-inch wheels for portability
Tamper included
Weaknesses:
---
SuperHandy Wood Chipper Shredder Electric
SuperHandy electric wood shredder is the best small, lightweight wood chipper on our list, with a weight of only 24.5 lbs. The impenetrable wheels allow for easy storage and maneuverability over grass, soil, and other uneven surfaces. A hopper on top allows you to collect and dump leaves into the shredder conveniently. If needed, a tamper is included for a quick and safe push.
The two cutting blades behind a rust-proof polypropylene housing can shred backyard debris into 17 times smaller pieces for easy disposal, composting, or mulching.
We love the compact and lightweight design that allows for easy maneuvering around the landscape if your electrical cord allows it. Despite the only disadvantage of small capacity, the SuperHandy wood chipper is a fantastic option for regular backyard cleanup.
Key features:
Power: 15 Amp
Capacity: up to 1.57 inch 
Reduction rate: 17:1
Weight: 24.5
Very lightweight
Rust-proof polypropylene housing
Compact to store
Tamper included
Durable housing
Weaknesses:
Can shred only thin branches 
---
Earthwise GS70015 15-Amp Garden Corded Electric Chipper
Earthwise is our best small electric wood chipper if you want to clean up your landscape fast and efficiently. Its reduction ratio of 10:1 cuts branches into larger chunks than other chippers but allows the shredding process to be completed much quicker.
The big chute on top of the chipper with the tamper allows you to dump many dead plants, leaves, and twigs and push them into the blades quickly and effortlessly.
We love the sturdy collection bin instead of the bag. It allows for an easier pour. You can even store your mulch in the bin to dry out.
All in all, this small wood chipper is designed for people who want to clean up their backyards fast and don't really care about the size of mulch that comes out.
Key features:
Power: 15 Amp
Capacity: up to 1.75 inch
Reduction rate: 10:1
Weight: 31 lbs.
Big chute
Durable build
Tamper included
Sturdy collection bin
Wheels for portability
Weaknesses:
Expensive for an electric wood chipper
---
SuperHandy Leaf Mulcher Shredder Electric
Are you tired of having truckloads of fallen leaves every week during autumn? SuperHandy leaf mulcher and shredder is designed to mulch leaves and small branches with a powerful but silent 15 Amp motor.
This small wood chipper can handle twigs and smaller branches of only up to 0.5 inches thick but deals with them quickly, and with no noise, so you can do your chores early morning or late at night. You'll also receive a large 50-gallon tear and water-resistant bag for mulch collection. 
This small leaf and wood mulcher has two 8 inch wheels for easy transportation and relocation. The build itself also feels very sturdy as its frame is made from steel. 
SuperHandy Leaf Mulcher's disadvantages are small branch shredding capacity and higher price point. However, the fantastic leaf mulching efficiency and build quality make it a wise investment, especially for gardeners tired of dealing with mountains of leaves every year.
Key features:
Power: 15 Amp
Capacity: up to 0.5 inch
Weight:
Sturdy steel frame
Durable 8-inch wheels
Water-resistant debris bag
Weaknesses:
---
Landworks Wood Chipper Shredder Mulcher Super Heavy Duty
If you're on a budget but still want a larger and more powerful gas-powered wood chipper, Landworks shredder might be your best option. This model is powered by a 7hp 212cc 4 stroke engine to mulch branches up to 3-inch thickness through the side hopper. The top hopper is designed for small twigs, leaves, and trimmings of up to 0.5-inch thickness.
This small gas wood chipper is designed for residential backyards with many dead or fallen branches or trimmings that weaker electric shredders can't handle. If needed, you can buy extra attachments like a vacuum insert for an extra tidy backyard and a big discharge bag attachment. Although, it would have been nice if the model already came with the bag attachment.
Landworks wood chipper might not be the most powerful gas shredder but is the best small gas-powered wood chipper if you're on a budget.
Key features:
Power: 7hp 212cc
Capacity: top hopper 0.5 inch, side 3 inch
Reduction rate: 15:1
Weight: 130 lbs.
Small but powerful
Two wheels for easy relocation
Weaknesses:
---
EFCUT C30 Mini Wood Chipper Shredder Mulcher
EFCUT C30 is probably the best small gas wood chipper on our list that money can buy. Yes, it is expensive, but it's amazingly built, lightweight for a gas shredder, and is powerful enough to handle most tree debris on your landscape.
Inside the shredder, you'll find a unique cutting system of 2 steel cutting blades and four cutting hammers that go through leaves, twigs, trimmings, and branches like a knife through butter. You also have a handy check window to see if anything is stuck between the blades.
The 7hp 212cc 4 stroke engine allows it to tackle branches up to 3 inches and reduce their volume 15 times. We were surprised to see how stable the shredder is when feeding branches larger than 3 inches. There was no jumping or unusual wiggling, only a slight deceleration of shredding speed, but that is expected when trying to shred thick branches.
If you don't mind spending more for a long-term investment, EFCUT C30 is the best small wood shredder on our list for larger backyard cleanups.
Key features:
Power: 7hp 212cc
Capacity: up to 3 inch
Reduction rate: 15:1
Weight: 90 lbs.
10-inch airless wheels
Weaknesses:
---
Patriot CSV-3100B Briggs & Stratton Gas-Powered Wood Chipper/Leaf Shredder
We have Patriot CSV-3100B, our pick for the most powerful small wood chipper to finish off our list. The chipping cone at the side can handle up to 3 inch thick branches because of the small but powerful 10hp engine that can create up to 14.6 lb-ft. torque. Anything smaller than 3 inches in diameter will be crushed, shredded, and cut into small pieces reducing the original volume up to 20 times.
It's nice to see that Patriot took small details like engine noise into account and added a muffler to reduce some of the noise. There is also a convenient oil indicator to remind you if oil levels drop. 
This small, powerful shredder weighs 140 lbs. but it isn't that hard to maneuver because of the low center of gravity and comfortable large wheels.
Key features:
Power: 10hp
Capacity: up to 3 inches
Reduction rate: 20:1
Weight: 140 lbs.
Easy to maneuver
Weaknesses: