With the spring coming, young trees and bushes start growing at a much faster pace and require trimming before they get out of control. When you have tall bushes and trees to trim, your only choices are to buy a tall orchard ladder or a pole pruner. Don't risk your neck trying to balance on a tall ladder and prune at the same time. One bad fall can really mess you up. Top quality pole pruners and saws can really make the job surprisingly easy and safe. They are lightweight, easy to handle, much longer than electric ones, and of course, there's no risk of falling off the ladder because you won't need one! We did extensive research to give you our list of the top 7 best manual pole saws and pruners for landscaping in 2021. 
Continue reading to learn about different types of pole saws and pruners and what to consider to select the best option for your needs.
Types of manual pole saws and pruners
Pruner and Saw combination
We really like the pruner and saw combination because it provides versatility and easier tree trimming. The saw on the pole can deal even with large and thick branches depending on the blade length, while the pruner can precisely and, most importantly, cleanly cut thin tree branches.  The only downside is that having both on the pole all of the time can make trimming in tight spaces more difficult.
Traditional rope pruners
Traditional rope pruners are the ones that use a rope outside the pole to prune branches. The cutting mechanism is very simple; when you move the rope downwards, the blade moves up to the hook and cuts anything in its way. The rope can be pulled from the end, middle, or top part of the pole. Rope pruners are nice because you can hold the pole in almost any position and always reach the rope. The only downside is that sometimes branches will get twisted in the rope.
Ropeless (handle) pruners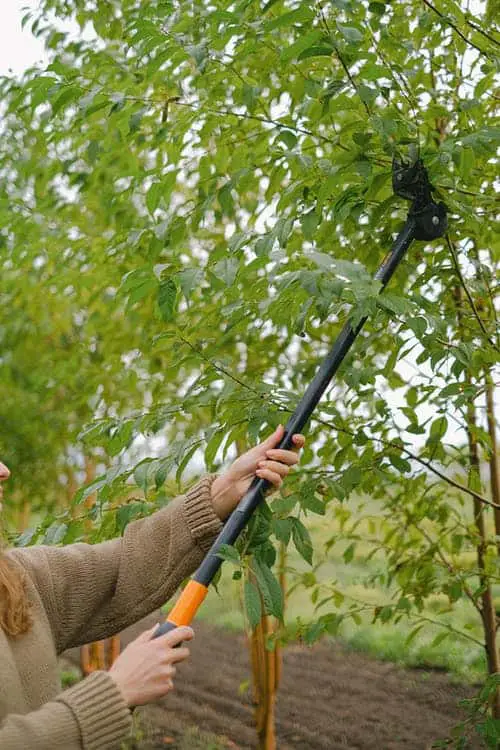 Ropeless or handle pole pruners have a handle at the end of the pole, which is connected to the blade with a rope, string, cable, or mechanism inside the pole. Using the handle to control the cutting mechanism is easier, and you don't have a rope getting in the way, but it forces you to always hold the pole by the handle.
What to consider when buying a pole saw and pruner?
Tree branch thickness
If your backyard or garden is full of trees with thin branches, then a pruner will be sufficient. For medium-sized trees, a combination of a saw and pruner works best. That way, you can quickly and cleanly cut thin branches while sawing off the thicker ones. 
For larger trees with thick branches, you'll need a saw with a longer blade. This will reduce the time and effort required to cut a thick branch.
Pole length
It may seem obvious, but some people forget to check how tall their trees are before buying a pole saw. You don't want to defeat the purpose of having a pole saw by needing to use it on a ladder. Be sure to understand how long of a pole you need before you buy.
Material
These days most saws and pruners from reputable brands will be made from a high-quality material like fiberglass or a combination of fiberglass & aluminum. They are incredibly lightweight and not that expensive anymore. Don't settle for any weaker or cheaper materials. 
Best Manual Pole Saws and Pruner Reviews in 2021
---
Corona TP 6870 MAX RazorTOOTH DualCOMPOUND Action 14-ft. Tree Pruner
The Corona TP 6870 Max pole saw, and pruner is one of the sharpest pole saws you can get without spending a fortune. With up to 6 teeth per inch, the razor tooth 13-inch saw blade cuts quicker, cleaner, and with less effort. Impulse hardened blade also adds improved durability even when constantly used on thick and wet trees.
The dual-compound tree pruner has a durable fiberglass pole with an adjustable 7′ to 14′ length. We are surprised by the chain-drive action pulley system and very sharp zinc alloy pruning head that cuts through branches (up to 1¼-inch) like a hot knife through butter. The TP 6870 Max pole weighs just over 3 pounds and has a comfortable 24-inch foam handle to firmly and comfortably hold while sawing. 
We would love the pole to be a 4′ – 6′ longer for the price it's being sold, but the pruner and saw blade sharpness and quality are undeniable and makes it the best manual pole saw and pruner on our list.
Key Features:
Reaches up to 14-feet
Comfortable foam grip
Rope pull system
13-inch saw blade
Limited lifetime warranty
Pruner cutting capacity: 1¼ inches
Weaknesses:
Quite expensive
Not very long
---
Fiskars 14 Foot Power-Lever Extendable Tree Pruner
Anyone who has ever done any landscaping or gardening work has used one or another Fiskars tool and knows that they are durable, sturdy, and easy to handle. Fiskars' 14-foot extendable tree pruner and pole saw is no exception and even comes with a lifetime warranty.
The pole extends up to 14-foot and has a quick release lock that allows for a rapid and safe extension or contraction. At the top of the pole, you'll have a long 15-inch WoodZig saw blade to cut even thick branches. In contrast, smaller branches are easier to cut with the fully hardened and precision ground, steel pruning blade. 
The only drawback is the almost 6 pounds weight of the pole, which might be too heavy for some people, especially if you need to do a lot of pruning. Other than that, Fiskars 93016059J is the best quality manual pole saw and pruner for landscaping if you're on a budget.
Key Features:
High-quality solid build
15-inch saw blade
Pruner cutting capacity: 1½ inches
Budget price
14-foot fiberglass pole
Quick-release lock
Lifetime warranty
Weaknesses:
Not as light as competition
---
Jameson LS-6PKG-6 LS-Series Landscaper Pole Saw Kit with 3 Poles
If you have different height trees in your backyard, Jameson LS-6PKG-6 saw kit is a fantastic product for both professionals and beginners. The three-pole system allows you to use the pole with 6, 12, and even 18 feet lengths. The easy assembly and disassembly allow for a quick length change to switch between different trees. 
The top of the pole is equipped with a sharp 16-inch Barracuda Tri-cut saw blade to cut thick branches. When using both extensions, the pole weighs 8 pounds which is quite heavy for a manual pole saw; however, when sawing with long poles, the gravity force from extra weight gives you additional sawing power.
At first, we were uncomfortable with the thicker pole, but when you use the pole with both extensions, the thickness makes the pole less wiggly and makes it easier to control.
Key Features:
Three pole system for various heights
Up to 18-feet reach
16-inch Barracuda Tri-cut saw blade
Sturdy for a long pole
Weaknesses:
No pruner blade for small branches
The three piece handle makes it a bit more cumbersome to carry around and a bit harder to extend.
---
Milliard 6-16 Foot Extendable Tree Pruner/Pole Saw 
Make branch trimming and cutting a breeze with the Milliard 6 to 16 feet extendable tree pruner pole. Milliard products have high-quality standards, decent pricing, and friendly customer support as an added bonus.
We like that the pole has an adjustable length. You can make it any length from 6 to 16 feet. We did notice that you need to use extra force to tighten the length locking mechanism properly. 
The head of the pole is equipped with a 14-inch saw blade, with every tooth having three sharp sides. You have a sharp pruner head with a double pulley system for effortless and clean cuts for thin branches.
Made from fiberglass, it's very easy to maneuver, even for weaker landscapers. Finally, the adjustable length versatility makes the Milliard extendable pole saw and pruner one of the best options for beginners.
Key Features:
Double pulley system
Firm but lightweight fiberglass pole
Foam handle for comfort
Up to 16-feet reach
14-inch carbon steel saw blade
Pruner cutting capacity: 1¼ inches
Adjustable rope handle for easy grip
Weaknesses:
The pole length locking mechanism could be tighter.
---
Talitare 10-foot Pruning Pole Saw 
Don't have tall trees and need a budget pole saw for the occasional trimming once or twice a year? The Talitare 10-foot pole saw is the best budget pole saw on our list for the infrequent landscaper.
The Talitare pole saw is assembled from 5 pieces so that you can adjust the pole from 4 to 10-foot length. The head of the pole has a long and sharp saw blade (2 blades included) with a hook to help you stay on track when sawing.
This pole saw pruner doesn't feel as sturdy or high-quality as competition, but you can't ask for more with this budget price. A lightweight and easy-to-handle pole saw for simple landscaping chores.
Key Features:
Adjustable 4 – 10 foot length
Lightweight
Great budget price
Stainless steel rods
Weaknesses:
Rusts quicker than expected
Build not very sturdy
---
Jameson FG-6PKG-7 FG-Series Manual Pole Saw and Tree Pruner
If you're looking for a heavy-duty pole pruner and saw Jameson FG-6PKG-7 is your best bet. This set includes two 6′ poles for a maximum of 12′ feet reach, a saw blade head, and a pruner head. 
The fiberglass pole is very sturdy and lightweight; however, the Jameson FG series poles are a touch thicker than most. With the added heavy-duty interchangeable heads, the pole weighs 10 pounds and might be too heavy for some users.
As expected, Jameson prides in their extra sharp 16-inch Barracuda Tri-cut saw blade and the double pulley pruner system for easy sawing and cutting. 
If you don't mind the higher price tag and are ready to invest in a long-lasting pole saw and pruner, the FG-6PKG-7 is the best pole saw and pruner for more frequent use that will last you years.
Key Features:
16-inch Barracuda Tri-Cut saw blade
Up to 12-foot reach
Sturdy and stiff fiberglass pole
Double pulley system
Interchangeable pruner and saw blade heads
Weaknesses:
---
Corona TP 3206 SwivelCUT Long Reach Pruner
Have vines, small trees, and bushes that need occasional trimming? Do back problems prevent bending or working close to the ground? Corona TP 3206 is a fantastic long-reach pruner to avoid constant bending and straining.
We love the engineering of this 62-inch lightweight pole. The pruning mechanism can work in two ways. The first one is to use the handle at the bottom and pull it towards you. It allows it to reach higher branches or vines but takes a bit of practice to master. The second method is to pull the sliding grip in the middle of the pole, which works well when cutting nearby. 
Finally, it's essential to appreciate the 360 degrees swivel head that allows you to cut from any angle and reach into tight spaces. This is definitely, one of the best small pole pruners for people with back problems.
Key Features:
PowerGlide comfortable grip
360 degrees swivel head
Pruner cutting capacity: 1¼ inches
Ergonomic design
Weaknesses:
---
How Do I Use a Manual Pole Pruner?
Using a pole pruner is pretty straightforward. You have to select the branch you want to cut and position it between the blade and the hook, then pull on the string or press the handle to engage the cutting mechanism. Just remember, most pole pruners can handle up to 1 to 1.5-inch thick branches. If you force it too much and try to cut thicker branches, the blade is likely to get stuck. Also, be sure to never twist the blade while cutting or the blade might bend or the mechanism might break. Always cut the branch close to where it joins the larger branch to avoid dead little stubs. As with any tall tool, be sure to never use a pole of any kind near electrical wires. Many people get electrocuted every year by allowing their pole to touch the power wires.
How Do I Use a Manual Pole Saw?
Using a manual pole saw is pretty straightforward as well. You need to move the pole using an up and down stroke motion. Don't use any force when moving upwards because you are lifting the pole and fighting saw and branch friction simultaneously. On the way down, use more force; the combination of pole weight, gravity, and your pull will create a powerful stroke. As with any tall tool, be sure to never use a pole of any kind near electrical wires. Many people get electrocuted every year by allowing their pole to touch the power wires.