As humans, we are all instinctively drawn to the site and sounds of water. Our bodies are mostly water, we need to drink it to survive, we vacation on the beach and we will walk for miles to catch a glimpse of a waterfall. We just can't resist the it.
If you've every been out hiking and you've heard the sound of water, even if it was a small trickle, I'll be that you went out of your way just to see it. Water is also the lifeblood of your landscape.
Creating a water feature in your yard is the single most spectacular landscape installation that your money can buy!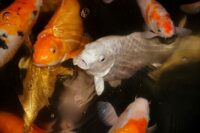 If you are going to own fish, whether, in your garden pond or an aquarium, you should really…