Every homeowner has at least one small hand saw in their garage for simple DIY projects or regular tree and landscape maintenance. A simple tree pruning saw might be enough to cut a few small branches, a plastic pipe, or some 2×4's, but if you have a large backyard or are going to work on more significant DIY projects, it's going to be a long and strenuous workout. These days we have access to many different handheld electric saws that can save you countless hours of time and energy. Today we're going to show you the top 7 best handheld electric saws for landscaping in 2021 to help you create the most beautiful backyard in the neighborhood without breaking a sweat.
Types of handheld electric saws
You can find a plethora of different types of handheld electric saws, but the most popular are these four types:
Chainsaw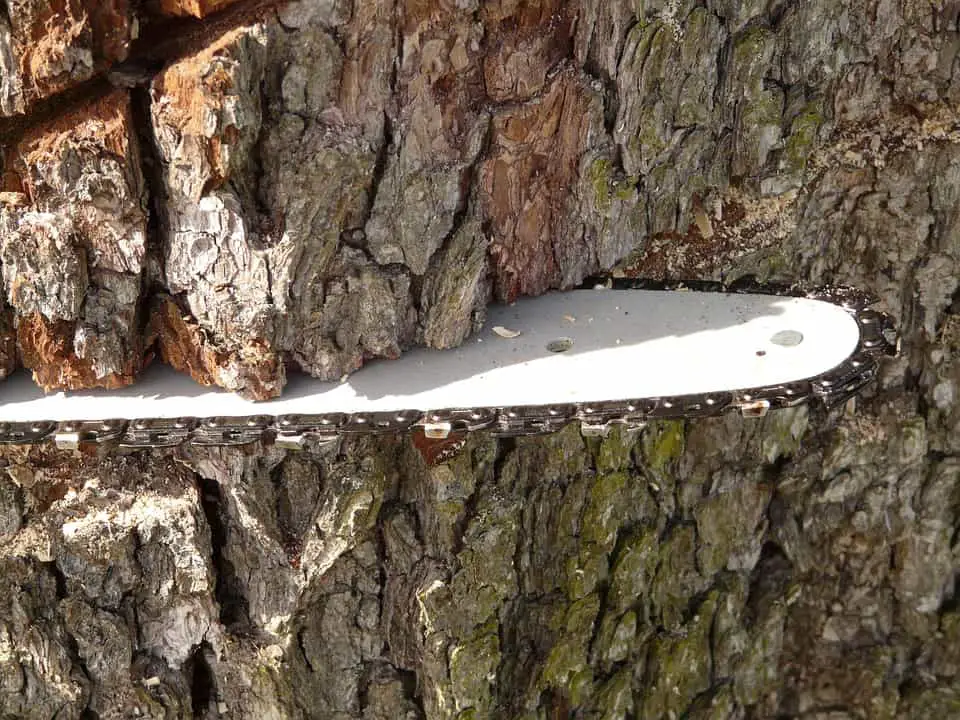 A chainsaw has a set of sharp linked teeth located on a chain that runs at high speed around a steel panel. These iconic saws used by lumbermen and emergency services are designed to cut even the largest trees quickly. Electric chainsaws are not as powerful as their gas powered counterpart, but they can offer a quick, convenient, and easy way to trim or cut smaller trees.
Reciprocating saw
These saws are very popular because of their versatility, ease of use, heavy-duty, and maneuverability. With many different blade choices, they can cut not only wood but metal, tiles, plastic, etc. Reciprocating saws work by pushing and pulling the blade in short but rapid strokes. These saws are not the most precise and you will find it difficult to make straight cuts, but if you are looking to rip through some wood in a hurry, this might be the saw for you. We often use a reciprocating saw to help cut out old stumps. It is easier and more precise than an axe and doesn't dull like a chainsaw. Always be careful if sawing into the ground, these saws will cut right through wire and pipe also. You can use them for small DIY projects, tree pruning, hardscaping, or even demolition.
Jigsaw
Similar to a reciprocating saw, Jigsaws have a blade that quickly moves in and out of the saw. The main two differences between a reciprocating saw and a jigsaw are a downward pointing blade and a much narrower blade that allows making non-straight cuts. This makes the jigsaw a perfect tool for detailing but not as useful for landscaping. If you want to cut out a curvy pattern in plywood, a jigsaw would be the perfect choice.
Circular saw
As the name suggests, these saws have a disc-shaped blade. They can be used freehand, with a parallel guide fence, or mounted on a sawmill. Professionals and amateurs often use this type of saw for their construction projects. This type of saw can create a very precise and straight cut into wood or plywood, so it's often used during house construction, renovation, building a patio, fences, etc. A circular saw, with its flat, circular blade and flat deck, is meant to cut square lumber such as two by fours or plywood and is not well suited for tree branches or pruning.
What to consider before buying an electric handheld saw?
What are you going to cut?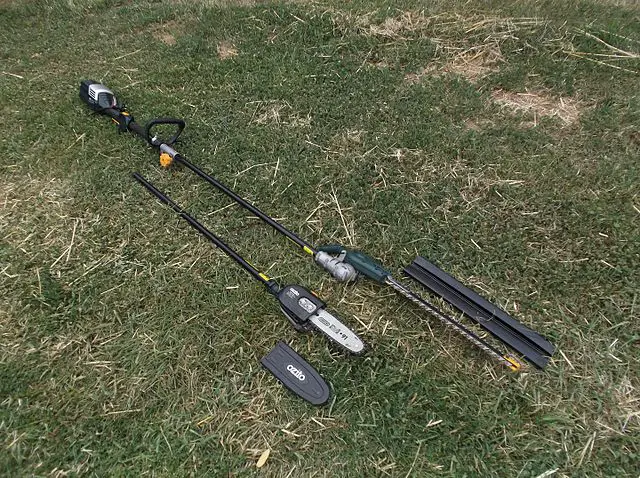 Different landscaping tasks may require different types of saws. Reciprocating saw will be sufficient for most small backyard chores, quick DIY projects, or landscaping tasks. If your backyard is full of large and thick trees that need to be cut, you might be better off with a chainsaw since a reciprocating saw will take way longer, and the blade is just not long enough to cut through a thicker tree.
Safety features
You need to be extremely careful when using power tools like saws. Besides wearing personal protective equipment and properly handling your tools, look for extra safety features like anti-slip handles, splash protection, overheat protection, or auto shut off if the blade gets stuck.
Ergonomics
Most electric saws used for landscaping look very similar, but when you pick them in your hands, you might have a totally different experience. To reduce strain on your hands and back, make sure the saw has ergonomic grips. Handles that are too thick may result in a lesser grip and less control of the blade. 
If you're working in tight spaces, make sure the saw is compact and maneuverable enough to reach those small cuts.
Battery or Corded
Some electricity-powered saws are on a cord plugged into a socket, while others use lithium-ion batteries. Corded saws usually have more power, but you'll have to drag the cord behind. If you need to go high up a tree or go further away from the house in your large backyard, a battery-powered saw is way more convenient even if you have to sacrifice some power. Being a landscape professional, I like to have both corded and battery power tools. Battery power is great if you always have the battery charged up and ready to go, but if you only use the tool occasionally, you can't beat a corded tool that is ready to go at all times.
Power
Most battery-powered saws will have an 18V or 20V power which is plenty for simple softscaping or hardscaping tasks. A 12V saw will be lighter and great for smaller cuts but might struggle with larger trees or thicker material. We usually advise going for an 18V or 20V saw, which is able to do both smaller and larger cuts. 
Corded saws have their power measured in Amps. 10-12 Amp power will have no trouble with trees in your backyard, simple woodcuts, or thin plastic, metal, and concrete cuts. If your project involves thicker trees and tougher material, go for a 15 Amp power saw. The more amps the saw draws, the more power it will have.
Best Handheld Electric Saw Reviews
---
BLACK+DECKER 20V MAX Cordless Reciprocating Saw Kit with extra 4Ah battery
Black & Decker is a well-known American power tools manufacturer known for its high-quality tools for professionals and everyday amateur users. Black & Decker 20V cordless reciprocating saw is the best handheld electric saw for landscaping on our list in 2021 because of portability, power, high quality, and reasonable price.
Their 20V MAX PowerConnect battery provides enough power to cut through wood, plastic, fiberglass, nails, and more if you have a proper blade. Their PowerConnect technology allows swapping the battery with any other MAX PowerConnect tool battery. The only weakness is that the battery lasts 30-60 minutes of sawing and takes 2-3 hours to charge. For more significant DIY projects or larger landscaping tasks, we advise getting an extra battery.
We love that this saw is compact, ergonomic, and lightweight. Weighing just 12 pounds makes it very maneuverable, especially when working in tight spaces, in or around trees. Nonslip handles and pivoting blade shoe adds extra precision and versatility for non-straight cuts.
Key Features:
20V Max (18V nominal) power lithium-ion battery
Up to 3,000 SPM
Outstanding control and safety with power brake
Different speed settings
Pivoting blade shoe
Compact and maneuverable
Lightweight
2-year warranty
Weaknesses:
Quite expensive with the extra battery
---
GALAX PRO Reciprocating Saw
Galax Pro company mainly targets occasional DIYers and amateur landscapers. Their products are very budget-friendly, but as expected, are of lower quality. If you just need a lightweight saw for casual yard work or a simple woodworking project, Galax Pro is the best budget reciprocating saw kit on our list. 
Along with the cordless reciprocating saw, you'll get three wood blades, two metal blades, a 20V battery, and a fast charger.
The saw has an ergonomic design with soft rubber handles that fit nicely in your hand and allow for a tight grip, which you will need since the saw does produce quite a bit of vibration.
Despite the lower build quality and a weak battery, Galax Pro reciprocating saw has a 2-year warranty, is a very cheap, lightweight, and powerful saw for almost any sawing needs inside and outside the house.
Key Features:
20V power
3000 SPM
2 Ah battery with fast charge
Ergonomic design
No tools required to change the blade
Light and portable
Cheap
Weaknesses:
Produces a lot of vibration
Not great battery
---
Snowtaros 4-Inch Mini Chainsaw
If your backyard is full of trees or bushes and you constantly need to trim twigs, branches, and tree limbs, Snowtaros mini chainsaw is a fantastic portable alternative to large and bulky chainsaws.
This budget electric chainsaw weighs just 700g allowing it to be used with just one hand. A comfortable anti-slip handle allows for a good grip and doesn't require much strength; therefore, everyone can use this chainsaw.
A powerful 24V battery will cut through tree branches and twigs for 1.5 hours before needing a recharge. This mini chainsaw has an anti-splash guard for a cleaner operation, while the overheat protection and safety switch provides extra safety.
Yes, this mini chainsaw won't be able to saw through large and thick trees but is perfect for backyards full of smaller trees or bushes. Keep in mind, you are purchasing a very economical saw, do expect it to cut like a saw of twice the price.
Key Features:
24V power
Portable
Extremely lightweight – just 700g
Overheat protection
Anti-splash guard
1.5h battery life
Weaknesses:
It can be used only on wood
---
Milwaukee Electric Tool 2520-21XC M12 Hackzall Saw Kit
The Milwaukee M12 Hackzall saw kit is a great reciprocating saw kit from a respectable power tools manufacturer. The high-quality light, portable and maneuverable M12 reciprocating saw is perfect for light landscaping jobs and should last you a long time.
We love the saw's portability, which allows us to use it with one hand while on a ladder or a tree. There's also a neat LED light to work in dark spaces or nighttime. The whole saw weighs just 4 pounds, so if you can hold an electric screwdriver, you'll be very comfortable with M12.
The 3000 strokes per minute speed is powered by 12V power and a 4ah battery. It is nice to have a larger battery that charges in just 45 minutes, but the 12V power is a bit of a disappointment. When used on tough wet stumps, metal, or concrete, you can't put too much strain, or else overload protection will kick in and shut down the motor. You'll have to go slower and take time with harder materials.
If you don't need to do a lot of cuts on solid materials, then the Milwaukee M12 reciprocating saw is one of the best and most portable handheld electric saws on our list.
Key Features:
3000 SPM
12V power 4ah battery
Battery charges in 45min
Sturdy, high-quality build
Compact size
Overload protection
Well balanced weight
LED light
Lightweight
Weaknesses:
Expensive
Much slower on tougher material
---
DEWALT DWE305 12 Amp Corded Reciprocating Saw
Yes, cordless power tools are amazing because they are much more portable and easier to maneuver, but If you're constantly working in your garage or landscaping, you'll get tired of recharging the batteries or buying new ones when they die. 
Dewalt DWE305 is a powerful 12 Amp corded reciprocating saw that will work at 100% power every time. 2,900 SPM allows for fast cuts through soft materials like wood, plastic, or drywall. If needed, you can adjust the speed setting for harder material to avoid overheating.
DWE305 is a very ergonomic saw because of the 4-position blade clamp. It allows you to cut different angles without the risk of holding the saw weirdly and messing up the cut or even hurting yourself.
If having a cord isn't a deal-breaker, Dewalt DWE305 is the best corded electric saw for landscaping on our list. Nothing fancy, just powerful, high-quality product, ergonomic, and easy-to-use power tool.
Key Features:
12 Amp power
2,900 SPM
Solid build
Ten blades set included
Four-position blade clamp
Weaknesses:
Limited movement because of cord
---
We have another small chainsaw for all your tree pruning and cutting chores. Forget your ladder with the 2-in1 WG323 electric pole saw and chainsaw. 
Easy to attach and detach pole requires no extra tools and can be assembled in seconds. The 20V power spins the chain at 12.5 ft/s speed. The chainsaw is powerful, but the 2.0 ah battery included in the kit is a bit weak and dies quickly; for larger landscaping projects, make sure to get a backup battery.
When assembled, you'll be able to reach dead branches up to 12 feet in height. When detached, you can use it as a fully functioning medium-sized chainsaw to cut wood, tree branches, or even small-medium tree logs. The chainsaw has an auto-chain tension and auto lubrication, so you don't even need to touch the chain to do maintenance.
The fully assembled pole saw weighs almost 11 pounds and requires a bit of practice to balance and cut at the same time. We love that this combination eliminates the need for a ladder if you want to do some light and quick tree trimming. Yes, the battery is relatively weak and doesn't last long but having two power tools for a budget price makes the WG323 one of the best electric pruning saws for beginners.
Key Features:
20V power
Great price
12′ reach
Auto chain tension and lubrication
Lightweight
Cheap
Weaknesses:
Weak two ah battery
Requires some practice to use the long pole
---
WORX WX550L Axis Convertible Jigsaw To Reciprocating Saw
Here is another excellent power tool from WORX. The jigsaw to reciprocating saw is a combination for casual landscapers and DIY enthusiasts. Worx WX550L is a convertible jigsaw-to-reciprocating saw that allows you to trim dead branches, cut a PVC pipe, and cut weird shapes in wood or drywall, all within a few minutes with the same tool.
The 20V power is powerful enough to go through tougher materials like metal pipes, fiberglass, or tiles. The 1.5 ah battery is a bit disappointing since it won't last long. We advise getting a more powerful 4.0 ah battery and using the original as a backup.
If you're doing landscaping and want to start with light and simple DIY projects, WX550L will give you two power tools for the price of one. 
Key Features:
Instantly switch from jigsaw to reciprocating saw
20V power
Lightweight – 4.6 pounds
Orbital cutting
Integrated dust blower
Cheap
Weaknesses:
---
Frequently Asked Questions
Can I cut other materials besides wood with an electric saw?
It depends on the saw and blade used. Most saws will cut through softer metals, tiles, or even concrete if fitted with a proper blade. The only exception would be chainsaws. A regular household chainsaw may cut through an occasional old nail in the wood, but it won't do good on harder metals which will ruin the chain.
Do I need to lubricate the electric saw blade?
The majority of the best electric saws will be lubricated during manufacturing, and you don't need to do any lubrication yourself. To precisely know if your saw needs additional lubrication, always read the user manual provided. If lubrication is required, you'll find the type of lubricant needed in the manual and how to apply it. In general, reciprocating saws will not need lubrication, but chainsaws will.
What is the orbital setting on my jigsaw?
The orbital setting changes the jigsaw straight cut into an elliptical movement, increasing the cut speed and introducing extra vibration and tear-out when cutting. It's a very handy setting if you want the fastest cut and don't care if it looks good. For more precise cuts, use the lowest setting or 0 and avoid additional vibration or tear-out.