Grilling season is almost here, and everyone is anxious to whip out their charcoal or gas grills and get down to sizzling! If you want to grill amazing food with ease and keep your grill clean and well maintained, you need some extra barbecue tools and accessories. We've compiled a great list of the 10 best barbecue tools and accessories in 2021 to make grilling safer and hassle-free.
Which Barbecue Tools are Essential?
These grilling tools should be in every self-respecting grillers arsenal:
Grilling tongs 
It's pretty straightforward – you're not going to use your hands to flip steaks or rearrange red hot charcoal. Every griller needs to have at least one pair of tongs to operate the grill. 
Spatula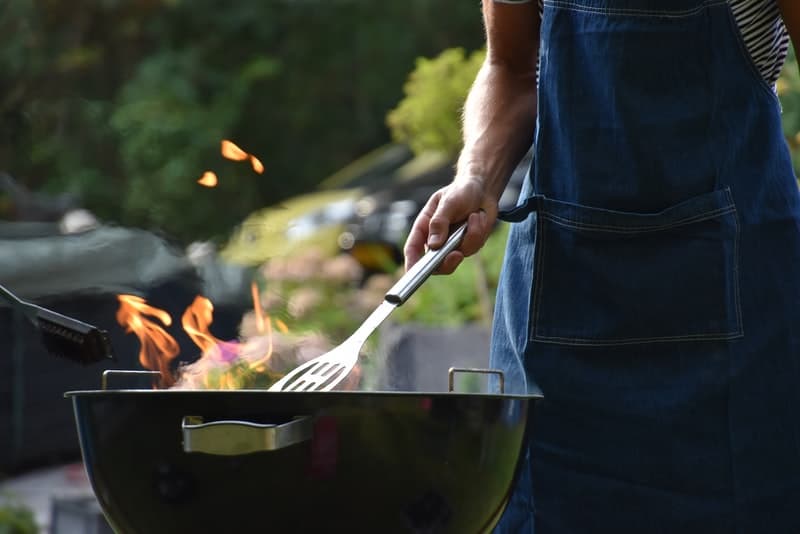 Spatulas are essential because they can pick a burger or fish without breaking it, it can be used to press on burgers or steaks to get a perfectly even sear. Finally, it's much easier to scoop loose veggies with a spatula and tongs combo.
Meat thermometer
For the best results when cooking meats, a thermometer is a must. Even the most experienced grillers use a meat thermometer to know when their protein is at the perfect temperature. 
Charcoal starter
We know many people don't use a charcoal starter, and they're missing out big time. A charcoal starter saves you a lot of time and allows you to heat charcoal uniformly every time. For a more comprehensive selection, check out our Top 9 Best Charcoal Starters article.
Heat resistant gloves
It's obvious you're going to be dealing with heat, your hands especially, so make sure to protect them with heat-resistant gloves. These gloves will protect you from open flame, oil splashes, or hot metal surfaces. Having your hands protected from the heat also provides more functionality and flexibility around the grill since you can touch and move more hot things.
Apron
Splashing oil and food drippings on your fancy clothes is never a pleasing incident. Get an apron to protect your clothes and look like the boss of the grill.
Grilling grate cleaning brush
After grilling or between numerous dishes, you should always clean up your grate. This will make your grate last way longer, and you'll avoid tasting burnt food the next time you grill.
Nice to have accessories:
Grill basket
Grilling baskets aren't that popular or well-known, but they're a fantastic tool if you like barbecuing veggies. You can dump a load of chopped veggies into the basket and cook them inside without any worry that they'll fall into the grill. Alternatively, you can keep already cooked food in the basket. The meat or veggie juices will drip through the small gaps and won't let the food soak.
Basting brush
Sauce up your chicken, ribs, or any other protein you like with a silicone basting brush.
Ash bucket
After all the charcoal burns and cools, it's handy to have an ash bucket when cleaning your grill. 
10 Best Barbecue Tools and Accessories in 2021 to make grilling hassle-free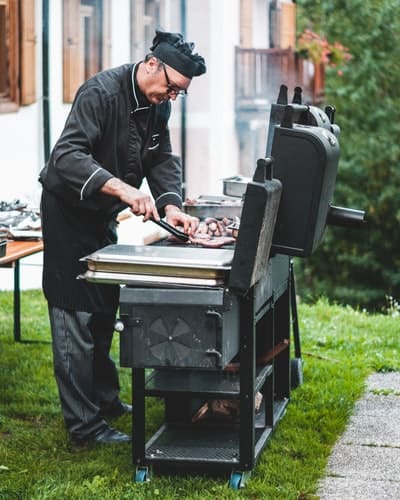 ---
Best Grilling Tongs: OXO Good Grips 16-Inch Stainless Steel Locking Tongs
OXO Good Grips is well known for its high-quality and budget-friendly kitchen tools. The 16-inch stainless steel tongs are a perfect option for both beginner and expert grillers. The sturdy build features a rust-resistant stainless steel body, while the silicone handles provide a strong grip even when wet.
The locking mechanism provides easy storage in a kitchen drawer or hooked up on any kitchen or grill hooks. Cleaning is super easy as well; the whole construction is dishwasher safe.
OXO tongs are inexpensive, sturdy, easy to use, and clean – a must for every griller.
---
Best Grilling Spatula: Weber 6673 Original Wide Spatula
If you ever cook fish or burgers, you must have a spatula along with your tongs. Weber 6673 wide spatula will let you flip even the biggest fish fillets without breaking them or pressing burgers to get a fantastic sear.
The ergonomic silicone strip on the handle allows for a solid grip. The spatula's head has an angled neck allowing you to reach food near the edges of the grill without burning your hands.
This wide spatula is quite heavy because of its thicker body and feels very nice when operating. Weber even offers a 2-year limited warranty, which further assures the product quality.
---
Best Meat Thermometer: Saferell Instant Read Meat Thermometer for Cooking
The Saferell meat thermometer allows you to get meat temperature in just 2-3 seconds after sticking in the probe. The 4.6-inch probe is long enough, so you don't get burnt from the grill or oil splashes.
Despite being very accurate and quick to show temperatures, Saferell thermometer's most significant advantage is its IP67 waterproof rating. It's not afraid of rain, splashes, or other liquids coming into contact. If it gets dirty or wet, wipe it down with soapy water, no dishwasher.
The large LED screen lets you correctly see the temperatures day or night, inside or outside. Safarell thermometer can flip between Celsius or Fahrenheit degrees and also allows you to set timers for desired temperatures.
---
Best Charcoal Starter: Weber 7447 Compact Rapidfire Chimney Starter
We all know how time-consuming and messy heating charcoal without a good starter can get. Weber Compact Rapidfire chimney charcoal starter is a very versatile and high-quality product. It's small enough to take on a camping trip but can hold up to 40 charcoal briquettes for a medium grill. 
Just fill the chimney with your favorite charcoal, light up a few balls of newspaper or thin kindlings on the grill, pop the Weber chimney starter on top and leave it burning for good 15-20 minutes.
The stainless steel sturdy construction, cool-to-touch handle, heat protection plate, and budget price make it an easy purchase that will heat your charcoal faster, evenly and won't require you to stand near the grill adjusting the coals.
---
Best Heat Resistant Gloves: GEEKHOM Grilling Gloves
Heat-resistant gloves are a must if you want to avoid burning your fingers or palm when handling hot grill lid, chimney starter, grates, and in general, anything that can get hot. GEEKHOM grilling gloves are made from BPA-free silicone and can handle temperatures from -104℉ to 446℉.
These chemical-free premium silicone gloves have a textured surface for better grip and cotton lining inside for comfort and sweat absorption. We love that they are gloves instead of mittens; this provides more flexibility and better grip on smaller parts.
---
Best Apron: FixGrub Chef Apron
FixGrub Chef Apron is a robust 100% cotton apron made for heavy use near the grill. It's designed to protect your clothes from splashes, stains, and dirty hand marks. After use, just pop it into the dishwasher, and it'll be ready for another BBQ party!
This apron is not only good-looking but also very versatile. You have an adjustable neck strap and long sleeves to fit any size BBQ professional. Additionally, you'll be pleasantly surprised to find a pocket for your smartphone, a convenient bottle opener, and a small hand towel included with the apron.
---
Best Grill Brush: GRILLART Grill Brush and Scraper
A grill brush is one of the most important barbecue tools to keep your grill and grates clean. GRILLART grill brush is an excellent high-quality grill brush to quickly scrub the grates and be ready for the next grilling.
This grill brush has way more bristles (the company claims three times more) than the competition making your cleaning easier and faster. We appreciate the angled surface of the brush and bristles that allow you to clean tight corners of the grill. GRILLART brush is soft enough to use on even delicate surfaces like porcelain.
Stainless steel construction with a wired woven design is exceptionally sturdy and can endure very harsh scrubbing, while a non-slip handle allows for a good grip.
---
Best Grill Basket: Grillaholics Heavy Duty Grill Basket
We discovered how good grill baskets are just a few years ago. Before, we had to meticulously stick them on a skewer if we wanted to grill smaller cut veggies like onion, carrots, bell pepper, etc. This took a lot of time and effort. With a Grillaholics grill basket, you can just dump all your cut and seasoned veggies straight into it and cook right on top of the grates. Want to cook mini sausages or shrimp? No problem, just use the basket and don't risk them falling through the grill grates.
Another excellent use for a grilling basket is to rest cooked food in it. For some items like seared steak or veggies, you don't want them sitting in their juice and getting soggy. A grill basket will allow all of the juice to run off through the thin holes.
All in all, the grilling basket is still a very underrated or just unknown grill accessory in 2021 that can replace skewers on most occasions and make your life way easier.
---
Best Basting Brush: Yalumo Silicone Basting Brush 
If you ever tried making barbecue ribs or chicken wings, you know you need a baster to spread that tasty sauce. Yalumo silicon basting brush is made from food-grade silicone and can stand up to 446℉ temperature. A long handle allows brushing the food without burning your hands, even on an open-flame grill.
Remember that you should always oil your cleaned grilling grates before putting food on to avoid it sticking. A basting brush like Yalumo is perfect for this task.
---
Best Ash Bucket: Plow & Hearth Double Bottom Metal Fireplace Ash Bucket
Another rarely mentioned barbecue accessory is a good ash bucket. No one really talks about cleaning the ash from the grill, but everyone knows they need to do it. Plow & Hearth double bottom ash bucket is a high-quality double-bottomed bucket with 3-gallon capacity and stylish black matte color.
The bucket has a tight powder-coated lid allowing you to keep it outside without worrying that the wind will blow out the ash all over your backyard. 
Plow & Hearth ash bucket is one of the best ash buckets that can keep even hot ash inside because of its double bottom. Cleaning the ash is a critical barbecue process to keep your grill neat and tidy.
Basic BBQ Tips
Clean the grill first
No one wants last week burnt chicken bits on a precious dry-aged rib-eye steak. Before every grilling, make sure to check if your grilling grates are clean and ready for the next session. If they're not, use your grill brush and clean up. Nasty grates with old food charcoal not only will ruin your next meal but may even give you food poisoning.
Preheat the grill
When your charcoal is hot and ready, don't start cooking food yet. Close your grill and leave it for 10-20 minutes and allow it to get hot. You want to put food in a hot grill and on hot grates to hear that sizzling sound. Preheating lets the food be cooked by direct heat from the grill and the grates instead of the indirect heat from the charcoal.
Close down the lid
Having your grill lid open exposes the fire to a lot of oxygen; this, in turn, makes the flame even bigger. If you want a quick sear on your burger or seafood, an open lid works fine, but for any thicker cuts, put the lid down to suffocate the flame but keep the same high temperature.
Have different heat zones
Flare-ups or too hot charcoal can catch anyone by surprise. For this reason, it's advised to always have several heat zones on your grill. When you have your hot charcoal, don't spread it evenly in the grill. Have a central hot zone where all the cooking will be done and a slightly colder zone. If your main zone flares up or just gets way too hot, you'll have a place to move your food to a less hot area.
Monitor your meat heat
Before cooking, we all fantasize about how we're going to bite into that perfectly cooked juicy steak or chicken breast; to achieve that fantasy every time, you need to use a thermometer. Eye-balling and timing might get you the result you want, but it varies from different grill heat, protein temperature, charcoal type, or even weather. 
Be safe; use your tools.
Many people think they're smarter or more experienced while dealing with fire and sooner or later get burnt. Always wear heat-resistant gloves when handling charcoal starters, hot grill grates, or lids. Furthermore, use tongs, spatulas, brushes, and thermometers to deal with your food instead of your hands to stay safe and more efficient.