If you have a fire pit in the backyard or a fireplace of any kind that burns wood, you know the hassle of dealing with hot ash and embers. You probably even ruined one or two plastic containers thinking the ash was already cool, just to find the side of the bucket with a hole the next morning. Maybe it's finally time to get a proper ash bucket that won't warp, melt, or damage your floor? Today, we're looking at the top 7 ash buckets for 2021. 
What is a Good Ash Bucket?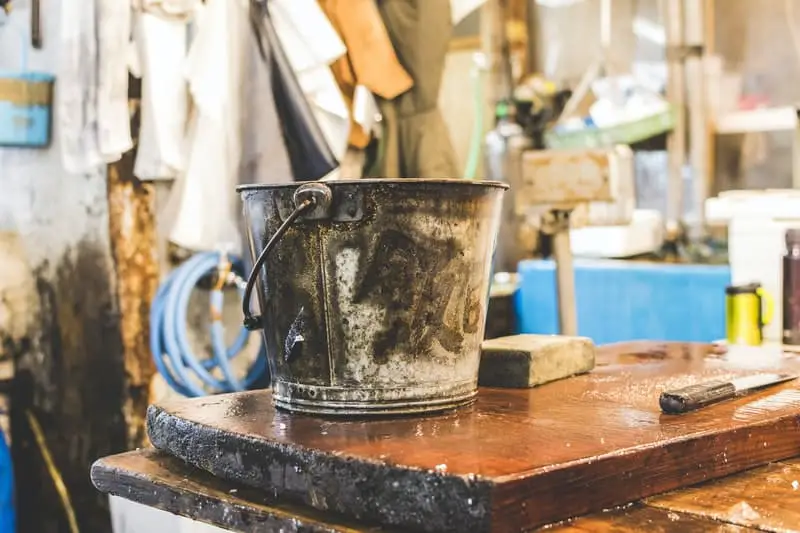 It's a bucket; it shouldn't be complicated, right? 100%! Ash buckets should be able to hold hot ash without breaking or damaging the surface it's set on. A good ash bucket's main features should be proper material like galvanized iron so it won't warp, a handle to carry the bucket, and a double-layered bottom to prevent burn through. 
Best Ash Bucket Reviews
Amagabeli Bucket for Fireplace
The Amagabeli ash bucket has a durable construction of a 0.4 mm thick iron plate layer and a beautiful black finish. This allows holding cooled ash and embers from your fireplace, carrying kindling, or even hot charcoal. Just don't keep hot embers or charcoal for a long time, this will damage the paint, and your bucket might start to rust.
The bucket comes with a 0.7 inch raised bottom to protect your surface from heat damage. However, you should always place it safely outside or on a fireplace hearth to be extra safe.
Finally, the bucket has a very large spout, flexible handle, and a pocket on the side to conveniently and neatly pour out the ashes.
A beautiful bucket that is not only easy to use but looks great on your fireplace hearth. If you're not too price-sensitive, Amagabeli is one of the best ash buckets on our list.
Key Features:
Beautiful looks
Raised bottom
Thick iron plate layer
Large spout for easy pouring
Weaknesses:
Panacea 15343 Ash Bucket with Shovel
This Panacea bucket comes with a small shovel for easy ash collection and keeping your fireplace clean and tidy. You'll also have a bucket lid to protect the ash from being blown out if you place your bucket outside and a comfortable wood handle for transportation.
This heavy-duty steel bucket is 12.5-inch diameter and 13-inch in height with a powder coat to prevent rust and paint flaking. Panacea 15343 doesn't have a double or lifted bottom, so make to keep it on your fireplace hearth or other non-combustible surfaces.
All in all, it's a lovely set that can be used inside or outside for easy cooled ash collection and disposal.
Key Features:
Powder-coated
A lid to keep the ash from spilling
Shovel included
Wood handle
Weaknesses:
No double or lifted bottom
Smedley and York Coal and Ash Bucket 
Keep your fireplace tidy with Smedley and York ash bucket. This classic-looking black bucket comes with a metal shovel and a broom. It has a 2-gallon capacity to store logs, coal, ash, or pellets.
The bucket is made from galvanized iron, so it's safe to shovel warm ash, but not advised to store hot coal since it doesn't have a double bottom.
This set is perfect to have near your fireplace as you don't need to use your house shovel or broom to collect the ash, and the bucket itself can hold ash from 2-3 fireplace burns. Additionally, the beautiful design and classic black color will fit nicely with most fireplaces and hearths.
Key Features:
Classic look
It comes with a shovel and broom.
Made from galvanized iron
Has a lid
Weaknesses:
Vestil PAIL-STL-RI Steel Open Head Pail
Vestil steel open bucket is the best budget ash bucket on our list. If you don't need anything fancy and just want a simple steel bucket to transfer cool ash from your fireplace, Vestil might be your best option.
This 5-gallon bucket measures 13-3/8 x 11-7/8 inches and is coated with rust inhibitors to prevent corrosion. This pail is made from thin steel, making it super lightweight. However, this also means it should not hold any hot ash or embers for any period of time; otherwise, it may warp, melt, or damage the surface beneath it.
It's a nice, cheap option if you want a simple bucket for your ash, coal, pellets, or don't have a firewood rack.
Key Features:
Inexpensive
Large capacity
Lightweight
Weaknesses:
Not suitable for hot ash
No lid
Minuteman International Scoop Coal Hod Pellet Bucket
This large pail from the Minuteman company is great for holding pellets, kindling, coal, and of course, ash. The 14-inch diameter and 14-inch height is large enough to scoop out ash from 3-4 fireplace burns or 30-40 lbs. of pellets.
This bucket, being constructed of galvanized steel with a double bottom for insulation, can hold hot ash without warping or damaging your floor (we still advise keeping it on your hearth).
A large spout is helpful to easily pour out any contents without making a mess. There is also a black metal scoop, but it felt a bit flimsy and lacked sturdiness.
If you don't mind the shovel, the bucket is of excellent quality, easy to use, can hold hot ash, and looks good, making it the best large ash bucket on our list.
Key Features:
Stylish design
Made from galvanized steel
Double bottom
Large capacity
Large spout
Metal scoop
Weaknesses:
Plow & Hearth Double Bottom Metal Fireplace Ash Bucket
Plow & Hearth ash bucket is overall the best ash bucket for your fireplace on our list. It has a double bottom to hold hot ash, 3-gallon capacity, 28 gauge galvanized steel, and a beautiful charcoal black finish to match your fireplace.
The bucket has a 10-inch diameter and 13-inch height with a lightweight powder-coated steel lid and a handle with a wooden grip for comfortable handling inside or outside.
Beautiful finish, high-quality construction, and easy handling are worth every dollar.
Key Features:
Sturdy build
Beautiful modern design
Made from galvanized iron
Powder-coated
It comes with a lid
Wooden handle
Perfect for inside or outside use
Weaknesses:
Hisencn Wider Fireplace Ash Bucket
To end our list, we have another large ash bucket that can also be used for pellets, coal, or storing kindling. Hisencn fireplace ash bucket's opening mouth is 16.1 x 13.9-inches with 11.8-inches in height. The large spout and a side pocket allow you to easily pour out the contents without making a mess. Additionally, you can store quite a bit of tinder or kindling in this bucket.
The strong galvanized iron is heat resistant, so you can scoop out warm ash without damaging the bucket, while the lifted support base will protect your wooden flooring if you forget to place your bucket on the fireplace hearth.
Overall, a high-quality large multipurpose ash bucket for any fireplace, grill, wood oven, or other miscellaneous landscaping tasks.
Key Features:
Large capacity
Large spout
Side pocket for easy pouring
Made from galvanized iron
Lifted bottom
Weaknesses:
Frequently Asked Questions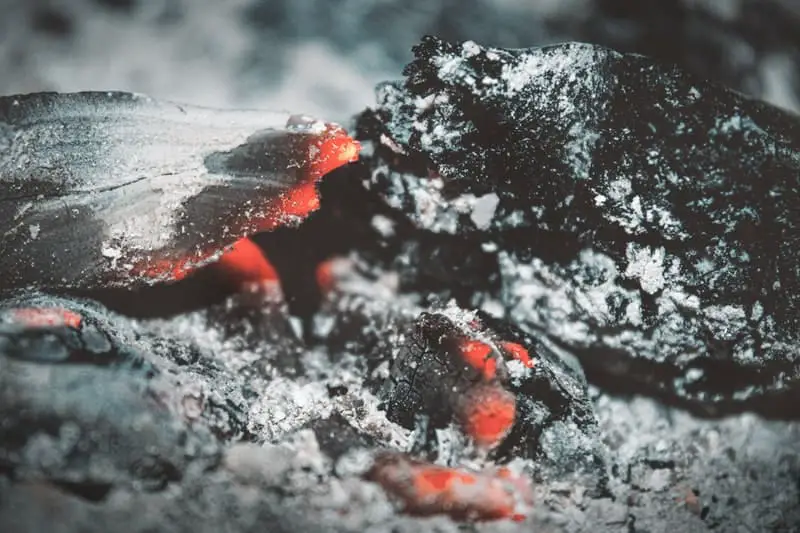 Where Should I Store My Ash Bucket?
Even when handling barely warm or cool ashes and embers, take extra safety and store your ash bucket at least 3 feet away from any combustible material or surface. If your bucket doesn't have a double or raised bottom, keep it on a non-combustible surface like cement or bricks; if you're storing your ash bucket indoors, keep it on your fireplace hearth.
Why Do I Need an Ash Bucket? Why Remove Ash at All?
Everyone knows that burning solid fuels like wood, pellets, or coal will leave a bunch of ash behind. The ash leftovers can dramatically reduce the performance of your fire pit, fireplace, or stove by reducing air intake.
Ash build-up will also collect moisture, which will cause a metal fire pit to rust over time.
More importantly, ashes act as an insulator and stop hot coals from burning out. Hot embers insulated with ash can stay dormant for up to 4 days! This might be a fire hazard and a danger to unsuspecting people later using the fireplace or children playing around it. 
That's why it is always important to remove ash after every burn and make sure all the embers burn out. Let the fire burn out, and give the embers a few hours to cool before you go after them.  Large piles of scorching embers makes the job much more dangerous.  Let them cool a bit and then scoop the ashes into your ash bucket and keep it in a place away from combustible material.
How to Safely Dispose of Fire Pit Ashes?
If your fireplace has finished burning, use your poker and look for any hot embers; if you find any, push them to the side and let them cool. It's best not to put hot embers in an ash bucket, at least not for a long time, especially if it is not made from galvanized iron.
When there are no more hot embers, you can collect the ash into your ash bucket and store it away from anything flammable for extra safety. If possible, store your ash bucket outside on a non-combustible base.
The danger when disposing of your ashes is hot embers.  Dumping them out in the tall grass or below trees is dangerous because organic material could easily catch fire.  The safest option for your ashes is to mix them into the bare soil of a garden and water them down.  This will ensure that all of the hot embers have been extinguished, and it will help to fertilize your garden.
If you don't have a garden, you can dig a small depression in the ground near the corner of your yard, dump the ashes in and water them down.  At the end of the burning season, you can cover the ashes with soil.