Whether it's indoors or outdoors, enjoying warm fire is one of the best ways to relax and unwind from daily stress. To have as few interruptions as possible to your zen time, make sure you have a proper firewood stack ready. This way, you'll keep the fire going way longer before having to go to your firewood storage. Firewood racks are a great accessory to keep your firewood nicely stacked, reduce mess, and can even add to your household design. These days you can find racks of various sizes and designs, and the best part is they don't cost a fortune. Today, we're giving you our Top 8 Best Firewood Racks for 2021.
What to Consider When Buying a Firewood Rack
Size and Capacity
Before buying a firewood rack, think about what size would best fit your fireplace surroundings, how often you use the fireplace, and how long your sessions are.
If you like to keep your fire going for a long time, or even the whole day, pick a bigger rack so you won't need to run to the firewood storage every couple of hours. 
However, make sure to keep in mind your fireplace area size. Some fireplaces are quite small, so a big firewood rack might look very bulky or even get in the way for people to move around.
A 16 to 26-inch firewood rack should be more than enough for small to medium fireplaces.
Material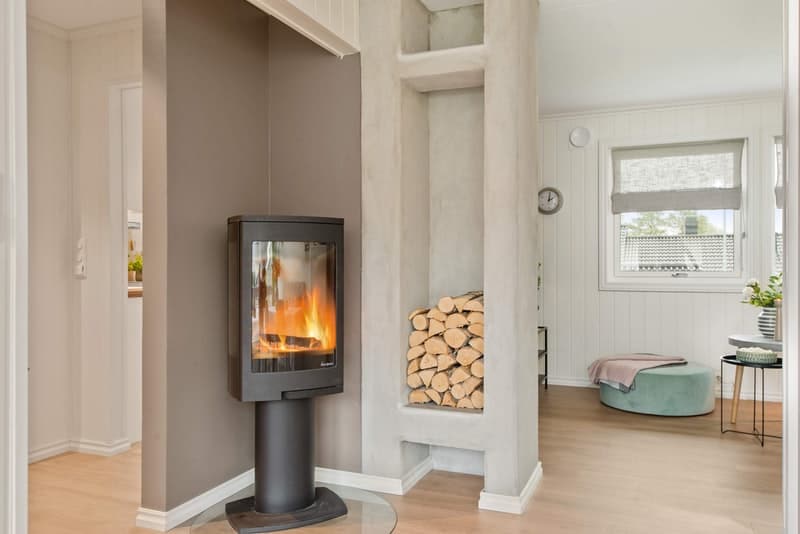 Most firewood racks are made from wrought iron, stainless steel, or other hard metals. Anything weaker than that, and you might end up with a flimsy rack that is prone to bending or even collapsing. We would suggest staying away from anything plastic; it's just not durable or sturdy enough for firewood. 
It's also important to mention that racks made from heavy metals can have a hollow inside; this makes the rack lighter, cheaper, but not as sturdy. We personally like the non-hollow ones if the price is not too steep.
Indoor or Outdoor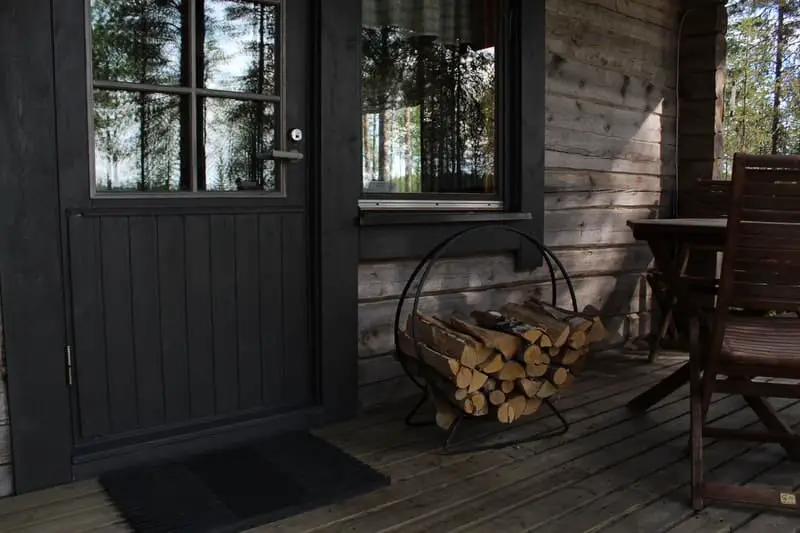 You'll have no trouble keeping any of the racks indoor or outdoor as long as they can resist outside weather. If you're planning to keep your rack outside, make sure it's powder-coated to reduce paint flaking, rusting, and corrosion. Additionally, think about getting a rack cover to keep your wood dry and prolong your rack's lifespan.
Most of the smaller racks are designed to be indoors; they'll have a smaller capacity to fit near a fireplace, have a hanger for fireplace tools, kindling, and fire starters.
Design
No matter if you're looking for a modern minimalistic rack or an old rustic one for country houses, there's a variety of different designs to fit any fireplace and house vibe. If you don't have any fireplace tools, you can also find racks with tools included. Some racks even have separate shelves for fire starters or small kindling, but these extra accessories usually come with a higher price.
Best Firewood Rack Reviews
PHI VILLA 17 Inch Small Firewood Log Rack
Phi Villa is a small firewood rack measuring 17 x 13 x 16 inches for someone with a small fireplace for an occasional relaxing evening by the fire. 
The rack is straightforward to assemble and comes with a detailed manual; all you need is a wrench and a screwdriver.
The Phi Villa rack is sturdy since it's made from thick steel tubing to hold a maximum of 150 lbs. of firewood. Honestly, you probably couldn't even fit that much firewood on this rack. You can also leave this rack outside because of the double powder-coated finish that heavily increases durability and longevity. 
This is just a great simple small firewood rack with a classic but sturdy design.
Key Features:
Thick steel tubes make it sturdy and durable.
Double powder-coated finish
Easy to assemble
Portable
Fit for outdoor use
Weaknesses:
It might be a bit small for medium-large fireplaces.
Everflying Fireplace Log Rack with 4 Tools
The Everflying log rack is a perfect option for an indoor fireplace if you are tight on space. The rack is much taller instead of being wider, measuring 28.7 x 15.7 x 11.8 inches. This allows you to store more wood vertically and fit the rack into smaller spaces near your fireplace.
The steel black powder-coated rack is easy to assemble and features two shelves, with the bottom one having a steel plate to reduce rubbish on the ground. You can use the bottom shelving for magazines, fire starters, or as extra space for firewood.
The rack comes with four tools (poker, shovel, broom, and tongs) that can be hung on the side of the frame. If you don't mind the higher price point, the Everflying Fireplace Rack Set is the best small firewood rack on our list to keep your fireplace tidy, neat, and good-looking.
Key Features:
Four tools to keep fireplace organized and tidy
Space-saving horizontal design
Easy to assemble
Sturdy steel tubing
Weaknesses:
DOEWORKS 23 Inches Solid Steel Log Hoop
DOEWWORKS firewood hoop rack is a stunningly beautiful, probably the best-looking firewood rack on our list, yet a very minimalistic product. Made from solid steel and finished with a black powder-coat, it is extremely sturdy, despite the steel hoops looking thin.
This firewood hoop rack can be used indoors and outdoors since it's sprayed with anti-rust oil to prevent rust, corrosion and extend lifespan.
The 23-inch width rack is perfect for small-medium fireplaces and can keep 15-20 medium-sized logs. Additionally, It comes as a single piece, with no assembly required. Just unpack, fill it with firewood and enjoy the view.
Key Features:
Minimalistic design
Suitable for indoors and outdoors use
No assembly required
Very sturdy build
Portable
Weaknesses:
Weven Industrial Heavy Duty Firewood Log Rack
If you're looking for something heavy-duty, high quality, and also good looking, check out the Weven firewood rack. This industrial-style log rack is truly a stunning piece that will not only keep your firewood in place but will also add a sophisticated touch to your fireplace.
You'll have no trouble assembling this rack with just a wrench and a screwdriver. The sturdy firewood rack measures 19.7 x 13.8 x 37.4 inches and can hold up to 300 lbs. of firewood. Compared to other log racks, the Weven rack has more depth, so even when it's packed up to the brim, it stays very stable.
Known for excellent rust and corrosion resistance, the Weven Industrial firewood rack can be used indoors and outdoors. However, we always advise covering your metal firewood racks if you want to increase their life span.
All in all, this is probably the best firewood rack if you want something sturdy to hold more firewood.
Key Features: 
Very sturdy
Heavy duty
Industrial-style look
Suitable for indoor and outdoor
Rust and corrosion-resistant
Vertical build holds more and takes less space.
Adjustable floor mats
Weaknesses:
The rough industrial look might not fit every fireplace.
Not very portable
Patio Watcher 3-Foot Firewood Rack Wood Storage Log Holder
Patio Watcher firewood rack is the best firewood rack for indoors on our list. It's an excellent product that comes with additional accessories to facilitate maintenance of the fireplace and space around it. The 33 x 13 x 30 inches 25 lbs. frame is made from heavy-duty, durable steel and a double-coated finish to protect from rust or corrosion (can be used outdoors).
As mentioned above, this firewood rack is very versatile as it comes with four tools (poker, broom, shovel, and tongs) to help maintain fire and space around it. Additionally, on the other side of the rack, you have a fire starter or small kindling holder to have everything organized and still on one rack. The rack is also raised 4 inches from the ground to allow better airflow to keep the wood dry or protect from insects if kept outside.
If you have enough space near your fireplace, the Patio Watcher is a versatile firewood rack with a beautiful classic look and a versatile design.
Key features:
Sturdy build
Versatile design to hold small and large kindling
Beautiful classic look
Four tools included
Large capacity
It can be used indoor and outdoor.
Weaknesses:
Required a bit of assembling
Firewood Rack Log Rack 24 Inch
The Ucared 24-inch firewood is perfect for small fireplaces and tight spaces. The minimalistic durable steel construction firewood rack is very sturdy yet weighs only 11 lbs. Its weight and size make it portable and easy to relocate to your patio or back inside. If you decide to keep it outside, a black powder-coat will protect the rack from rust and corrosion during rainy or snowy weather.
This small firewood rack is easily assembled with a provided tool and measures 24 x 11.8 x 24 inches when built. It can hold enough firewood for small to medium fireplaces or shorter bonfire sessions.
The Ucared small firewood rack is well built, portable, and has a very unintrusive, minimalistic design. The only downfall we see is the higher price compared to similar size log racks.
Key features:
Easy to assemble
Heavy-duty sturdy construction
Perfect to use inside or outside
Minimalistic design
Weaknesses:
Quite small
A bit expensive for a 24-inch rack
Ucared Firewood Racks Heavy Duty Log Rack 47 Inch
Here we have another Ucared product.  This time, it's a large firewood rack, primarily for outdoor use. The 47 x 11.8 x 24 inches heavy-duty log rack is excellent for large fireplaces or long evenings by your fire pit. By no means are we claiming that it's for outdoor use only; if you have enough space indoors, you can use it there as well!
The construction is made from the same powder-coated durable steel as the 24-inch version. The rack is easily assembled in around 10 minutes, and we love that the rack feet have adjustable mats so you can adjust individual feet for uneven surfaces.
The minimalistic industrial look can be tailored to most classic and modern exteriors without standing out too much.
If you don't want anything fancy or sophisticated, the Ucared 47-inch rack is the best large firewood rack on our list that doesn't cost a fortune while still being sturdy and long-lasting.
Key features:
Easy to assemble
Perfect for large fireplaces or fire pits
A clean, minimalistic industrial look
Adjustable floor mats
Heavy-duty construction
Great price
Weaknesses:
SnugNiture Firewood Log Storage Rack Bracket Kit
Looking for a cheaper option and don't mind some DIY work? The SnugNiture firewood rack bracket kit allows you to customize your log rack to precisely the size you want. The kit includes 2x brackets and 25x screws. To build the rack, you need to purchase your own 2 x 4s. 
The assembly does require some work but is pretty straightforward. Measure and cut your 2 x 4s in whatever length and height you want your rack to be, insert into the brackets and attach with the provided screws. 
We love that you can customize the size of the rack to your needs. You can build a small 24-inch rack for indoors or a large up to 10 feet length outdoors firewood storage rack.
SnugNiture also paid a lot of attention to details. The brackets are not only powder-coated to last longer but also have holes to drain water and seal strips to hold the 2 x 4s tightly.
This bracket kit should last you a very long time. Even if your 2 x 4s break, rot, or wear out, you can change them with new ones, and the rack will be brand new!
Key features:
Sturdy and long-lasting brackets
Customizable rack size
It can be used indoors and outdoors.
Weaknesses: 
Requires some DIY work
It could be a touch higher off the ground.
Frequently Asked Questions
How deep should the firewood rack be?
Usually, the depth of the firewood rack depends on the length of firewood you use. The standard average firewood length is 16 inches. If you use a small firewood rack with a depth of 10 inches and stack it with 16-inch logs, you run the risk of the rack tipping over. We advise using 12-inch and deeper racks for standard logs for safety reasons, especially if you stack them relatively high.
Do I need to cover my firewood rack?
Yes and No. In general, firewood needs to dry out when it's fresh and stay that way to avoid rotting. If your firewood rack is indoors, you don't need a cover; however, it's unavoidable you'll have rain or snow when the rack is outside. Some rain or snow is ok since wood dries pretty quickly, but if precipitation is frequent, a cover is advised to keep your firewood dry and prolong your rack's lifespan.