If you ever owned or wood-burning fire pit, a chimenea or a fireplace, you know the hassle of carrying kindling from your storage back to the fireplace. Leaving your cozy and warm seat is bad enough, but on top of it, you get all your clothes dirty while leaving a trail of dirt, leaves, or crumbs from the wood when carrying it by hand. Keep your house and clothes clean and enjoy longer fires with a firewood carrier! Check out our Top 7 Best Firewood Carriers in 2021 to make wood carrying less of a chore and keep the fire blazing longer.
What to Consider Before Buying a Firewood Carrier?
Length of the Carrier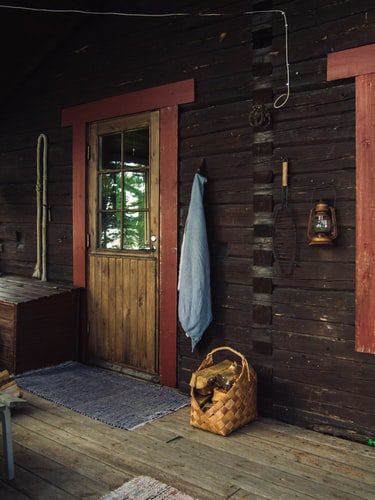 You'll find that there are different length carriers ranging from 20 to 30 inches in length. Think about what kind of logs you usually use. If you're stocked on 8 – 10 inches kindling for a very small fireplace or a mini chiminea[1] , then probably a shorter carrier makes more sense. Standard or bigger logs will need a longer carrier; of course, anything around 25 – 30 inches in length should be plenty. If you're not sure what size logs you'll be using, just go for a bigger firewood bag; the price difference is usually very minimal.
Size and Capacity
But we already talked about length? Yes, but the carrier's size and how much firewood it can carry depends on the height and width. Large firewood carriers are great because you need fewer trips to the storage during those long evenings by the fire. You can also just use a large log carrier instead of a firewood rack and just keep the firewood inside. Large carriers are great for long sessions, but small ones are usually more convenient to carry and don't take up a lot of space.
Material
You can find firewood carriers made from leather, canvas, cotton, or a mixture of all of them. Which one to choose? Well, it's honestly up to your liking. Leather is usually more expensive, has great durability, and looks fantastic. Cotton is probably the cheapest but not as durable or nice. The heavy-duty waxed canvas is an excellent option since it's not that expensive and made to last while very easy to clean.
Accessories
To make firewood log carrying easier, look for a bag that has handles along with shoulder straps to distribute weight to the upper body. Secondly, a firewood fastener is an excellent accessory, so your logs don't slide around or fall out. Some carriers also feature a pocket to store your gloves so you won't misplace them.
Best Firewood Carrier Reviews
Amagabeli Firewood Carrier Bag
This beautiful brown firewood carrier is 18 inches in length and 38 inches wide when unfolded. You'll have no trouble fitting standard 16-inch logs. A very wide bag allows packing as much firewood as you can carry, while the waxed canvas is adequately secured with straps going around the carrier to avoid ripping or tearing.
The waxed canvas is water-resistant and dirt-proof, so it won't need frequent cleaning since any liquid will just run down most of the time. However, if you want to extend the bag's longevity, avoid leaving it outside in moisture or rain.
This firewood carrier's only downfall is the double D ring strap to secure firewood. It's a hassle to secure it properly, especially with gloves. Other than that, Amagabeli is a stylish one of the best firewood log carriers for its price.
Key features:
Good size and capacity
Nice brown waxed canvas
Water-resistant and dirt-proof
Cheap
Weaknesses:
D ring strap not practical
BONTHEE Extra Large Waterproof Firewood Log Carrier
If you hate making multiple trips to get firewood during long sessions by the fire, we suggest getting Bonthee extra-large firewood log carrier. This carrier is 23.6 x 11.8 x 19.7 inches in size and can fit even 20+ inches length logs if you have a big fireplace. If needed, you can fit up to 15kg of firewood.
Besides the huge capacity, we love the design of the bag. You have a regular handle and an over-the-shoulder strap for a more ergonomic carrying of heavier loads. The straps also go all the way around the bag, making it more robust.
Bonthee's extra-large firewood carrier is waterproof so that you can use it during any weather or with any type of wood. If the bag gets stained or soiled, the heavy-duty canvas can be easily cleaned with a brush and some soap. This is definitely one of the best firewood carriers for large loads.
Key features:
Extra large
Over-shoulder straps
Waterproof
Rivet reinforced
Wall pocket
Easy to fold
Weaknesses:
Stanbroil Firewood Carrier & Log Tote, Log Holder
You're at the bottom of your budget but hate carrying wood by hand? Stanbroil log holder is the best budget firewood carrier on our list. For an extremely low price, you get a 35-inch length and 17.5-inch height firewood tote that is made from a durable waterproof canvas. This large bag can fit different firewood log sizes and is fully enclosed to protect any scraps, dirt, or water from spilling on the floor.
The canvas does look a bit thinner and maybe not as nice as most other bags, but you can't ask more from a firewood carrier for such a price. Stanbroil even gives a 1-year warranty if the log tote is not up to standards.
Key features:
Budget price
Strong canvas
Easily folded
1-year warranty
Weaknesses:
It might not last as long as other bags.
Not very pretty
Cougar Outdoor – The Ultimate Log Carrier
Cougar Outdoor company should already give it away that this log carrier will be heavy-duty and able to hold heavy loads. The 24 x 17 x 12 inches 1200 denier canvas is very sturdy and built to last. There are also double-stitched external trims around every seam to provide more robustness.
You can use this not only for firewood carrying but any other gardening or household chores. If it gets dirty, just spray it with a hose or scrub with a soapy brush and leave it to dry.
This firewood carrier isn't made for people who want a beautiful bag to sit as a decor piece by the fireplace. The looks are pretty plain and indistinguishable. Another weakness of the bag is that it doesn't stand well when empty, even though it's advertised that it does.
Despite these minor disadvantages, it's definitely one of the best large firewood carriers if you don't care about the looks and want something heavy-duty. The budget price is also a bonus!
Key features:
Heavy duty
Great price
Extra large
Water-resistant
Two handles
Weaknesses:
Plain looks
Doesn't stand up when empty
LogOX WoodOX Sling – The World's Most Ergonomic Firewood Log Carrier
Have a weak back or just want to avoid bending and kneeling as much as possible while on firewood duty? LogOX has manufactured an unconventional firewood carrier which they call the world's most ergonomic carrier. We haven't tried many other ergonomic carriers, but the WoodOX sling is extremely easy to load and unload.  You put one strap over your shoulder and slide one hand into the loop. This way, all the weight is distributed to the upper body while eliminating the need to bend and load the carrier.
The patented firewood carrier is made from natural cotton canvas and strong nylon straps to last numerous seasons. If you need to carry firewood at night, there's even an LED light to illuminate the surroundings.
The WoodOX Sling does come at a high price but is a fantastic carrier for more ergonomic and faster firewood trips.
Key features:
Very ergonomic design
Natural cotton canvas
Very easy to load and unload
LED light for night trips
Made in the USA
Weaknesses:
INNO STAGE Waxed Canvas Firewood Log Carrier
The Inno Stage firewood carrier could probably be mistaken for a stylish duffel bag, at least from afar. The beautiful design with scratch-resistant waxed canvas and leather-like handles will tempt other household residents to take over the firewood carrying chore.
The Inno Stage log carrier is 23.4 x 10 x 11.4 inches in size and can easily fit any standard size logs. The 16oz waxed canvas and reinforced handles make the bag sturdy even when holding heavy loads. One of the main disadvantages is that the bag doesn't stand when empty and makes it a touch harder to load.
If you want to look stylish on firewood duty, the Inno Stage log bag is made for you. It is undoubtedly the most beautiful firewood carrier on our list and probably on the market in general.
Key features:
Stylish design
Large capacity
Comfortable handles
Water-resistant
Waxed canvas
Very durable
Weaknesses:
It doesn't stand well when empty.
Snitsla Carrywood – A Firewood Log Carrier
The Snitsla firewood log carrier is a versatile bag that can be used not only for kindling carrying but also for various other gardening or landscaping chores. Three side pockets allow you to hold gloves or various tools.
Use a comfortable shoulder strap for a more ergonomic carry or short handle if the load is lighter. If needed, you can fit even 18-inch logs into this attractive bag. The 16 oz waxed cotton canvas is durable, water and dirt resistant, but most importantly, comfortable.
Our only frustration is with the double D rings for the fastener strap; it takes too long to secure the load and sometimes just doesn't work at all. Other than that, it's an excellent firewood carrier that can be used for various other chores around the house or backyard.
Key features:
Beautiful design
Shoulder strap
Water-resistant
Side pockets
Multi-purpose
Strap to secure firewood
1-year warranty
Weaknesses:
A bit expensive
Double D rings are a hassle.
Frequently Asked Questions
Can I leave my firewood carrier outside?
Yes, you can; most of the firewood bags are made from robust canvas, which is water and dirt-resistant. However, leaving your carrier wet for a long time is not advised. The moisture on the canvas combined with various pieces of wood chips, leaves, and dirt will start growing mold and will ruin your carrier. As a general rule, keep your firewood carrier dry, whether it's inside or outside.
Can I store wood in my firewood bag?
Of course! The carrier is not only to transport the kindlings but also to keep them by the fireplace. If you don't have a convenient firewood rack[2]  nearby to nicely stack your logs, just leave it in the carrier to avoid making a mess on the floor or hearth.
How to clean my firewood carrier?
If your carrier got some mold on it from wet firewood sitting in there for a long time or it just got really dirty, you can easily clean it. If your firewood carrier is made from leather, just grab a wet cloth, add a couple of drops of dish soap and scrub the stains; just make sure to rinse with hot water and dry thoroughly so no soap residue is left.
If it's a cloth canvas, then just grab a scrub brush, wet the canvas with some warm water, add a few drops of dish soap and scrub until the stains are gone. The harsh scrub brush usually does the trick and doesn't damage the carrier since most of them are made from a heavy-duty waxed canvas. As always, make sure to dry the carrier before storing it away.