Every household with even the tiniest backyard needs to have a hose to water plants, grass, greenhouse, or to perform washing duties. But, using the hose doesn't need to be a dreaded chore; stop hurting your back with all the bending required to pick up, coil, unwind, or store your hose. Hose reels allow handling the hose much quicker and easier while also keeping it clean. There are various types of hose reels depending on the length of your hose, your house and landscape design, and of course, your budget. Today we'll talk about different types of hose reels and how to pick the best for your needs. We'll also give our picks for the top 7 best hose reels for your backyard in 2021.
Types of Hose Reels
If you're actively looking to buy a hose reel, you know that there are quite a few different hose reel types or even mixtures of various types, but the majority of hose reels fit into these categories:
Wall-mounted hose reels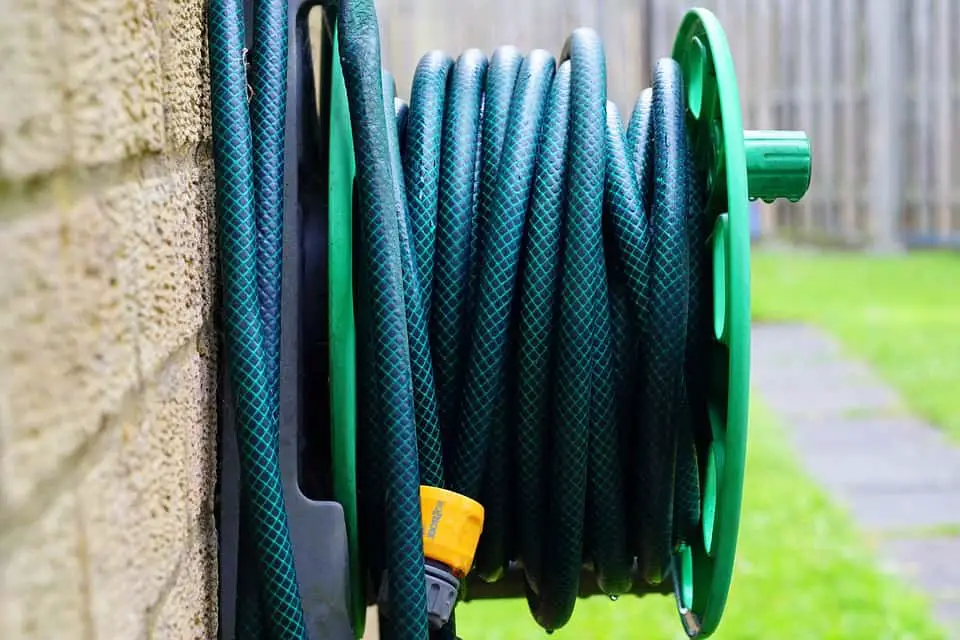 It's pretty straightforward; it's a hose reel that you can be mounted to a wall, a post, or any other solid surface. Wall-mounted hose reels are a great option if you have a long hose and need to water continuously in the same area. They are an excellent pick for smaller backyards to water grass, plants, glasshouses, or clean garages.
Cart hose reels
Cart hose reels are very portable and great for people who live on large properties or for professional landscapers. As it's evident from the name, these reels work like carts and can easily move around.
Hose boxes
Hose boxes are a great addition to your backyard. You can find different styles, colors, and designs to fit your garden or backyard exterior. These reels are also great at protecting your hose from rain, various debris, and even rodents. Just remember, they are stationary with no wheels. If you decide to use your hose outside the reachable radius, you'll have to move the hose box too.
Hose stands
These are probably the most simple and budget-friendly. Stationary hose stands have sharp legs that you can stick into the grass for stability and some kind of a rack at the top where you can hang your hose. 
What to Consider When Buying a Hose Reel?
Hose Length and Width
Before buying a hose reel, always check what length and width hose you have. If you have a hose reel that fits 80 ft. but your actual hose is 140 ft., you'll have trouble coiling all of it into the reel, leaving you with 60 ft. of hose hanging on the ground. 
Hose Reel Construction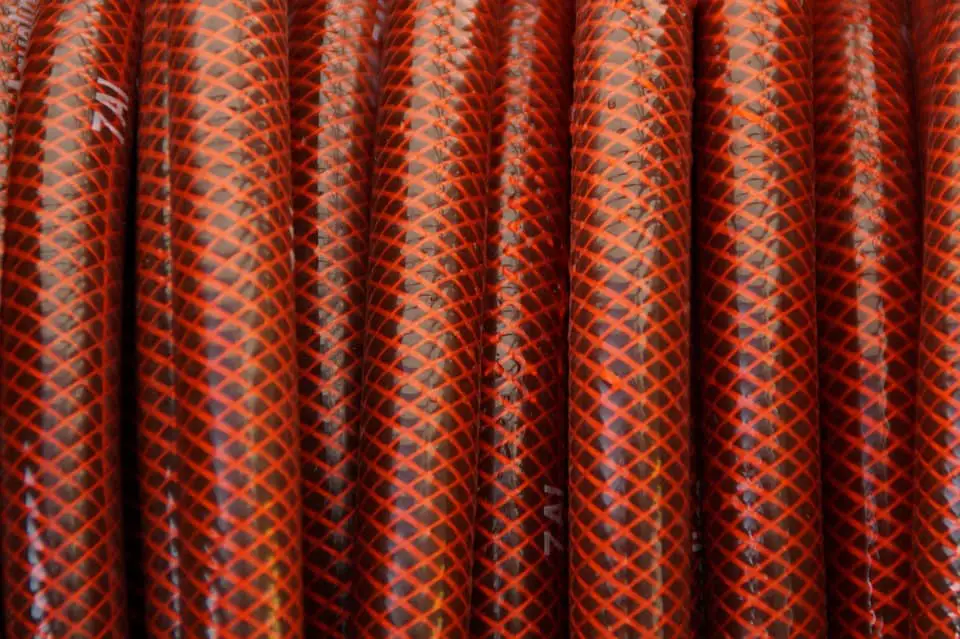 You'll find reels made of plastic, polyresin, and metals like aluminum, stainless steel, or even cast iron. Metal hose reels are way more durable and long-lasting but will cost a bit more and aren't as portable (unless on wheels). Polyresin reels are strong and lightweight but must be protected from the sun as it weakens the construction. Finally, plastic is as cheap as it gets and is very lightweight but also very fragile.
Stationary or Portable?
If you have a small garden, a greenhouse, or a garage, you need constant watering, or washing a stationary hose reel will make your life way easier. Stationary hose reels require no lifting but can reach only a set amount of area depending on the hose length. If you have a large landscape, you're probably better off with a hose reel on wheels so you could reach multiple spigots or transport your hose from one property to another.
Hose Leader
These days almost all hose reels have a hose leader varying in length from 2-10 ft. A longer hose leader will give you extra length to cover a larger area. Long hose leaders are great if your spigot is in a full garage, basement, or some other tight spot where the hose reel itself couldn't fit. It is also essential to always check the diameter of your hose and the hose leader. If they don't fit, you won't be able to thread them.
---
Top 7 Best Hose Reel Reviews in 2021
Giraffe Retractable Garden Hose Reel 1/2″ x 130 ft
We're starting our list strong with Giraffe Retractable 130ft garden hose reel that already has a hybrid hose included and preinstalled. This heavy-duty black and dark gray hose reel has a 180 degrees swivel and a very convenient slow return system, so you don't even have to do any winding yourself.
Conveniently, the hose is already preinstalled and hidden in a tight casing that protects from rain, wind, sun, and unwanted debris. All you have to do is tighten the bracket to a wall or a post and hook up the hose reel. In case you want to store your hose inside, the whole reel casing easily detaches and attaches with just a single handle. 
Sturdy construction, a return system, and a preinstalled high-quality build is a fantastic package that isn't cheap but is the best hose reel on our list for your money.
Key features:
Hose capacity: 130ft x ½ inch
Hose leader: 6 ft x ½ inch
Wall-mounted
Hose pre-installed
Slow return system
180 degrees swivel bracket
Heavy duty
Effortless unwinding and coiling
Weaknesses:
---
Liberty GARDEN 712 Swivel Garden Hose Reel, Holds 125-Feet of, 5/8-Inch
Liberty Garden is a beautiful-looking hose reel that will not only fit your garden or house exterior but will improve it! The 18 gauge steel construction has an anti-rust powder coating that makes the reel good-looking, sturdy, and durable during harsh weather.
You'll be able to fit up to 125 feet of ⅝ inch thickness regular garden hose and effortlessly unwind it with a soft handle. What makes it one of the best hose reels on our list is the 360 degrees rotating reel, allowing you to move in a wide range of directions. The pull-up knob on top allows you to either lock it or let it move freely.
The hose comes fully assembled, but you'll need to have your own mounting hardware and maybe drop a touch of grease on the swivel for smoother spinning. Other than that, this reel is no the cheapest one but very durable and definitely the most beautiful hose reel on our list.
Key features:
Hose capacity: 125ft x ⅝ inch 
Hose leader: 5 ft x ⅝ inch
18 gauge steel construction
Weather-resistant coating
Aesthetic design
Really sturdy build
Weaknesses:
Swivel might need a touch of grease
Mounting hardware not included
---
Giraffe Metal Hose Reel Box 130ft 
Giraffe Metal Hose Reel Box is a reel built for the outdoors. The sturdy metal construction weighs 30 lbs which keeps the box in place when unwinding the hose. Forget plastic hose reels that are light as a cardboard box and can't handle any harsher weather. Giraffe rust-resistant paint on the box improves durability and allows you to keep your hose box outside even during hot summer days or the rainy autumn season.
The Giraffe hose reel box can fit 130 ft of ⅝ inch or 200 ft of ½ inch garden hose. It also comes with a 5 ft x ⅝ inch hose leader hermetically sealed into the box. You can put this box by the wall, on your patio, or even on the grass. The decorative design blends with any surface and can even be used as a landscape piece.
If you're not on a tight budget Giraffe hose reel box is a great-looking hose hideaway that can blend into various areas.
Key features:
Hose capacity: 130 ft x ⅝ inch or 200 ft x ½ inch
Hose leader: 5 ft x ⅝ inch
Heavy duty
Rust-resistant paint
Decorative design blends into any area
24 months warranty
Heavy enough to not move when handling hose
Weaknesses:
Expensive
Handle a bit flimsy
---
BluBird RMX BluSeal Retractable Water Hose Reel 50 ft
If you need a hose reel with a short hose for a greenhouse, garage, or a small garden BluBird is the best short hose reel on our list. This sturdy hose reel by BluBird comes with a 50 ft BluSeal lightweight, strong, and flexible 100% rubber hose. It also comes with a 6 ft x ⅝ inch hose leader.
The powder-coated 20 gauge steel reel can be mounted on a wall, deck, or a 6×6 pole without the fear of rain or sun damaging it.
The convenient auto-retract mechanism and a nine-pattern spray nozzle on top of a high-quality, sturdy build make it a package well worth the higher price.
Key features:
Hose capacity: 50 ft x ⅝ inch
Hose leader: 6 ft x ⅝ inch
Nine pattern spray nozzle
Heavy-duty brass fitting
Auto-retract
It comes with a hose
Weaknesses:
Expensive for a small hose reel
---
Liberty Garden 870-M1-2 Industrial 4-Wheel Garden Hose Reel Cart
Have a very long hose for your large backyard, work as a landscaper, and tired of hauling 200-300 ft length hoses every day? Liberty Garden is an industrial hose reel cart designed for extra long hoses.
The double-coated finish on 13 gauge steel construction is mounted on four 10-inch pneumatic wheels that allow the cart to go through mud, rocks, sand, or any other surface. 
This hose reel isn't made to look good but instead to move and store heavy hoses. The robust build allows for daily heavy-duty use by both amateur and professional landscapers. 
Key features:
Hose capacity: 300 ft x ⅝ inch
Hose leader: 5 ft x ⅝ inch
For extra long hoses
13 gauge steel construction
Double powder coat finish
4 x 10-inch pneumatic tires
Very heavy duty
Weaknesses:
Not very attractive looking
Rusts
---
AMES 2388340 ReelEasy Side Mount Reel, 100-Foot Hose Capacity
Ames ReelEasy hose reel is the best budget hose reel on our list. It is very lightweight and can be mounted on any wall. The reel can hold up to 100 ft x ⅝ inch of regular garden hose. 
You'll find that it has a comfortable, easy spin grip to coil your hose and a clip to secure the nozzle.
Ames ReelEasy is a great budget option for casual gardeners who want to store their hoses neatly.
Key features:
Hose capacity: 100 ft x ⅝ inch
Hose leader: 6 ft x ⅝ inch
Lightweight
Integrated hose guide
Hose clip
Easy spin grip
Very cheap
Weaknesses:
Fragile and a bit flimsy build
---
TomCare Garden Hose Holder
This is not exactly a hose reel since it doesn't have an actual reel, but it holds hoses very well, so we decided to include it in our best hose reel list. TomCare garden hose holder is made from solid 0.2-inch thickness metal and can hold even large hoses. This freestanding holder is easy to assemble and has three long sharp stakes that stick deep into the ground and keep the holder stable. Moving is also straightforward if you need to hose a different part of your garden or store the holder away for the off-season. 
We love the unique and attractive holder design, which is a beautiful addition to any home or backyard while keeping the hose neatly packed and out of the way.
Key features:
Attractive design
Sturdy structure
Easy to assemble
Easy to move during the off-season
Heavy-duty metal
12-month warranty
Weaknesses:
Need to coil the hose manually