If you have a large backyard or a garden full of trees, then a gas chainsaw is an essential tool for taking care of tree removal or limb removal. Gas chainsaws are very powerful and do most of the heavy lifting if there are trees in the way. You can use a smaller chainsaw for pruning, trimming, or cutting small-medium trees, while a larger chainsaw can handle cutting, bucking, and felling even old large trees. To pick the best gas chainsaw for your needs, read our list of the top 7 best gas chainsaws in 2021 for landscaping and backyard maintenance.
What to Consider Before Buying a Gas Chainsaw?
What trees are you going to cut?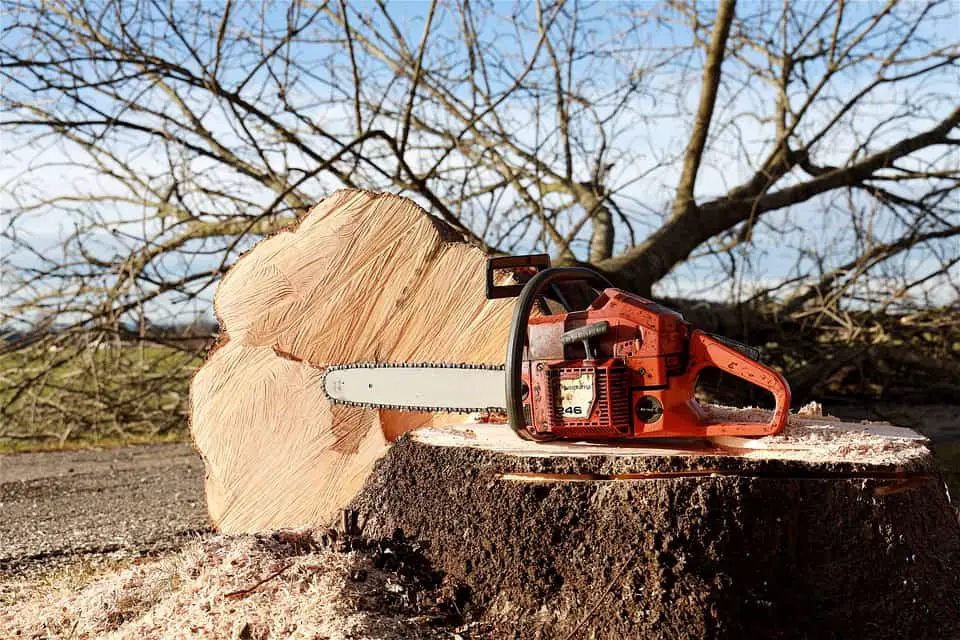 Before you jump in and buy a gas chainsaw, consider if you really need one. What kind of trees are growing in your garden, or what type of landscaping project are you taking on? If you're looking to trim and prune thin branches, maybe a small manual pruning saw or a pole saw will be more efficient.
If the trees need to be cut down or there are multiple thick branches, then a gas chainsaw is always a better option.
Blade size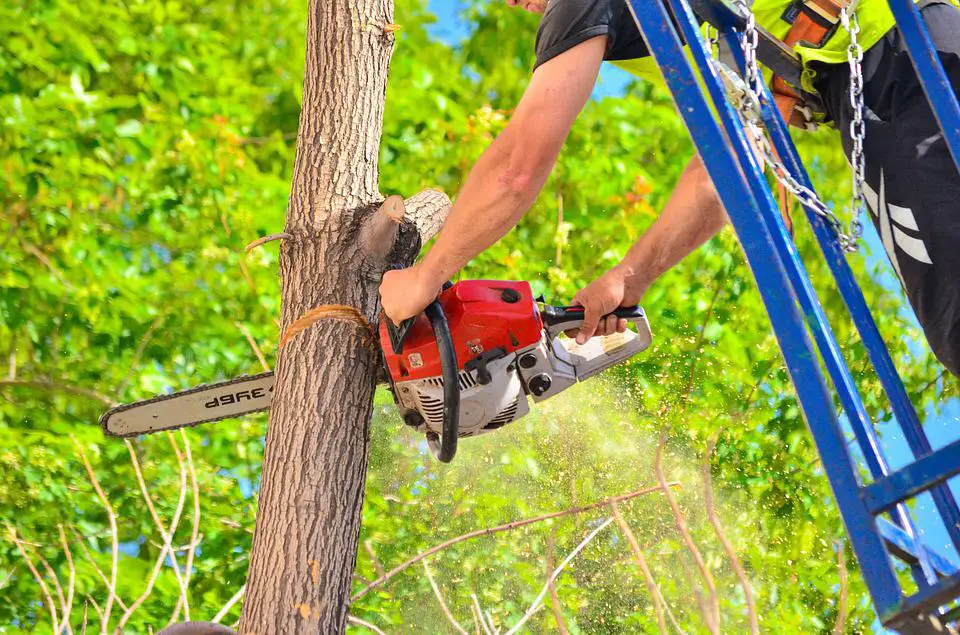 You will usually see 12 to 24-inches blade size. The length of the blade determines how thick a tree the chainsaw can cut. 12 – 16-inches length blades are more than enough for beginner landscapers and homeowners. This size can easily handle small-medium trees, and the chainsaw is much lighter and easier to maneuver.
Larger 18 – 24-inches blade lengths are for heavy-duty projects and professional landscapers. These chainsaws are usually bulkier, heavier, and more powerful.
Power and engine size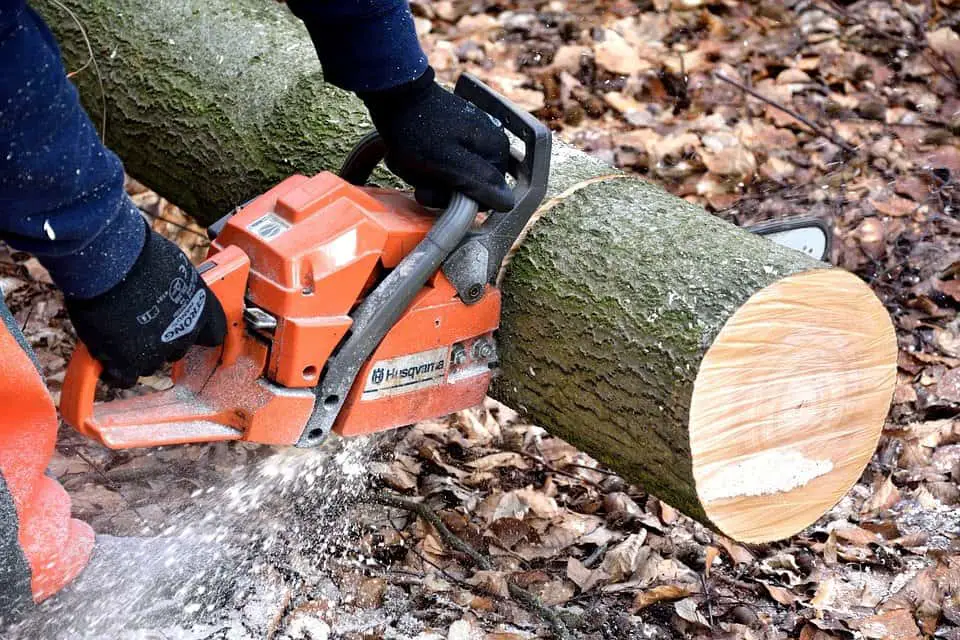 Engine size is measured in cc (cubic centimeters) capacity. The larger the capacity, the more fuel engine can use and, in turn, provide more power.
You'll find that gas chainsaw engines will usually range from 24 to 60 CC. Smaller and lightweight chainsaws will be on the smaller 24-42 CC range and are perfect for light-duty work like tree trimming or bush pruning. To cut larger trees, go for a more robust 50 – 60 CC engine.
Remember that larger engines are more powerful but will be bulkier and, most of the time, cost more.
Safety features
Gas chainsaws are very powerful and one of the most dangerous landscaping tools if you're not careful. It is always important to wear personal protective equipment like safety goggles, gloves, a hard hat, and ear protection.
To protect yourself from any injuries and accidents caused by the chainsaw, look for safety features like:
Chain brake – an emergency brake usually located at the top of the front handle to stop the chain from spinning. It is activated by manually pushing forwards with your hand or automatically from a kickback.
Trigger lock – a safety feature that prevents accidentally turning on the chainsaw.
Chain catcher – a feature that catches the chain if it breaks or derails.
---
Top 7 Best Gas Chainsaw Reviews
Husqvarna 24 Inch 460R Gas Chainsaw
Husqvarna is one of the top brands for gas-powered chainsaws and manufactures extremely durable and heavy-duty tools. The 460 Rancher gas chainsaw is the best large gas chainsaw for landscaping on our list.
The 24-inches length blade size and 60.3 CC engine can cut anything from small to large trees. It has minimum kickback and very little vibration, even with tough hardwoods. The reliable starting mechanism allows starting the chainsaw every time with minimum effort.
Additionally, there are a number of features and accessories that allow for safer and easier operation. An automatic chain oiler will lubricate the chain as needed, while the side-mounted chain tensioning system allows adjusting the chain's tension with no additional tools. Finally, along with the trigger and throttle lock, there is inertia activated chain brake that will protect you from unexpected kickbacks.
If you have a large backyard full of trees that needs constant landscaping, Husqvarna 460 Rancher is not a cheap gas chainsaw but an excellent investment that will last a long time.
Key Features:
24-inches blade length
60.3 CC engine
Heavy-duty
Great for large trees
Reliable start
Automatic chain oiler
Inertia activated chain brake
Side-mounted chain tensioning system
Easy to clean and replace the air filter
Weaknesses:
---
HUYOSEN 60CC 2-Stroke Gas Powered 20-inch Chainsaw
Huyosen 60 CC 2-stroke gas chainsaw is a powerful tool to cut down one or two large trees in your backyard. It is also a great starter chainsaw for beginner landscapers. Huyosen 60 CC is the best powerful chainsaw if you are on a budget and need to cut down bigger trees.
The chainsaw is a 20-inch blade that is powered by a 2-stroke 60 CC 3.9hp gas-powered engine. It can cut through wood, trees, or even ice with minimal kickback. We were surprised by the comfortable non-slip and shock-absorbing handle, which is very ergonomic, allows for a firm grip, and reduces vibration. Honestly, even $800+ chainsaw handles can't compare to this one.
To increase air filter longevity and reduce fuel consumption Huyosen has an automatic air filtration system. There is also an automatic oil filling to provide constant lubrication and reduce chain and guide bar wear. Despite having proper lubrication, we feel that the chain wears out quite fast on this Huyosen chainsaw. Most likely, the chain is a bit cheaper, but you can't expect everything high-quality while paying a budget price.
Key Features:
20-inches blade length
60 CC engine
Budget price
Air filtration system
Automatic oil filling
Excellent non-slip and shock-absorbing handle
Throttle and trigger lock
1-year warranty
Weaknesses:
Requires a bit of assembly
Chain quality low
---
ECHO CS-271T 12 In. Chainsaw
Echo CS-271T might look like a baby saw, but this little bad boy can bite! The 26.9 CC engine might seem small, but it gives plenty of power to spin the chain on a 12-inch blade.
Casual landscapers and professionals praise it. If you have a backyard that needs pruning, trimming, brush clearing, or occasional tree cutting, CS-271T is a versatile, maneuverable, lightweight (just 11 pounds!) yet powerful chainsaw. Professional landscapers love it because they can easily use it one-handed while high on a tree or in tight spots (although one-handed operation is never advised). The 12-inch blade length is enough to straight cut a 10-inch tree or, if you have 360 degrees access, up to 15-inches branch/tree.
The build of this small gas chainsaw is high-quality and sturdy. No leaking, unnecessary clacking, or vibration. Very reliable as it starts every time without much effort.
High-quality, superb performance, longevity, and maneuverability do come at a much higher price. If you are looking for a small, lightweight chainsaw to last you a decade, Echo CS-271T is the best small chainsaw on our list that money can buy.
Key Features:
12-inches blade length
26.9 CC engine
Lightweight
Maneuverable
Powerful
High-quality build
Easy to start and handle
For beginners and professionals
Weaknesses:
Expensive
Too small for 15-inch+ tree thickness
---
Husqvarna 16 Inch 130 Gas Chainsaw
Here we have another Husqvarna chainsaw on our list, this time a smaller and much more affordable Husqvarna 130 gas chainsaw. This model is one of the entry-level chainsaws in the Husqvarna lineup targeted at casual landscapers and DIYers.
It is equipped with a 38 CC engine, which gives more than enough power for the 16-inch blade to cut down small to medium trees or large branches. The LowVib vibration reduction system does wonders, probably the lowest vibration if compared to similar price chainsaws. Additionally, the 10.4-pound weight is excellent for casual, young, or old users.
As all Husqvarna chainsaws, 130 has inertia activated chain brake for safety, an automatic chain oiler, and no tools chain tightening system.
We did find a couple of weaknesses compared to other products of Husqvarna. The plastic covers and the handguard of the chainsaw feel very flimsy. Additionally, we ran into trouble starting the chainsaw on a few occasions.
All in all, it's a powerful and lightweight entry-level chainsaw from a reputable brand and shouldn't disappoint you despite the flimsy plastic and motor start shortcomings.
Key Features:
16-inches blade length
38 CC engine
Lightweight
Inertia activated brake chain
LowVib vibration reduction system
Automatic chain oiler
No tools chain tightening system
Weaknesses:
Sometimes hard to start
Flimsy plastic on the chainsaw
---
Remington Gas Powered Chainsaw Automatic Chain Oiler-Anti Vibration System
As the company states itself, Remington RM4216 is for the "suburban homeowner." A lightweight but powerful chainsaw that won't leave your pockets empty. This chainsaw is equipped with a 16-inch chain blade and powered by a 42 CC engine to provide plenty of power to cut down small to medium-sized trees.
The RM4216 is a pretty average chainsaw. It has an automatic oiler, an anti-vibration system, and quickstart technology. We were pleased with the quickstart feature as it allows you to start your chainsaw very easily, whether it's cold or warmed up. However, the engine seems to be leaking oil a little, so it needs constant cleaning; otherwise, you'll have gunk accumulating at the bottom of the chain.
On a brighter note, we love the heavy-duty carry case! It allows to safely store or transport the chainsaw without damaging it or making a mess.
Yes, the chainsaw doesn't stand out for its quality or features, but it is very cheap. If you need a chainsaw just a couple of times a year, RM4216 is the best budget chainsaw for casual landscaping on our list.
Key Features:
16-inch blade length
42 CC engine
5 point anti-vibration system
Quickstart technology
Automatic oiler
Heavy-duty carry case included
Great price
Weaknesses:
Leaks a bit of oil
Needs constant cleaning
---
Craftsman 42cc-16 (2020 Model) S165 42cc Gas Chainsaw
Craftsman is another reputable brand in the gas chainsaw industry. They offer fantastic value for your money for both beginners and professionals. The Craftsman 42cc 16-inch gas chainsaw is just a sturdy, powerful, and easy-to-operate landscaping tool.
The S165 has an anti-vibration system, inertia-activated chain brake, easy start technology, automatic chain oil, etc. These features are standard, but the build quality is just way sturdier; it's a Craftsman product for a reason.
The only downfall we observed was that it's much harder to start when the engine is cold. Sometimes required 3-4 pulls to get it going.
Overall, powerful and fantastic quality gas chainsaw for beginner landscapers and homeowners.
Key Features:
16-inch blade length
42 CC engine
Easy start technology
Budget price
Lightweight
Anti-vibration system
Inertia-activated chain brake
Comfortable to operate
Weaknesses:
---
Poulan Pro PR4218, 18 in. 42cc 2-Cycle Gas Chainsaw
Poulan Pro PR4218 is the best large gas chainsaw on our list if you're on a budget. Had a big storm, and there's a ton of fallen trees? Poulan 18-inch chain blade is perfect for medium and even larger trees. The 42 CC engine might not be the most powerful for large trees and might take a little longer, but in the end, it does the job.
The most significant advantage of PR4218 is that it weighs just 13 pounds allowing it to operate without much strain on your back and arms. It is also very easy to start the engine, probably the easiest starting chainsaw on our list. However, we've heard a few customers complaining that the pull starter broke sooner than expected.
We like that you also get a carry case and an additional chain in case the original breaks. All in all, this is a reasonably priced and quality chainsaw for larger personal landscaping projects or tree clearing needs.
Key Features:
18-inch blade length
42 CC engine
Lightweight (13 pounds)
Carry case, and extra chain included
Effortless pull starting
Anti-vibration system
2-year warranty
Great price
Weaknesses:
---
Steps to Follow Before Starting a Gas Chainsaw
Check gas level – make sure that you have enough gas to run the chainsaw. Gas chainsaws use a gas and oil mix to run the engine. Check manufacturer's manual for appropriate gas and oil mix ratios.
Check chain tension – before starting the engine, check the chain tension. If it's too loose, it might be a safety hazard. All gas chainsaws will either have tensioning tools included or a knob that doesn't require a tool. Always read the manufacturer's manual to learn how to tension the chain properly.
Wear PPE – always wear personal protective equipment like goggles, helmet, gloves, and chainsaw pants; even when operating the best chainsaws with all the safety features, you need to wear PPE.
Starting the chainsaw – Never start a chainsaw by drop pulling. Always set the chainsaw on the ground with no obstructions in the way. Get the chain brake on so it doesn't spin. Now you can turn on the choke, or if it's a primer, push it 4-5 times to get the gas into the carburetor.
Set the toggle switch on or if it's a master controller into the cold start position. Now you can start the engine with a swift pull of the starter handle. If it didn't start the first time, move the master controller to a warm start position; otherwise, you might flood the engine. Now swiftly pull the starter handle again. You might need 2-3 pulls, depending on the chainsaw.
For extra stability when pull starting a chainsaw on the ground, we advise slipping your foot into the opening of the rear handle while holding the top handle with one hand.
Operation – Always hold a chainsaw tightly with both hands while operating. Always be sure to wrap your thumbs around the bar when holding on to it and be ready for kickback. Even experienced operators will experience kickback on occasion. Always be aware of where your feet, legs and body is in relation to your cut and never put yourself in the path of the blade should it pass quickly through the piece you are cutting
Check out our manual pruning saw and pole saw articles.