You don't need to be a professional landscaper or a die-hard gardener to understand that a good garden hose is a must-have tool for anyone with a piece of grass, greenhouse, or garage to keep the property clean fresh, and green. At first sight, all garden hoses look similar but can vary in quality tremendously. If you're on a tight budget, you can buy an extremely cheap hose; however, adding even as little as $10-$20 can make a huge difference and turn watering and washing chores into a relaxing and pleasant time outdoors. In our buyer's guide, we'll explain how to pick the proper hose for your landscape needs, and we'll also provide our picks for the top 7 best garden hoses in 2021.
What to Consider When Buying a Garden Hose?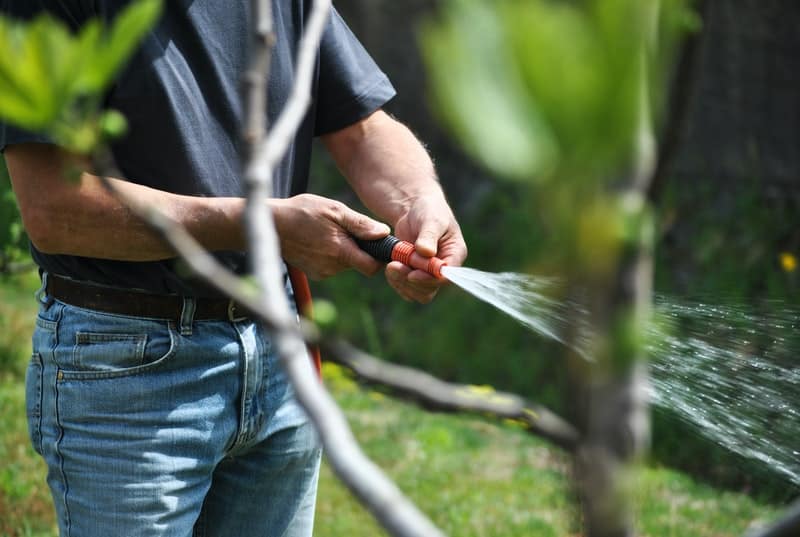 Length
It's really important to consider where you're going to use your garden hose and what area you want to reach. For a small garden, backyard, or garage, a 50 ft. hose is more than enough, but if you have a larger property go for a 100 ft. length hose. You don't want to end up with a hose that can't reach behind your house or all the way to the property edges. Before buying your garden hose, it's a good idea to measure the maximum distance you might need to reach and add 5-10 ft. for maneuverability. If you need to buy a 100 foot hose, you may want to avoid the heavy hose material like rubber which will be quite heavy to pull around. Also, for longer hoses, you should probably consider buying a hose reel for easier transportation and storage.
Material
Garden hoses are usually made from vinyl, rubber, rubber hybrids, latex, metal, or polyurethane. Vinyl hoses are cheap but prone to kinking, heavy, and don't last as long, so you might end up saving initially but might have to buy a new one much quicker. Rubber is usually very rigid, long-lasting, the most enjoyable to use, but much heavier, while polyurethane is very light but not heavy-duty. There are also garden hoses made from latex layers that allow the hose to expand when filled with water and shrink when emptied. Such hoses do not have coil memory, are lightweight, and easy to store, but tend to restrict water flow considerably.
Diameter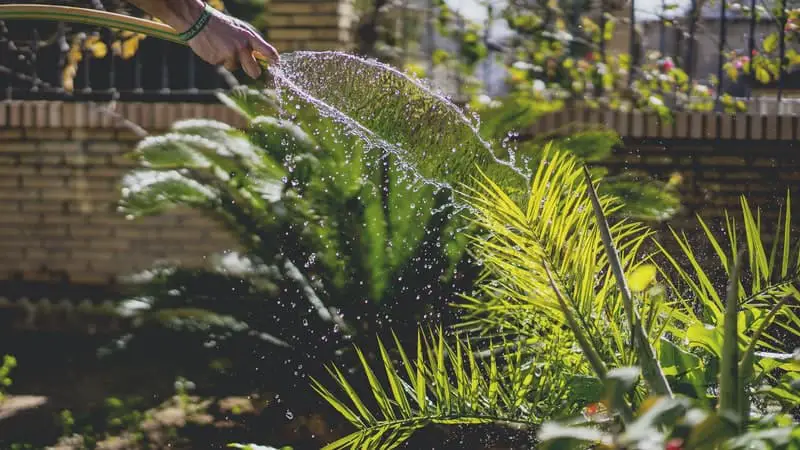 The diameter of the hose will determine the amount of water that can flow through the hose. A smaller diameter hose will handle less water and be more restrictive, while a larger diameter hose will provide a larger stream and be less restrictive. If you live in a city with a small backyard or garden and use a basic spray nozzle or a sprinkler, a ½ inch diameter hose should be plenty. For larger properties and tasks that require more flow, like filling large containers or watering crops, you can go with a ¾ inch or 1 inch diameter hose to speed up the process. Just remember, the larger the diameter, the heavier, bulkier and more expensive the hose will be.
Coupling
You'll find that garden hoses can have couplings made from plastic, brass, nickel, stainless, and other metals. They can come in round or octagonal shapes. Cheaper hoses can have aluminum or plastic couplings which are cheap but fragile, while nickel, brass, or stainless steel are not afraid of being thrown on the ground or even ran over by truck tires. We would also advise buying an octagonal shape coupling instead of a round one for an easier grasp with pliers.
Weight
A 200 ft. rubber hose might be very rigid and reach far away, but it will be a pain to drag it around as it can weigh up to 40 lbs. If you don't need to use a pressure washer, go for a lighter expanding hose that is easier to maneuver and move around. For longer lifespan, durability, and pressure washing, you'll have to reconcile with a heavier hose.
Layers
You'll find garden hoses ranging from 2-6 layers. The more layers a hose has, the stronger it is and more resistant to kink and twisting. A suitable hose should be flexible for ease of use but kink as little as possible. Cheaper hoses with 2-3 layers will often kink, which quickly reduces their life span and aren't suitable to use with pressure washers since they can't hold high pressure. Premium hoses with 4-6 layers don't kink as much and can even be crush resistant to withstand cars or machinery driving over them with no damage.
Is It Food Safe?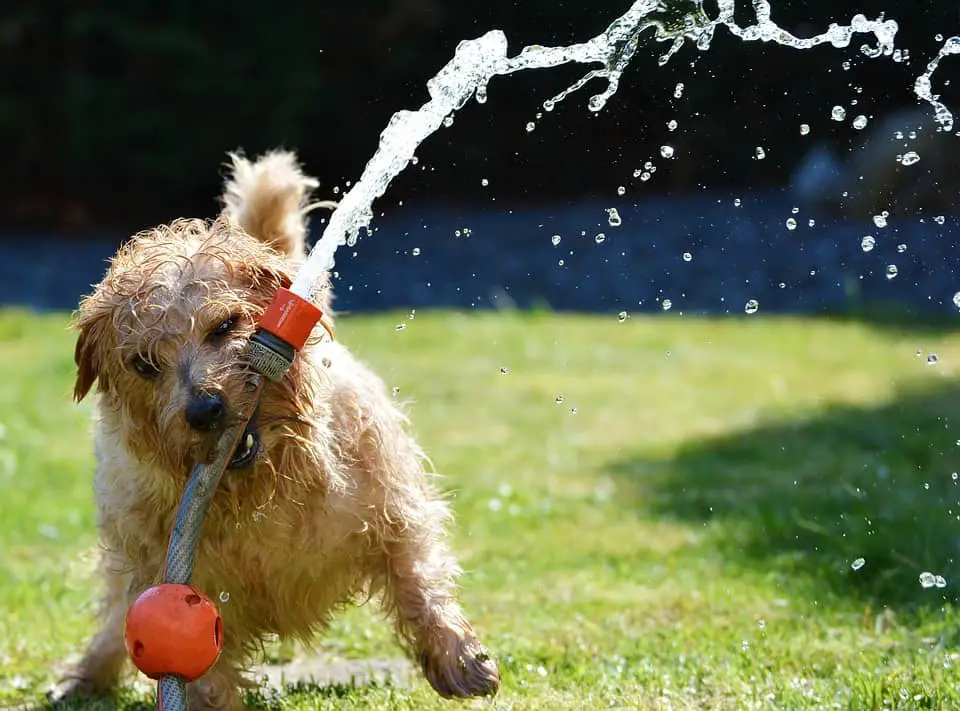 If your household has children or animals that might drink water straight from the hose (if your tap water is drinkable), it's advisable to pick NSF and FDA-certified hose. If the hose is not food safe, it might leak harmful chemicals into the water. Also, remember never to drink water that has been standing in the hose, especially in warm weather. Standing warm water is a perfect environment for bacteria to grow.
Top 7 Best Garden Hose Reviews in 2021
Eleegan 100′ Garden Hose
The expandable Eleegan garden hose is a multipurpose hose that is lightweight, long, durable, and compact. It is mainly designed for watering tasks like grass watering, greenhouse watering, or car washing. The lightweight four-layer latex core is easy to drag through the grass even when full of water. You could pull it over the pavement as well, but it will wear much more quickly.
The expandable material increases the hose size from 33 ft. to 100 ft. when filled with water. The compact size makes it perfect for RVs, camping, or even apartments with larger balconies.
Even though the hose itself is designed for light use, it has a rigid brass coupling and a ten-function nozzle for different watering needs.
If you have a larger backyard or greenhouse and are tired of dragging heavy hoses day after day, the Eleegan 100 ft. hose is the best lightweight garden hose on our list to help you out.
Key features:
Length: 100 ft.
Diameter: ¾ inch
Material: 4 layer latex core
Brass coupling
Lightweight
Burst strength: 145psi
Expandable
Ten function nozzle
Weaknesses:
Flexzilla Garden Hose, 5/8 in. x 100 ft.
Flexzilla is one of the most known garden hoses currently in the market. The hybrid polymer 100 ft. is very flexible and easy to drag around corners and trees. They advertise it as a kink-free hose because of the hybrid polymer material and their Swivel grip technology. The grip handle allows the hose to spin around inside the grip, which is very useful when uncoiling.
This bright, durable hose can withstand harsh weather conditions and stays flexible even at -40 to 150°F degrees days.
Flexzilla hose is also great for families with children or pets as the hose is made from lead-free materials.
We love that it is more rigid than expandable garden hoses while still very flexible and lightweight. It is also safe for kids and animals to drink. The only big disadvantage is the higher price tag.
Key features:
Length: 100 ft.
Diameter: ⅝ inch
Material: Hybrid polymer
Weight: ~7 lbs.
Aluminum alloy coupling
Flexible and durable
Weather-resistant
Drinking water safe
Swivel grip
Weaknesses:
Macuvan Garden Hose 100 ft Heavy Duty
Macuvan is made from a heavy-duty four-layer polymer blend to withstand harsh weather conditions of -40F – 160F degrees. The ⅝ inch diameter hose provides water flow enough for watering your backyard grass and plants in an area up to 100 ft. Its 4th layer of hybrid polymer is abrasion resistant, so you can drag it over the pavement for washing tasks without fear of damaging the hose.
It's nice to have a nickel-plated brass connector as it doesn't leak, but on the other end of the hose, the 9-way spray nozzle does feel a bit cheap and might not hold up as long as the hose itself. Despite the questionable nozzle quality, the Macuvan is one of the best heavy-duty garden hoses for regular homeowners.
Key features:
Length: 100 ft.
Diameter: ⅝ inch
Material: 4 layer polymer blend
Nickel-plated brass connector
Heavy-duty
Burst strength: 500 psi
9-way spray nozzle
Weather-resistant of -40F – 160F
Weaknesses:
Nozzle feels very cheap
A bit expensive
GrowGreen Heavy Duty Expandable Garden Hose
The next product on our list is the GrowGreen heavy-duty expandable hose. It's a very comfortable to use and maneuverable hose. The expandable design allows the hose to be virtually kink-free. It expands up to 3 times when filled with water making this hose just 17 ft. in length when empty. This allows it to be squeezed into a small bag to carry around or store virtually anywhere.
It's a great small and compact garden hose for small watering tasks like plants or flower watering, garage, or runway spray down. We feel that the water flow rate is too weak for more frequent or larger tasks and just takes too long. This is definitely a light duty tiny space, homeowner hose and not meant for any heavy duty application.
Key features:
Length: 50 feet
Diameter:
Material:
Very lightweight
Expandable kink-free design
Weaknesses:
Weak flow rate
Restrictive
Very light duty
The FitLife Flexible and Expandable Garden Hose
The FitLife flexible and expandable hose is our pick for the best short garden hose as it's super lightweight, making it perfect for small backyards, RVs, or patios. The hose has a triple-layer latex core that is very flexible, won't crack when stepped on or driven over, but sadly can be damaged by lawnmowers.
Empty hose weighs just 1.8 lbs. and is very compact, perfect for RVs, small houses, or even apartments. When filled, the hose expands to 25 ft. in length and can withstand a maximum pressure of 300-350 psi. The spray nozzle has eight different streams, which can be easily switched with your thumb. The nozzle itself does feel a little cheap, but you can't expect premium quality for a budget price.
Overall, this short-budget garden hose is for light use and simple watering tasks. It's not very durable for heavy-duty use, especially in winter, as it doesn't withstand temperatures lower than 23F.
Key features:
Length: 25 ft.
Diameter: ¾ inch
Material: triple layer latex
Weight: 1.8 lbs.
Burst strength: 300-350 PSI
Heat resistant
Solid brass fittings
Very lightweight
Cheap
Eight pattern spray nozzle
Weaknesses:
Can't leave outside in winter
Bionic Steel 100 Foot Garden Hose
Are you tired of buying new garden hoses every year? You need to try out the Bionic Steel heavy-duty 100 ft. garden hose. This hose is made from 304 stainless steel, can be dropped, stepped on, ridden over with a car, or even a lawnmower.
From first sight, the hose looks to be heavy but weighs just 3 lbs. Making it the lightest heavy-duty garden hose on our list. The hose is kink-resistant since you can't bend stainless steel without using a lot of force. Bionic Steel hose can withstand up to 500 PSI, so it can be used for pressure washing and regular watering tasks.
This stainless steel garden hose is perfect for hot or freezing temperatures can be left outside in any weather conditions as it is corrosion and rust-free.
Key features:
Length: 100 ft.
Diameter: ⅝ inch
Material: 304 stainless steel
Weight: 3 lbs.
Burst strength: 500 PSI
Weatherproof
Extremely durable
Corrosion and rust-free
Weaknesses:
No nozzle sprayer
On the expensive side
Flexi Hose with 8 Function Nozzle
To end our list of the best garden hoses in 2021, we have the Flexi 100 ft. expandable hose that is a bit more expensive than other expandable hoses but feels slightly more durable as it has four latex layers.
It can expand up to 100 ft. without any kinks or knots. We love that the brass coupling is easy to attach and has an easy to open or close water lever.
You'll find an eight-pattern spray nozzle included in the kit, which is handy but is plastic and can break or crack if dropped on concrete.
All in all, it's a very lightweight and long hose perfect to water large backyards or greenhouses. The only weakness of the hose is that it doesn't withstand temperatures below 41F or above 113F. It is one of the best expandable garden hoses in terms of quality but might not suit people living in colder regions.
Key features:
Length: 100 ft.
Diameter: ¾ inch
Material: 4 layer latex
Very lightweight
Brass coupling
Eight pattern spray nozzle
Weaknesses:
Isn't weatherproof
Expensive compared to other expandable hoses
Frequently Asked Questions
Can I connect different metal fittings?
No, it's best for the hose coupling metal to match your faucet metal. Never buy aluminum couplings if you have a brass or steel faucet. Different metals can have corrosive effects on each other, so it is best to match materials. A harder metal fitting might crack the weaker metal if you use too much force when tightening, or it will be tough to unscrew.
Can I leave my hose outside in winter?
In general, you shouldn't leave your hose outside in winter because when the water freezes, it expands and might crack or split your hose. If you do leave your garden hose outside or in a shed where it's really cold, make sure to drain all the water out first and never leave a hose attached to your spigot in freezing temperatures.
Some heavy-duty hoses made from stainless steel or rugged rubber aren't afraid of cold temperatures as they can withstand expansion from freezing water, but cheaper and softer materials don't hold that well. Before leaving your hose in freezing weather, make sure to check the instructions to see if it can withstand cold temperatures.
In general, freezing water is very powerful and causes much damage every winter. Leaving water inside of any container, including a garden hose over winter is simply asking for trouble.
Check out our list of best hose reels.