Nothing beats sitting around a cozy fire during chilly evenings, whether it's with your family and friends or just alone having your 'ME' time. Wood burning fire pits will give you the most authentic bonfire experience, however, sometimes the smoke and maintenance are too much of a hassle, and some states even have restrictions on wood burning fire pits. The solution is propane or natural gas fire pits. They are easy to use, no smoke or smell, and eco friendly. Today we are looking at the best propane fire pits for your patio in 2021.
The ASLA survey showed that fire pits are among the most desired outdoor design elements in the USA. With thousands of various gas fire pit styles, designs, and types, it might be hard to select one that best fits your needs. That's why we wrote this detailed propane gas fire pit buyers guide. Please continue reading to learn about various gas fire pits, their advantages and disadvantages, and our list of the best propane gas fire pits for your patio in 2021!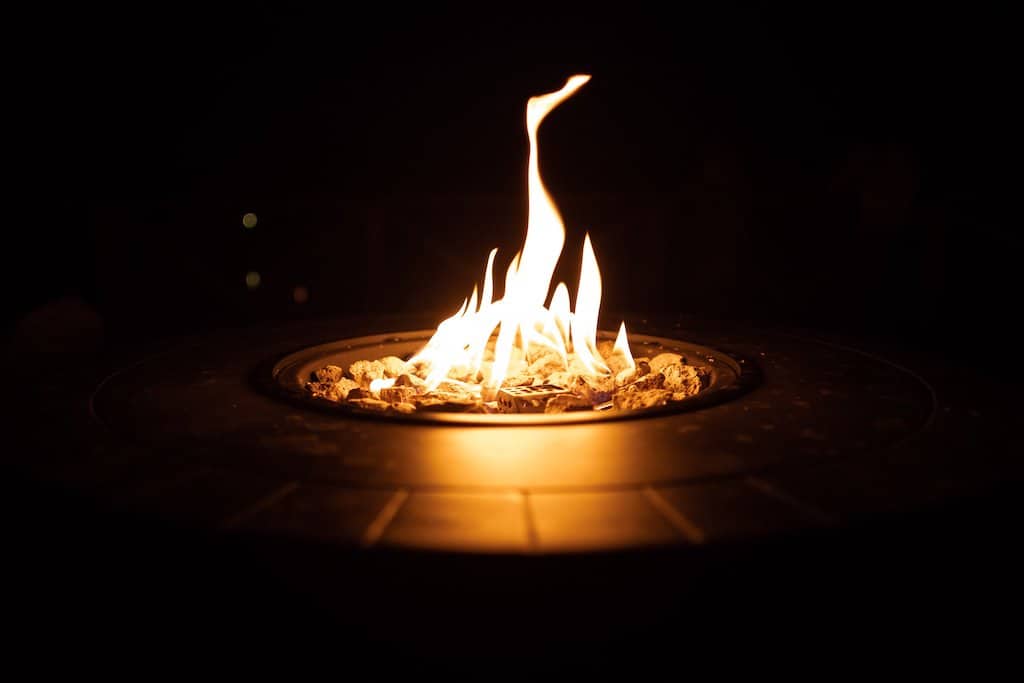 What to Consider Before Buying a Propane Gas Fire Pit?
Shape and Size
You can find hundreds if not thousands of different propane gas fire pits currently in the market. They can range from just a couple of inches from the ground fire bowls, bar top height columns to 6 feet wide tabletops for ten guests. Gas fire pits can be made from steel, concrete, bricks, or even natural stones. The exterior choices are even more diverse to complement your backyard and patio design. Generally, you'll find gas fire pits in 3 shape designs:
These gas fire pits usually look like a regular coffee table that can hold drinks and plates but with a fire pit in the middle. Most of these fire pits come with covers so the table can be used for dining and a source of light and heat after. These fire pits are very versatile, can be used on many occasions but usually come at a higher price point.
Firepit bowls usually sit close to or on the ground and are very easy to move around. Few setup steps and storage make them perfect for camping or the occasional night in the backyard. Most fire bowl fire pits don't have an extravagant exterior or design but do come at a much lower price. If you want the warmth and firelight and don't care about the looks, fire bowl style gas fire pits are a perfect budget option.
Chimney gas fire pits, also known as column fire pits, look exactly like their name indicates column or chimney. These squared fire pits have burners at the top or in a fire bowl standing on top of the column. They usually have a beautiful design and exterior details and can be a great addition to your backyard or patio design.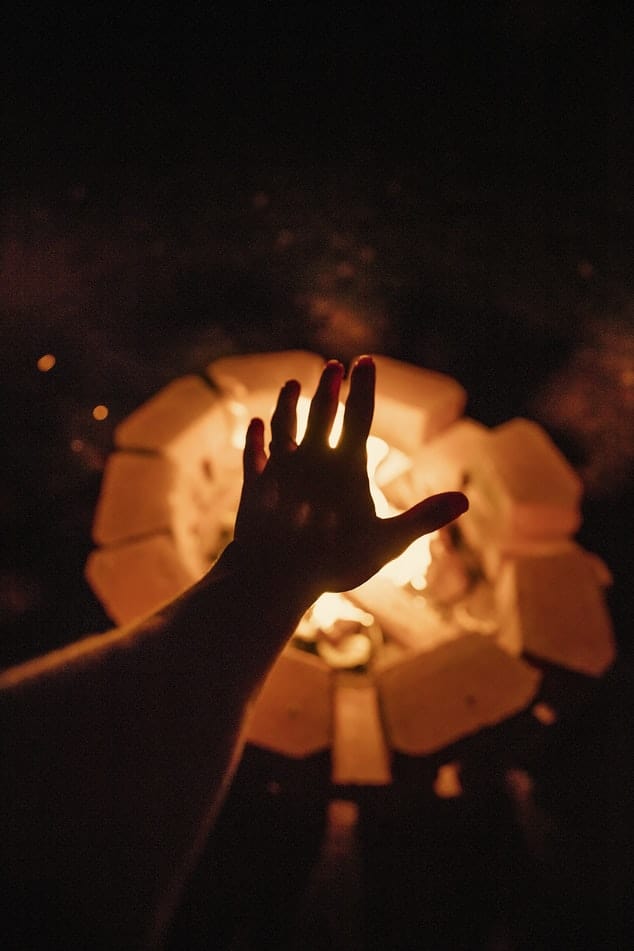 Heat Output
Gas fire pit heat output is rated in BTUs (British Thermal Unit). The higher the BTU fire pit can output, the more heat it will produce. Most residential propane gas fire pits range from 30,000 to 60,000 BTUs. If you live in a location that gets pretty chilly and plan to station your fire pit in an open area, go for the highest BTU possible. If your fire pit will be placed on a patio that is at least a bit closed off, and the weather isn't too cold, you can get away with a lower BTU fire pit.
Ignition System
Manual Ignition
This is simple and old-school. Turn on the gas and use a match, lighter, or torch to light up the fire pit. It's not the easiest ignition method but the most reliable. No spark buttons or electrical systems mean fewer things that can break.
Spark Ignition
Like most BBQ grills, the spark ignition system has a spark button to create a tiny spark to light up the gas. This is the most common and convenient ignition system.
Electric Ignition
Electric ignition is probably the newest technology-wise. You just need to flip a switch or push a button, and the fire lights up. Some smart fire pits can be integrated with your home system or phone, allowing you to switch the fire on or off with the push of a button.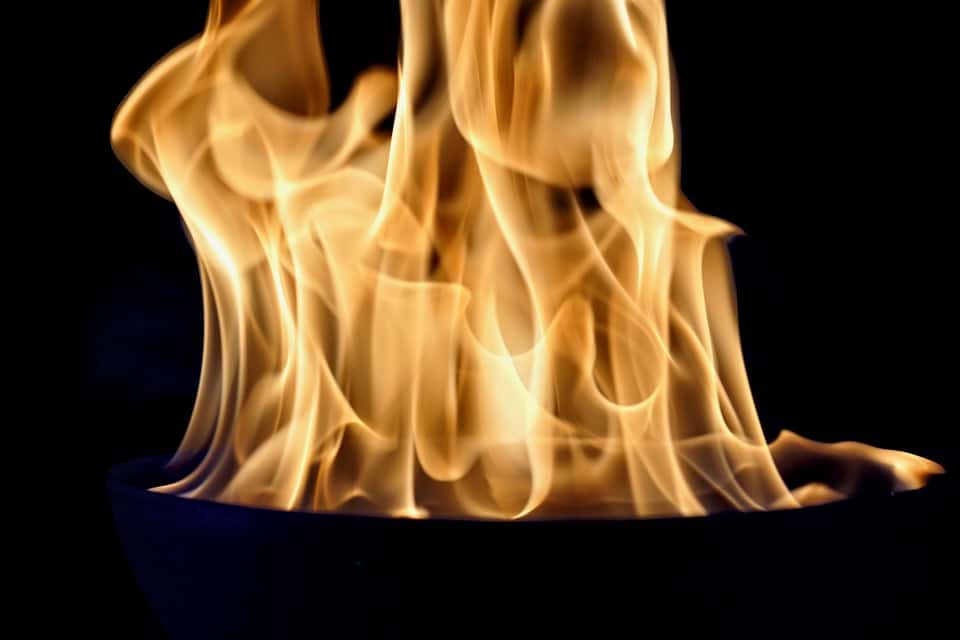 Advantages and Disadvantages of Propane Fire Pit
Advantages
Eco friendly – All propane fire pits are eco-friendly and produce no pollution. The burning of clean gas creates no emissions, reducing the carbon footprint.
Various Styles and Designs – There are numerous different styles and designs of propane gas fire pits. No matter what style, color, or material your patio or deck is made of, you'll be able to find a fitting propane gas fire pit.
No Smoke or Smell – Propane gas fire pits don't produce any smoke or smell. There will be no more coughing from a ball of smoke and smelling like a burned sausage the whole evening!
Easy to Use and Heat Control – Unlike wood burning fire pits, you don't have the hassle of setting up the firewood, igniting and kindling it. Propane gas tanks ignite instantly and can be turned off just as easily. You can also instantly increase or decrease the fire to your liking.
Requires Very Little Maintenance – There is no ash and ember cleaning, no scrubbing, or continuous fire kindling. Propane gas fire pits require little to no maintenance. Just change the gas tank when it's empty, and the party can continue.
Disadvantages
Not as Authentic – Of course, propane gas fire pits aren't as authentic as wood burning fire pits. You don't have the smell and smoke of the burning wood, which most folks associate with a real bonfire.
Less Heat than Wood Fire Pit – Hot embers and fire from a large wood fire can create a lot of heat, enough for large areas. Most propane gas tanks won't provide as much heat. If you're looking for a propane gas fire pit to warm you up during cold evenings, go for a fire pit with a higher BTU, but don't expect to warm up your whole backyard.
Can't Use for Grilling – Propane gas fire pits are more for warming you up and aesthetics. You can not use it for a BBQ party and grill food on it. The main reason is that food drippings will get stuck on rocks, filler, and even gas valves. This can reduce the heating quality and will be very hard to clean.
Best Propane Fire Pit Reviews
Bond Manufacturing 54,000 BTU Aurora Propane Fire Pit
Let's start with a small propane fire pit from Bond Manufacturing. The small Aurora model produces a whopping 54,000 BTU heat that is more than enough to keep your guests warm on your patio or when camping.
The 18.5-inch size fire pit is perfect for camping, outdoor events, or tailgating but can be used on any deck or patio as well.
This small stainless steel round propane fire pit is very well built and even has a metal lid for easy storage and portability. Easy no-tools setup and auto-ignition allow enjoying a cozy fire in just a few minutes.
High-quality but straightforward build, high BTUs, ease of use, and low price make the Aurora the best budget propane fire pit on our list.
Outland Firebowl 870 Premium Outdoor Portable Propane Fire Pit
This is another small propane fire pit for the camping, tailgating, and van-life fans. At only 19 inches in diameter, it would also be great for a small patio or balcony. It weighs only 23.3 lbs, but produces 58,000 BTU heat! You also get a cover, carry kit, and 4.4 lbs of natural lava rocks to fill the pit.
The durable, high-quality steel construction is finished with a protective enamel coating. This gas fire pit isn't afraid of rain, mud, or low temperatures as long as the burner is not clogged up. It's quick to set up and has matchless ignition.
This Outland small and lightweight fire pit is also CSA approved and can be used during most campfire bans (always check current fire restrictions in your area). Size, quality, and weight make the Outland Fire bowl the best portable propane fire pit on our list that won't make too much of a dent in your pocket.
Hiland GS-F-PC-SS 40,000 BT Propane Fire Pit
Don't let your outdoor activities end when the evenings start to get colder. The Hiland 24-inch height and 38-inch squared fire pit is perfect for keeping 4-6 people warm around the table. The CSA-approved fire pit generates 40,000 BTU heat and can be positioned on any material decks, patios, and grass.
The Stainless steel table is sturdy and robust, so you'll have no problem having dinner or drinks at the table. You won't need a separate hideaway table for your propane tank; there's enough space to store it inside the table.
Hiland GS-F-PC-SS also has a 1-year warranty but should last you way longer. Sturdy build, large diameter, and beautiful design come at a higher price, but it's money well spent as it is our best medium-sized propane fire pit for patios.
Bond Manufacturing 28in Woodleaf Fire Pit
Another Bond Manufacturing propane fire pit, what can we say, the company can make good fire pits! The Woodleaf 28-inch squared propane fire pit table produces 50,000 BTU heat, has a lid to use the pit as a table, and you can store your propane tank inside.
The size is perfect for 2-4 people to sit around, and you can station it on any deck material. This nice looking Woodleaf fire pit isn't exceptional or flashy but is of excellent quality and at a very good price point. It is recommended for smaller budgets that still want a fire pit and table combination.
Endless Summer Propane Fire Table
We love the looks of this propane fire pit table! The lava rocks and wave design panels make it feel like you would be sitting near a natural wood burning fire pit, just without the smoke and smell.
The Endless Summer propane fire table is made from steel and weighs close to 82 lbs. It's not the most portable fire table but definitely a sturdy and long-lasting one. As with most fire pit tables, you can store your propane tank inside. You'll find the concealed heat control panel and electronic ignition system behind the table door.
The only disadvantage of this fire table is the heat output. Endless Summer fire table has only 30,000 BTU. Unless you have frigid evenings, this is a perfect propane fire pit choice that will be a beautiful addition to your backyard design.
BALI OUTDOORS Propane Gas Fire Pit Table
Bali Outdoors is a well-known brand in the fire pit industry that continuously produces high-quality and good-looking fire pits. Their propane gas fire pit table is a very elegant mid-size fire table perfect for 2-4 people to enjoy a romantic atmosphere outdoors.
The 50,000 BTU gas burner is covered with beautiful glass stones to produce an incredibly cozy fire show. The pit top has four elegant tiles and a lid if you want to convert it to a dinner table or a bar.
All in all, large heat output, elegant design, and high-quality build come at a higher price point but make the Bali Outdoors fire table the best propane gas fire pit on our list.
Femor 42-in Round Propane Fire Pit Table
Want to impress your friends? Check out the Femor 42-inch round propane fire pit. This large round fire pit is perfect for larger outdoors social events as you can have 4-6 chairs or 10-16 people around it.
50,000 BTU heat output is plenty to heat medium to large patios and decks. The electronic ignition and heat control panel makes it super easy to use, and the hidden propane tank doesn't get in the way when socializing.
The wood grain tabletop imitation and blue decorative glass filler look beautiful on any deck day or night.
The only disadvantage is the higher price; however, the elegant looks, high-quality design, and ease of use make it a worthwhile investment.
Kinger Home Propane Fire Pit Table
As long as we are going big, I thought I'd show you this beauty. This is another 42 inch fire pit table, but this one is square, so it gives you even more room. Even room to set your glass of wine.
With a 50,000 BTU output, it should give off plenty of heat to keep you and your friends warm. It does weigh a whopping 82 pounds, so you might want to invite those friends over the day it gets delivered.
This comes with glass beads and a removable glass wind guard for those breezy days on the patio. It has an aluminum frame with a great looking wicker outer shell.
It's versatile also, and comes with a removable aluminum lid so that it can be used as a table when you're not using it to heat the neighborhood.
The propane tank is hidden and this unit has a stainless steel fire bowl, so it will stand the test of time without rusting out. It also comes with a PVC cover to keep it protected when you aren't using it.
If you want a sharp looking, quality-built, high output propane fire pit that can also be used as a table, this is the one for you!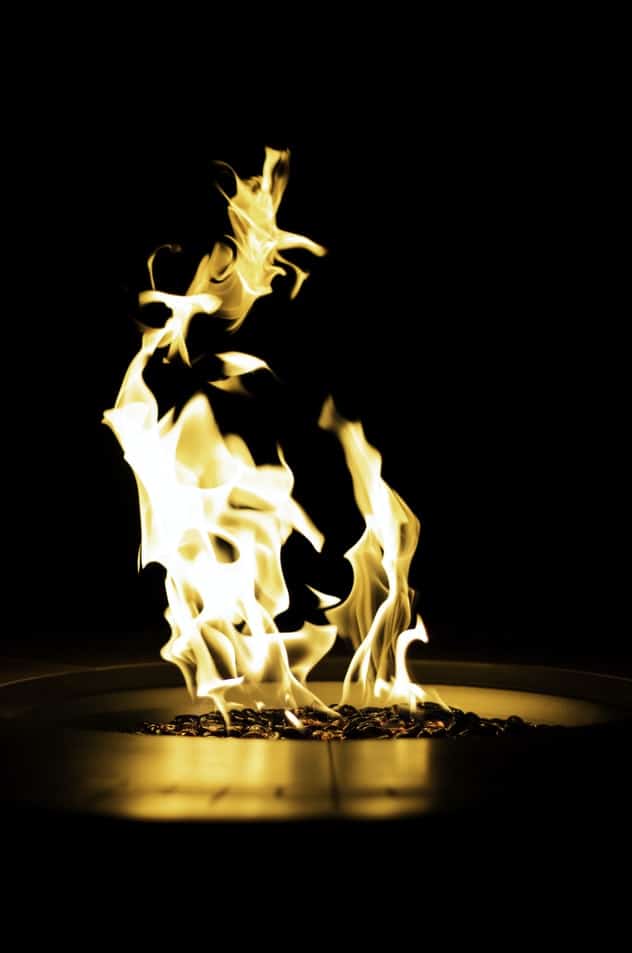 Frequently Asked Questions
Can I Cook Food Over Propane Gas Fire Pit?
Generally, we would advise against cooking on gas fire pits. The main reason is that the drippings of meats, veggies, or marshmallows will stick to the decorative fillers and be very hard to clean. When grilling over wood-burning fire pits, the drippings burn together with wood and get cleaned with ashes, while gas fire pit fillers aren't discarded and will have to be cleaned. If you're buying a gas fire pit for pleasing aesthetics and low maintenance, then avoid cooking over it.
How Long Will 20-pound Propane Tank Last?
A regular 20-pound propane tank will burn for about 10-12 hours. Of course, the length of the burn varies on the burners BTU and flame setting. If you have a powerful 54000 BTU burner and keep the flame on the highest level, then your tank might last just 4-6 hours.
Can I Use Pea Gravel in Gas Fire Pit?
Pea Gravel, a porous rock, is not recommended in gas fire pits. Rocks with small pores can have air and water trapped in them when wet. If you heat such rocks, the steam inside can build quite a bit of pressure and even cause the rock to explode. It's better to stay away from porous rocks and go with hard rocks like granite, marble, or decorative fillers.
Is it Safe to Use a Gas Fire Pit on a Wood Deck?
One of the most significant advantages of a gas fire pit is that you can use them on almost all kinds of decks and even grass. Non-combustible material decks like concrete, marble, or stone are the safest for any fire pit. In comparison, combustible decks from wood, vinyl, or other recycled materials can quickly catch fire. Most gas fire pits are ok to use on combustible material decks if the clearance is high enough and they remain upright. Always check manufacturers' clearance and installation documentation for guidance. If in doubt, it is always a good idea to use a FIRE PIT MAT. Always be sure to keep your fire pit far enough away from your house. You don't want the flames licking at your siding on a windy day.