Gazebos may not be as popular as patios and decks, but they sure offer your backyard a lot of character and functionality. They are a fantastic garden focal point, and they provide shade during the warmer seasons.
A quick online search would show you plenty of design options and shapes for your gazebo. The best part? Gazebo kits are available from Costco, Amazon, Home Depot, Lowes, Wayfair, and other home improvement shops. This will save you time planning, especially if you're having difficulties designing your own.
To guide you in purchasing or building your own gazebo, I have listed every single fact about them, including their history, design considerations, types, materials used, and a lot more. I hope that by the end of reading this article, you have already decided whether gazebos are a worthy addition to your property.
What is a Gazebo?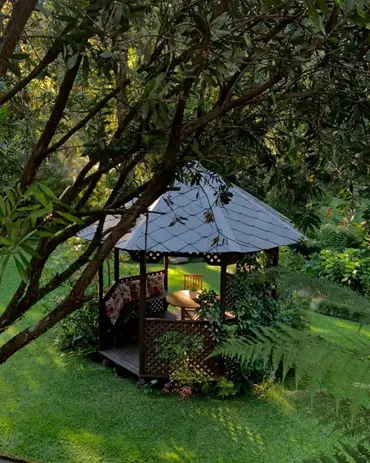 A gazebo is an open garden structure that is often hexagonal or octagonal in shape. It can either be freestanding or attached to a house, just like patios and decks. However, unlike these structures, it has a roof that is traditionally made of wood.
The most common materials used for a gazebo construction are wood, metal, or vinyl. There is often built-in seating inside the covered area, making them very functional, especially during summer. Many homeowners also add outdoor curtains or drapes to make them more private.
There is quite a bit of confusion regarding the exact naming of gazebos and other outdoor yard structures. We've heard the following terms used at one point or another to mean a gazebo-like structure, so when talking to someone about their gazebo, be sure that you are both referring to the same type of structure.
belvedere
kiosk
alhambra
pagoda
pavilion
rotunda
shed
summerhouse
pergola
tea house
arbor
screen house
lookout
History of Gazebos
Gazebos have a fascinating history. They've been popular garden structures for centuries, and they were originally built on elevated areas with an attractive view. People use them to rest and gaze at the landscape around them.
The term gazebo was believed to be a combination of the word "gaze" and the Latin suffix "ebo" which translates to "I shall." When put together, these words mean "I shall gaze," which solidifies the claim that gazebos were primarily made to enjoy views.
On a similar note, the word gazebo is said to be synonymous with the French term "Que c'est beau," which means "how beautiful." This description proves that gazebos also served as an aesthetic addition to the earliest gardens in ancient cultures.
The oldest gazebo was found in Egyptian gardens some 5,000 years ago, and they were used as small temples to communicate with the gods. Most Egyptian royalty during that time believed that they could bring their gardens to heaven, including their gazebos; hence, they made them look like a paradise on earth.
Gazebos were also built like little temples in Rome and Greece to complement their cathedral structures. Gazebos became even more popular when the Greek and Roman aristocrats started building summerhouses near the Mediterranean coast. Later on, Gazebos became a common focal point for many public places and homes.
For years, gazebos were used for different purposes. Persian gazebos were developed from a form of Islamic architecture called "kiosks," and they were added as colorful tents in their gardens. Some even use them as tombs.
Meanwhile, in Asia and parts of Europe, gazebos were intricately built to serve as teahouses and meditation areas. They are specifically situated in the middle of the garden, where one can find solitude and get in touch with their spiritual side.
Gazebos only gained popularity in America in the mid-1800s. They became a status symbol for the middle class and were used as a place for retreat in the household.
Today, modern gazebos are a pleasant addition to any landscape, and they serve different purposes depending on the owner's needs. Some use them for weddings, while others use them as an area for spas, hot tubs, and many more.
Is a Gazebo a Permanent Structure?
A common question I encounter about gazebos is whether they are a permanent structure or not. The short answer is they can be both.
Some gazebos are built as permanent garden structures, and they are anchored in place to withstand different seasons. They are perfect for homeowners who have stable living situations and do not plan to move anytime soon.
Permanent gazebos are also ideal for people who want more structural stability. Since permanent gazebos are constructed using highly durable materials like metal and wood, they aren't likely to be destroyed by above-normal wind speeds or storms.
On the other hand, portable gazebos are meant for owners who want more flexibility. This type of gazebo can be handy in the following situations:
When you realize your neighbor's noise is louder in a particular area of your property and you want to move far from the source of the noise.
When you need extra space to entertain guests but do not want to build something permanent.
When you want to go on a camping trip and do not want to avail premium fees for permanent gazebos in the area.
The only downside of portable gazebos is that they are less stable, they are a lot smaller than permanent ones, and they require time and effort to build every single time you're going to use them.
Design Considerations in Building a Gazebo
Gazebos these days come in every shape and design imaginable. You can easily find a design to suit your needs, from fully enclosed models to open-air lounge spaces.
However, before choosing a particular photo from Pinterest or Instagram to serve as your project inspiration, ensure that you have carefully considered certain aspects such as size, materials, and location, among others.
Below is a detailed list of all these factors that can directly affect how your gazebo will look:
Size and Shape
One of the primary considerations in building your gazebo is its scale and proportion. Does your target size and shape fit the size of your yard, or will it make it look cramped? Does the shape you are going for complement the other structures near your gazebo?
For permanent gazebos, the "bigger the better" really applies. In the long run, you'll realize that it can double over as your family's outdoor retreat or an area to entertain guests. If you are after these functions, the suggested size for your gazebo is 100 square feet.
The rule of thumb in choosing the size of a gazebo is this: For a small table, two chairs, and two people to fit, you will need an 8-foot square gazebo at a minimum. Once you add two more feet, two people can sit comfortably in it.
Location
There are really no hard and fast rules for choosing a location for your gazebo. You can build it in the center of your garden to serve as a focal point and draw your guests' attention, or you can also design it to blend in your landscape and be like a secret hideaway.
Here are some tips to guide you in choosing the best location for your gazebo:
Avoid building your gazebo in low-lying areas where water can easily collect. As much as possible, choose a level or elevated area. This will keep your gazebo dry, and you'll be able to maximize the view of your landscape.
Visualize how your gazebo will look in relation to your property's other structures and features. The changing seasons may impact how your gazebo will look, so it's best to ensure that it complements most of the structures near it.
Build your gazebo in a spot with the most fantastic view. Surely, you do not want to stare at the wall of your neighbor's house while trying to meditate in your gazebo. An area where you can overlook a garden or pond is perfect, especially if you use your gazebo for relaxation purposes. Meanwhile, if you use it to entertain guests, you had better construct it near a pool or your outdoor kitchen.
Materials
The materials to be used for your gazebo are also something you should plan. Sub-par materials can cost you more in the long run as they have poor durability and need frequent maintenance.
Traditionally, gazebos are made of wood, so many homeowners' go-to material is cedar and redwood. However, if you are on a budget, you can go for pressure-treated lumber, but you may want to coat it with a semi-transparent stain.
Other materials that you can use to create your gazebo are metal, vinyl, stone, and reinforced concrete. Just make sure that they match the exterior of the structures near your gazebo. This will be discussed in more detail later as we discuss the types of gazebos according to the materials used.
Style/Design
The number one rule in selecting the style or design of your gazebo is to ensure that it complements the exterior of your house or any other outdoor structure you have.
For instance, if your deck or outdoor kitchen looks very industrial and modern, adding a Victorian gazebo with a fountain in the center is not suggested. Similarly, if your house exterior looks very minimalist or Scandinavian, you shouldn't add an urban-looking gazebo with many design elements.
Another thing that you might want to consider is designing a pathway that leads to your gazebo using flagstone and other similar paving products. This will make your gazebo more accessible, especially if you have guests.
If you are undecided as to how you want your gazebo to look, there are many manufacturers out there that offer various gazebo accessories and architectural details which you can choose. You can always contact them to see if they have a style that matches your taste.
Roof Options
When your gazebo is custom-built, you are allowed to choose the type of roofing material to use. Some of the most common options are the following:
Standard Asphalt Shingles: This is a popular choice among homeowners since they require minimal upkeep and come in different styles and colors. They can also withstand decades of weathering.
Cedar Shakes: If you want your gazebo to look elegant and timeless, then go for cedar shakes shingles. This material looks even better as they age in a gray coloration.
Metal Roofing: Metal roofs are also long-lasting, and they can still be in good condition even after 40 to 70 years, depending on the installation. You have two metal roofing options for your gazebo: standing seam or ribbed.
Rubber Slates: If you want to capture the beauty of slate shingles but in an easy-to-install way, then rubber slates are your best option. They are also eco-friendly, which is a big plus.
Lighting
Planning the light installation in your gazebo is best done before building. This will eliminate the presence of unsightly sockets or extension cords that can make your gazebo look too cluttered.
Also, ensure that you use ambient lighting so you'll be more relaxed when staying in your gazebo. Adding daylights may be a bit harsh to the eyes and won't achieve a great mood.
Gazebo lighting can be accomplished using low voltage landscape lighting fixtures or hard wired to your house's line voltage. Using low volt lighting will undoubtedly be more economical and will provide plenty of light.
Railing
To the average person, when you mention a gazebo, they automatically think of a square or dodecagon pavilion. This is understandable since traditional gazebos are often built this way. However, if you want your gazebo to stand out, you might want to get more creative with its railings.
Two of the most common materials used for guard rails are wood and vinyl. But just recently, steel balusters that are fashioned to look like wrought iron are becoming more popular.
Another option that you might want to consider is glass. The main benefit of using this material is that it highlights the view from your gazebo, and it does not block any inviting landscape that you want your guests to enjoy.
Cost
The type of gazebo you'll be able to build in your property depends on your budget. Before settling for a specific gazebo kit you saw online, visit a lot of local suppliers or online stores and compare prices and quality.
For customized gazebo kits that measure 6 to 8 feet, expect to pay $2,000 to $3,000. Of course, when you go for larger kits, the cost will be higher. Some kits even cost $10,000 and above.
Aside from the cost of the kit, you would need to spend $500 for the foundation and labor. It would be difficult to do this on your own unless you have experience doing so.
The above prices are for kits and relatively standard gazebos. Obviously, like any other structure, the larger you go, and the more customized and fancy you get, the higher the cost. A fully custom, large gazebo can easily run three times the prices above.
What are Gazebos Used for?
Some homeowners are still debating whether gazebos are functional or not. What they overlook is that the functionality of any home structure will depend on how their owners build them to suit their needs.
Listed below are the practical uses of gazebos in any property:
A place for relaxation – First and foremost, gazebos are made for relaxation. People gravitate toward them because they look very cozy. Since this is an open structure, you'll be able to enjoy some fresh air without worrying that the sun rays will burn your skin. Remember that gazebos have a roof so that you can enjoy this area of your property any time of the day.
The focal point of a garden – With an ever-evolving landscape and garden, sometimes you end up with so much going on in your garden (plant beds, water fountain, pond, etc.) that it may be challenging to choose a focal point. By adding a grand gazebo in a centralized location, your guests can have a highlight to focus on, and you can add some organization and structure to your landscape.
Entertainment area – Gazebos are perfect areas to entertain, especially if they can accommodate many people. By installing mood lighting and speakers, they'll be a favorite hangout place in your property and your living room might quickly be forgotten.
Shelter for spa and hot tubs – One of the ultimate ways to use gazebos for relaxation is by using them as cover for a spa or a hot tub. Of course, you would need curtains or some opaque material to serve as curtains, but this is definitely achievable. For convenient access, gazebos meant to be used like this should be located near your house.
Greenhouse – If you've been dreaming of having a greenhouse but don't want anything permanent, then gazebos with transparent, removable walls can do the job. This is very useful to protect your fruits and vegetables during the winter season. However, you need to make sure that you keep your gazebo's interior nice and warm.
Dressing room for swimming pools – A pop-up gazebo near a swimming pool can be used as a changing area or storage for the swimmer's belongings. The curtains only have to be pulled for more privacy.
Temporary storage – Gazebos are ideal storage areas if you plan to renovate, redecorate, or fumigate your home. They are very convenient to access and can accommodate many household items. However, they aren't ideal for storage during the winter season, especially if you will keep documents and other things that can be easily soaked.
Wedding tent – Casual weddings can be staged on gazebos, and all you have to do is add some decorations, and you're good to go. This is a lot cheaper than renting a wedding venue that can cost you thousands of dollars.
Outdoor play area – Gazebos can also be used as an outdoor play area for families who have kids. This is better than allowing kids to watch television shows all day long or use their phones to play games. Set up some fun activities on your gazebo, and it will surely be a favorite hangout place for your kiddos.
Alfresco movie theatre – Tired of seeing the four walls of your living room while watching Netflix? Why not set up your audio-visual equipment on your gazebo and watch the latest series alfresco? There is no need to drive and visit fancy outdoor cinemas to enjoy this type of fun.
In designing the gazebo you want for your property, identify what types of activity you are planning to use it for. This will dictate the overall look of your gazebo and how purposeful it will be once it is installed.
Four Primary Types of Gazebos
The internet offers a wealth of information about gazebos, but it all boils down to four specific varieties. These are listed from the most durable to the least.
Permanent Gazebo – As discussed in one of the former sections, permanent gazebos are built in a specific area of your property for the long term. They are very durable since they are anchored to a foundation. If you decide to choose this type of gazebo, you should carefully plan how it will look and be sure to get a building permit.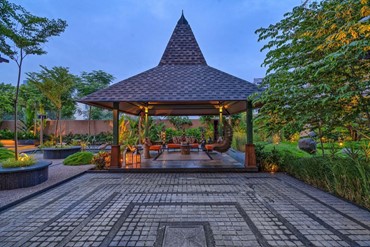 Hardtop Gazebo – The roof and frame of hardtop gazebos are often made of wood, steel, vinyl, and aluminum. However, some also use polycarbonate for the roofs since it is very transparent and durable. Hardtop gazebos are technically temporary and portable because they aren't built on cement foundations, but they can be built either way to suit your needs. For homeowners looking for gazebos that they can use year-round, hardtop gazebos are a top choice. Other outdoor features such as a fire pit and a grill can also be added in this type of gazebo, unlike soft top and pop-up.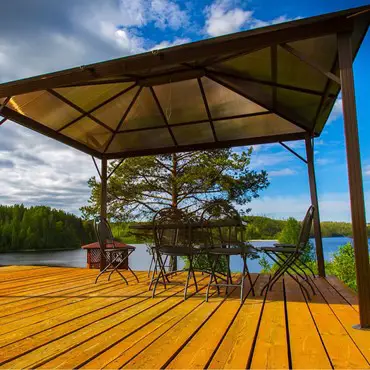 Soft Top Gazebo – Soft top gazebos are highly recommended for renters or homeowners who do not plan to stay in a certain area for quite a long time. As you may have guessed, this type of gazebo does not use solid materials like wood, steel, or vinyl. Soft tops usually have a fabric roof, aluminum or plastic frames that are foldable, mosquito netting, and detachable mesh walls. Since they have a canvas top, it can be changed and accessorized according to your taste. Many people choose this type of gazebo because they are cheaper, lighter, and easily stored.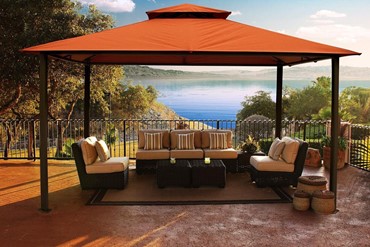 Pop-up or Camp Gazebo – Pop-up or camp is the least durable among the four main types of gazebos. They can be built anywhere with minimal effort, and you can take them down in a few minutes. Now, this begs the question: are they similar to tents? Although the materials used for pop-up gazebos and tents are essentially the same, tents are made for sleeping and therefore have a lower ceiling. Meanwhile, pop-ups can accommodate a standing adult and are relatively large in size. Compared to the other three types of gazebos, pop-ups aren't meant to be used year-round because they can't withstand weather changes. You also can't add a fire feature to a cloth gazebo. What this gazebo is known for are its customizability and portability. You can change its wall panels and door, and you can pack it up inside a bag.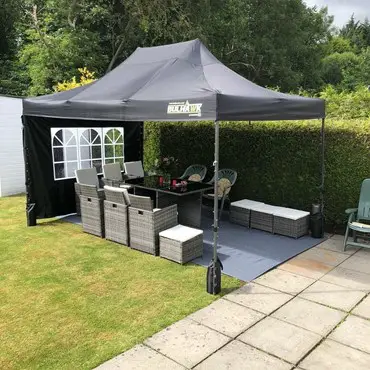 Types of Gazebo According to Design and Style
While the main types of gazebos are based on whether they are permanent or portable, another categorization is based on their style or design.
Join me as I discuss each of these types below:
Folly – A folly gazebo isn't functional and is only meant to provide aesthetics to a garden. They were first built as a status symbol of wealthy estates several centuries ago, and that's why they often look extravagant. Despite being purely ornamental, they also come in various shapes and designs. They are great backdrops for your flowers, but they aren't that popular nowadays.
Rotunda – This gazebo style originated in Europe and is iconic for its large, circular design. It often consists of a domed roof supported by simple pillars. In planning and designing a rotunda, the focus is on its roof. You'll find that this structure has an intricate roof very similar to the US Capitol Rotunda.
Pagoda – Pagodas are famous for their oriental style since they originally came from Japan. They are made of wood, and their pointed roof is either two or three-tiered. Traditionally, pagodas were used for religious purposes, but they became an ornament in the garden and a place for relaxation over time. They are intricately constructed, and this is visible in the lacy woodwork designs on the pillars and their sides.
Pavilion – This is probably the simplest type of gazebo with its rectangular shape. Only four pillars support the roof, and its functional space is way larger than the other types of gazebos. Many homeowners prefer pavilions since they are great for entertaining guests. That being said, this type of structure should be built near the house for ease of access.
Pergola – When it comes to adding character to your property, pergolas are probably at the top. This has a lattice roof where vines can climb and eventually provide shade. The roof is supported by sturdy pillars, which add aesthetic to the structure since plants use them to climb. Moreover, pergolas are perfect if you want a gazebo that offers a "nature" feel.
Victorian – Victorian gazebos are perfect focal points to your landscape with their post-and-beam design. They look very traditional with their double roof and ornate details. Their overall grandeur attracts many homeowners to install them at the center of their garden. They are perfect locations for casual weddings and any events that call for an elegant venue.
Types of Gazebo According to Materials Used
The functionality of a gazebo will also depend on the materials you used in building it. If you want it to be an all-season room, you should opt for highly durable materials that can withstand different natural elements.
Here are the common types of gazebos according to materials used:
Wood Gazebo – Wood gazebos can be considered classic American structures. They are often found in backyards and parks as a relaxation area and as an ornament. Usually, wood gazebos are made of pressure-treated pine, and it is stained or painted depending on the owner's desires. However, some prefer cedar or redwood since they can resist water damage, bug infestation, mold, and mildew. They are also naturally beautiful woods, so there is no need to stain or paint them. The only downside of wood gazebos is that they will require some maintenance over time.
Metal Gazebo – Metal gazebos are built to last depending on their quality. Some models are made of galvanized steel roofs and aluminum frames, but some kits are made of steel frames that can be anchored to your patio or deck. Even though this type of gazebo is highly durable, it is still recommended to examine the wind rating in your area. Most of the time, metal gazebos cannot hold up during a hurricane or natural disaster, so if you expect it to remain in pristine condition after these events, you'll be disappointed.
Vinyl Gazebo – Vinyl gazebos are perfect for homeowners after an elegant structure that needs very little maintenance. Since this type of gazebo is made of pressure-treated pine wrapped with a PVC vinyl sleeve, you can expect it to be durable and easy to maintain. Unlike wood gazebos that need to be stained or repainted after a few years, vinyl only needs power washing to make it look like a new structure. This will save you time, but you need to invest in a good power washer.
Canvas Gazebo – Canvas is the most expensive fabric used for a gazebo, but it's well worth it. It is an excellent choice for those who don't want any permanent structure but are also after something that can endure usage during regular changing seasons. Many homeowners prefer canvas gazebos since they are easy to install. They come in various colors, and they can be taken down during the winter months without any hassle. This may be expensive, but the cost is justified. Be aware that any canvas covering will deteriorate with time and will need to be replaced.
Ways to Build a Gazebo
There are three common approaches to building a gazebo, and which one you choose will depend on your skills, time, and budget. You can either build from a plan, put together a kit, or commission someone's original design.
Building from a plan. This approach to building a gazebo would require carpentry skills and a good design/plan. While there are many downloadable plans on the internet, you cannot say for sure that they will work for you without a good understanding of construction techniques. You need to truly understand the design and materials needed to buy the materials for and build a gazebo from a purchased plan. Having said that, most lumber yards will give you a materials list if you provide them with an accurate plan.
Putting together a kit. The most straightforward approach to building a gazebo is putting together a kit. There are many available kits from Wayfair, Amazon, and other stores, which you can assemble on your own. The designs span from the hardtop to pop-up, so you're sure to find the perfect fit for your needs.
Commissioning an original design. Contrary to what most people think, commissioning a design from an architect or a professional for your gazebo is not that expensive. The advantage of this approach is that someone can put your unique vision into a buildable plan that suits your needs exactly.
Frequently Asked Questions
What is the difference between a gazebo and a pergola?
Many professionals consider pergolas as modern gazebos, so technically, they pertain to a single structure. However, if we look at the design of the traditional gazebos and the more modern pergolas, certain differences are worth noting.
For one, a gazebo provides full coverage against the sun, while the pergola's crisscrossed roof only allows partial shade. The pergola's roof can also be optimized as a design element for your garden since it can hold vines and other climbing plants.
Another difference between the two is their shape. Gazebos are often round or octagonal, and meanwhile pergolas are always square and rectangular.
Apart from all these, the installation of a pergola from a gazebo also differs. Pergolas can be stand-alone, or they can link two structures in your property and serve as a walkway or passageway. On the other hand, gazebos are usually a freestanding structure.
Is it cheaper to build or buy a gazebo?
The answer to this question is relative. The price of a gazebo depends on its size and style, so it is possible to spend the same amount whether you build your own gazebo from scratch or a ready-made kit.
It is, however, suggested to buy kits instead of making a DIY gazebo. If you aren't a pro in carpentry, chances are, you're going to build and rebuild it, and this would cost you more in the long run. Meanwhile, when you buy a kit, you can hire someone to install it for you, and you're all done. Some kits are really durable, so they are considered good investments.
What is a gazebo without a roof called?
Since pergolas are technically a type of gazebo, they are often called gazebos without a roof. A pergola is an open-air outdoor structure that is supported by columns. However, instead of metal roofing and other solid covers, it has a lattice roof where vines and plants can grow.
What is the best outdoor gazebo?
The best gazebo is relative to its owner. If the owner loves traveling, then a pop-up gazebo is highly recommended. Meanwhile, if they plan to stay at a certain place for a very long time, they may opt for a more durable type of gazebo like the hardtop ones or those built on foundations.
What is the best material for a gazebo?
The best material for an outdoor gazebo is wood, metal, and vinyl. All these offer longevity and durability, and they are also cost-effective.
Wood types like cedar and redwood are ideal for permanent gazebos because they are rot-resistant. Although they require more maintenance, their quality and sophistication are evident even after several years.
Gazebos made of steel, aluminum, or wrought iron are also very sturdy. They do not require intensive maintenance, and they are rot-resistant.
The last material suggested for a gazebo is vinyl. While vinyl lasts for a very long time and does not rot, many economical vinyl structures look a bit shabby over time.
What type of wood is best for a gazebo?
The best type of wood for a gazebo is cedar or redwood. These naturally protected woods can be more expensive than your other options.
Other types of wood that are great for a gazebo are pressure-treated pine, tropical hardwood, and modified wood. Among all these, the most budget-friendly is the pressure-treated wood.
Final Thoughts: Are They a Worthy Addition to Your Property?
Gazebos aren't only meant to be an ornament in the garden, and they serve different purposes depending on the needs of the homeowner. Some use them as relaxation and viewing areas, while others make them more functional by using them as changing rooms, storage space, and even wedding venues.
Whatever your reason is for building a gazebo, remember that for it to be pleasing and useful to you for a long time, the design must fit your needs, and the materials chosen must be durable enough to stand the test of time. A gazebo is a large structure; you only want to do this once.