The Italian Cypress tree is grown as a specimen and landscape tree. It is primarily used for privacy purposes and, due to it being a tall and thin tree, can make a dramatic statement in the landscape. By planting this classy-looking tree in appropriate areas and minding its care, you can have a fine-looking landscape.
Italian Cypress is an excellent addition to any home, so here are some tips on landscaping Italian Cypress trees.
Italian Cypress Tree in Landscaping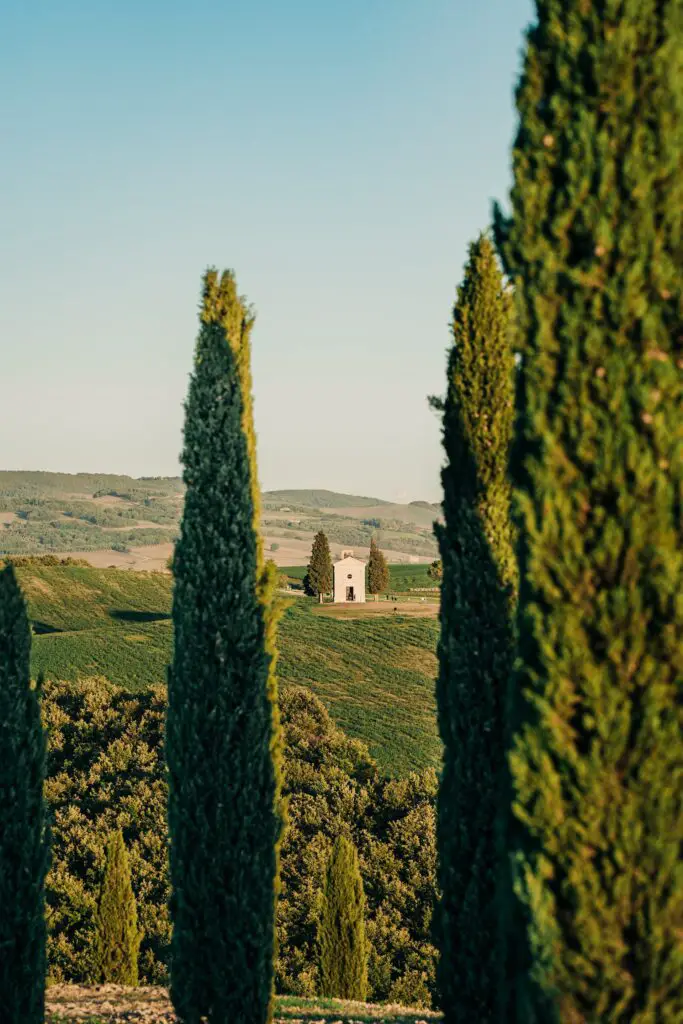 Italian Cypress (Cupressaceae sempervirens) are towering columnar trees. They are also called Tuscan Cypresses or Mediterranean Cypress and seem to belong in a classic Italian picture. These trees are evergreens native to Europe and Asia, but they are linked to Italy due to their prominent usage in landscaping. They are hardy in USDA zones 7–11.
They can grow up to 115 feet, but it's quite common to see 50-foot trees almost anywhere. And its small width will not expand further than 4-5 feet, which, compared to its height, is a dramatic difference.
The tree's exceedingly tall and compact structure enables it to fit in small areas, provide a lovely privacy screen, or be placed at a short distance from a house. It's rare to see trees with the same opulent vibe as the Italian Cypress! This beautiful evergreen tree increases the value of your residence by giving aesthetic appeal, thus improving the appearance of your landscape.
How to Landscape with Italian Cypress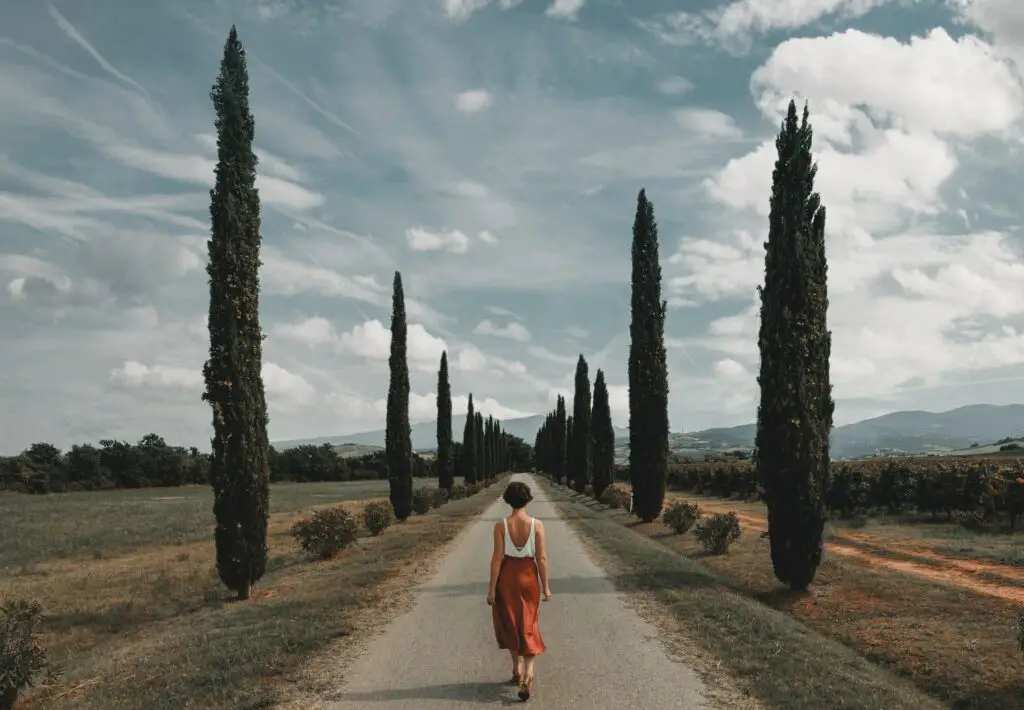 Italian cypress trees are perfect for bringing elegance to your garden. Even if you place one or a dozen of these slender evergreens, the effect is spectacular and will always look amazing. Italian cypresses are ideal for framing the entry to your driveway or house, lining a lengthy path, or separating two houses.
Moreover, if you want to put it as close as possible to your house, three feet from the house would be a minimum distance. Nevertheless, it would be best to leave adequate space between the house and the maximum diameter of the tree for optimal airflow.
Italian Cypress trees need approximately three feet of distance from each other in landscaping to form an effective and stunning barrier or privacy screen. On the other hand, you can space them about five to six feet if you wish to use individual trees for accent or a very classy effect. This tree will thrive in a huge container, but it will outgrow it over time.
Italian Cypress Trees for the Entryway
The Italian Cypress is a perfect choice for any entryway or front yard, as it features a tall, narrow shape that creates a beautiful silhouette against the sky. Columnar trees like this add a lovely pattern to the meandering stone entrance path, which leads to a fountain area. A relaxing combination of green and white flora would keep any space lush and calm.
Italian Cypress Against Clipped Holly Plants
Clipped holly plants add a rustic feel to the overall landscape design, but for something like an Italian feel, you can place Italian Cypress in three-piece groups on either side of neatly pruned holly bushes. By doing this, you can create a sensation of space and light for your landscape, creating a brighter area for your choice of flowering plants.
Italian Cypress Trees for the Poolside
If you want your pool landscape to have an extraordinary Mediterranean vibe, you can use the help of Italian Cypress trees for a great swimming refuge. Pot-planted Italian Cypress can offer visual intrigue. And if you mix in some neatly manicured boxwood bushes, they combine to make a beautiful but unified statement.
A Venetian-style residence
Italian Cypress trees can complement any beautiful Venetian-style property. These tall trees will add a great deal of height against the smaller bushes, brick or concrete structures, and brick pavers that lend color and texture to the landscaping. Altogether, these landscape elements will exude grandeur.
French Country Home
The French country home is an elegant and timeless style that has been popular in Europe for centuries. If you want to achieve that look, Italian Cypress and low-growing plants can frame the primary entryway of any French country-style home.
How to Maintain Italian Cypress Trees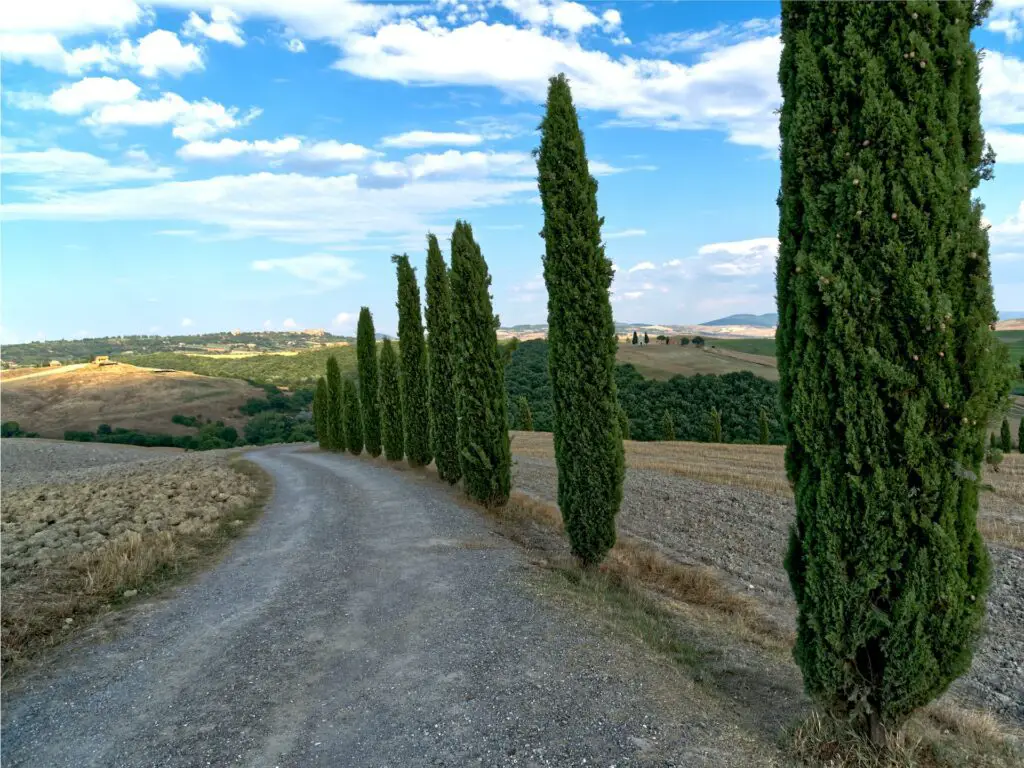 The first step to landscaping with Italian Cypress is choosing the right location for the tree. Always remember that Italian cypress trees like direct sunlight but can take a little shade and that planting Italian cypress trees in the fall is a wise move. It's best to make holes 3 to 5 times the diameter of the plant pots or root spheres to begin cultivating Italian Cypress.
Keep in mind that an Italian cypress in a container will not grow to the size of a tree established directly on land. Most importantly, when appropriately planted, Italian Cypress trees grow quickly and require little maintenance—they can grow in almost all soil types as long as it drains well.
Cypress trees require a lot of water when you first plant them, so you must thoroughly water them immediately after planting. Then include irrigation into your regular care regimen. Do not allow your young trees to dry out during the first few months of their life. And while Italian Cypress is hardy against heat and drought once planted, heavy irrigation every week during dry seasons will promote its growth and health.
You can add a couple of inches of mulch a few inches from the trunk of your Italian Cypress tree to support its water retention, root protection, and weed prevention.
Once a year in springtime, it would be best to use a suitable slow-release fertilizer to ensure your Italian cypress tree gets its proper nourishment.
To end this article, here's a fun fact about Italian Cypress. Italian Cypress is a beautiful addition to any garden, but it has many uses other than being just another beautiful specimen of nature. The rot-resistant wood of the Italian Cypress tree is used to make furniture and other products like coffins, fence posts, musical instruments, and boats.
REFERENCES
https://plants.ces.ncsu.edu/plants/cupressus-sempervirens/
https://sites.redlands.edu/trees/species-accounts/italian-cypress/