Don't let the desert's harsh climate convince you that it is not a great place to unleash your creativity. Sure, it doesn't rain much, and sure, it's hot and dusty, but these can be good things when you want to grow an affordable and low-maintenance landscape designed for the desert.
There are infinite ways to design a landscape, but you must base your design on certain key concepts. Specifically, the particular terrain in which it will be constructed is of vital importance. Designing the wrong plants for the environment would undoubtedly result in failure. Since we are talking about inexpensive desert landscaping ideas, you can only do so much. However, by combining a few landscaping components, you can quickly improve your desert yard.
The following inexpensive desert landscape ideas will give you plenty of makeover possibilities that will be affordable. And, if you are reading this, you probably already have some of these things in your existing landscape. You certainly don't need to start from scratch.
Far too often, landscape professionals advise clients to rip out the old landscape before installing a new one. This is often because the landscaper wants to increase to costs of the project and give themselves ultimate design freedom. As a cost-conscious homeowner, you can surely plan your landscape around what you already have and save yourself a ton of work and money. 
Affordable Desert Landscaping Ideas to Give Your Yard a Makeover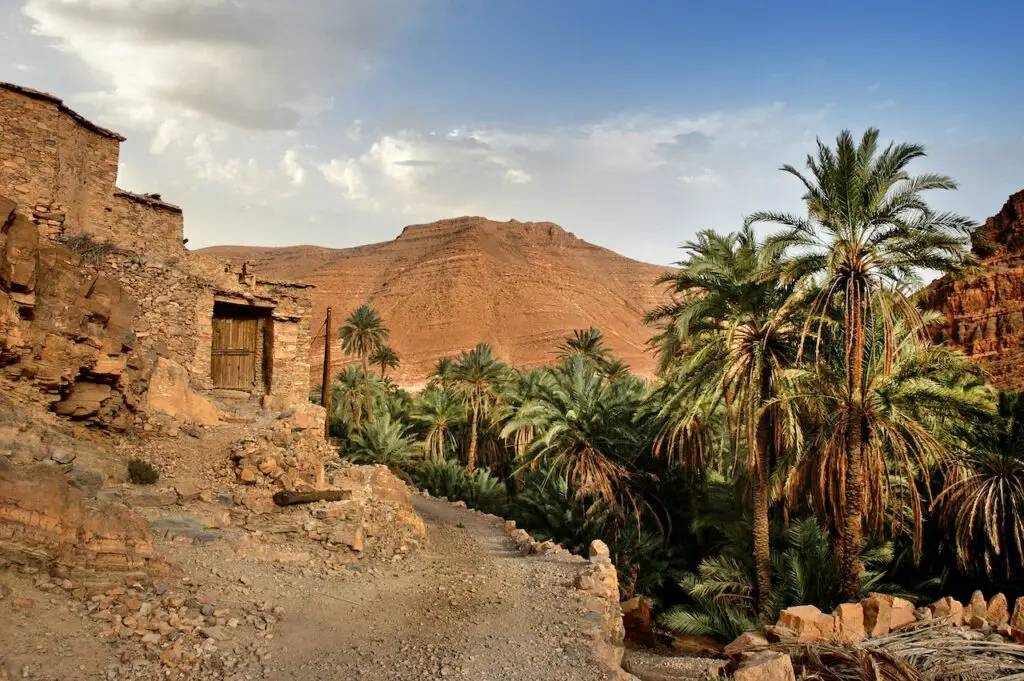 Start your weekend with these expert tips on inexpensive desert landscaping to give your yard a makeover. These include affordable ways to add variety and style to your dirt backyard by adding some of the following common design items:
sand
cacti
succulents
desert-thriving trees
rocks
drought-tolerant plants
drought-resistant ground cover
boulders
water features
Inexpensive Desert Landscaping Ideas 
We will keep all of these ideas budget-friendly, so you don't need to break the bank to design a desert landscape and create an enjoyable spot to watch the sunset, drink something cool, and relax in your very own desert paradise.
A Simple Desert Landscape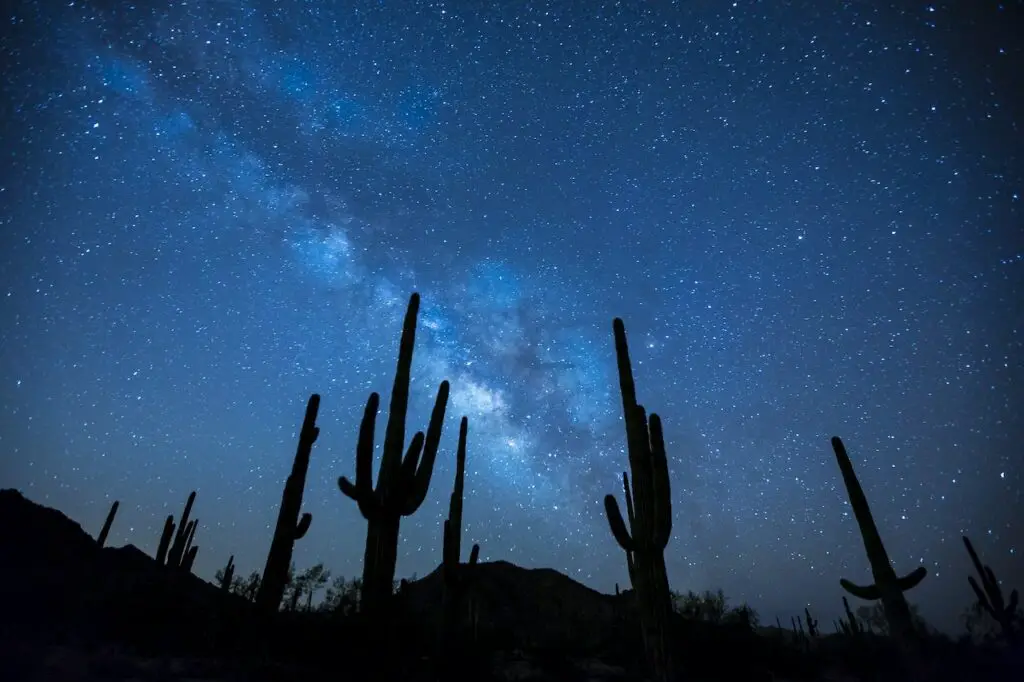 If you want to go the minimalistic route, first choose plants that are easy to care for. For example, succulents and cacti—don't need much water or sunlight to thrive! Desert plants typically require more sunlight than plants from other climates and should be located in areas where they receive ample sunlight throughout the day.
Succulents and Cacti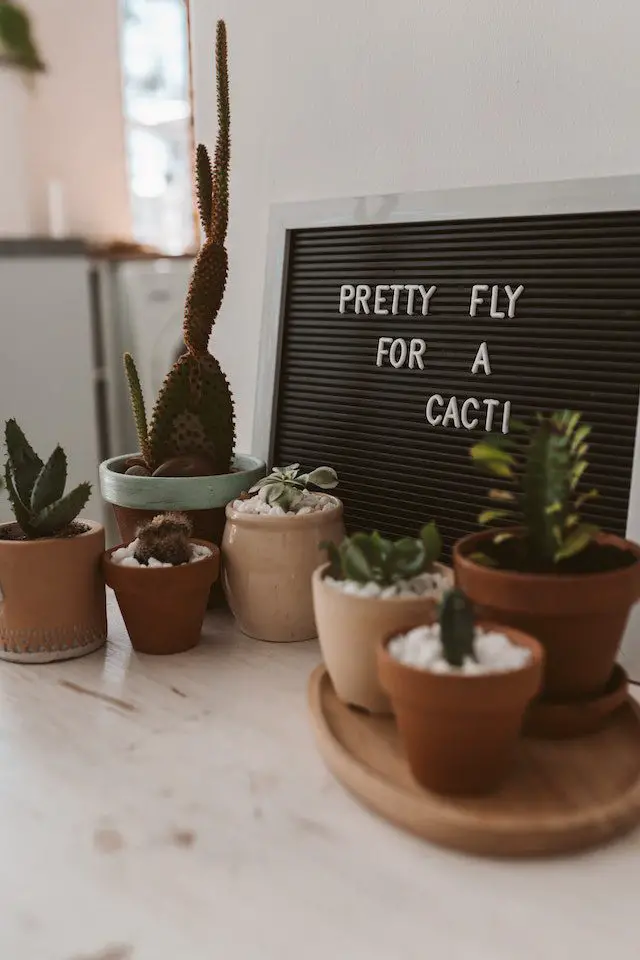 As mentioned above, succulents and cacti can be some of the best low-cost desert landscape plants.
Succulents make an excellent addition to your space because they require little care and water, making them an ideal choice for areas where water is scarce or hard to access. Cacti are another excellent choice for desert landscapes because they are drought-tolerant and don't require much maintenance, and Cacti are also easy to grow.
Drought Tolerant Grasses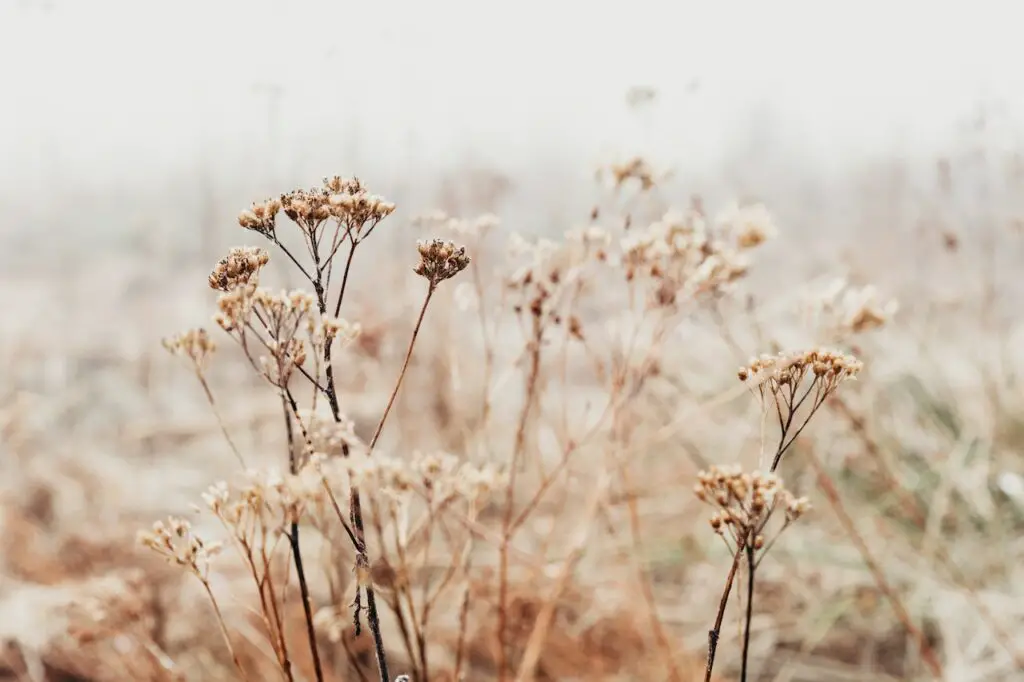 Even if you live in an arid region, you can still have a lush green lawn. A whole business is devoted to developing lush lawns without water.
A few examples of grasses that would bring your desert landscape a little life would be Buffalo Grass, Big Bluestem, and Blue Oat Grass. Certainly, nice-looking, well-kept grass makes any desert garden feel like home.
Now you can't expect any of these grasses to be like the bluegrass and rye of the more temperate regions, but if you like grass, you can get a grassy look even in the desert.
It is essential to realize that all desert landscape is not created equal. Take a look around your general area when looking for plant ideas. Using native plants that already exist in an area will result in the most economical and easy-to-care-for landscape design.
Cactus and Palm Trees in a Small Desert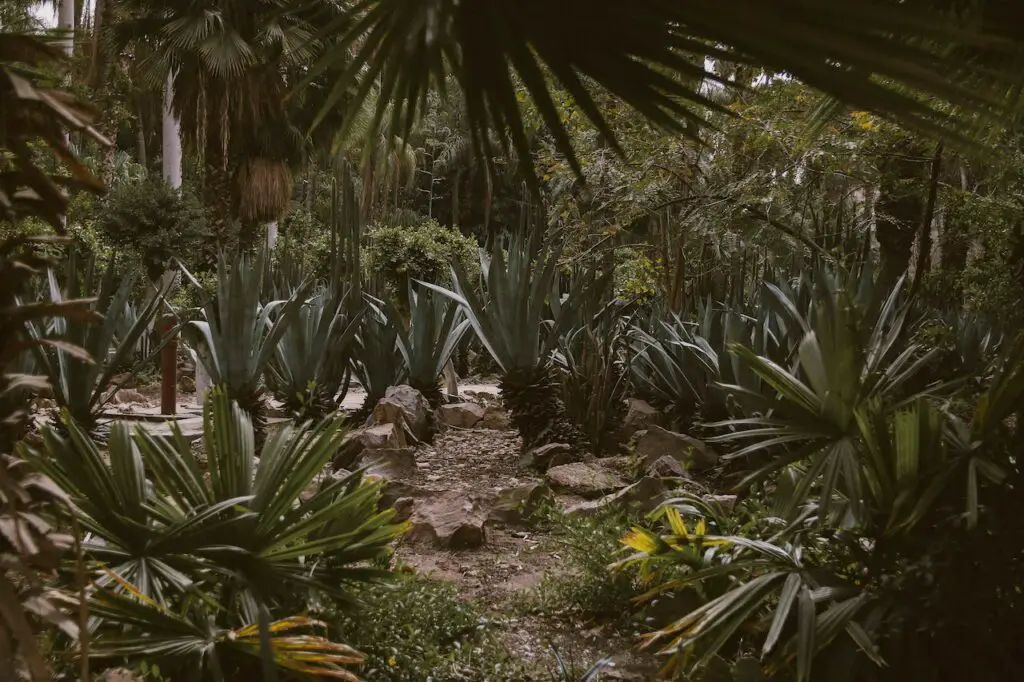 One of the best ways to add some desert flair to your yard is by adding palms and different kinds of cacti.
Cacti are drought-tolerant and can survive in arid climates like those found in the southwestern United States because they store water in their stems during dry months. On the other hand, even a small palm tree can add that summer vibe to the desert landscape!
A Bed of Succulents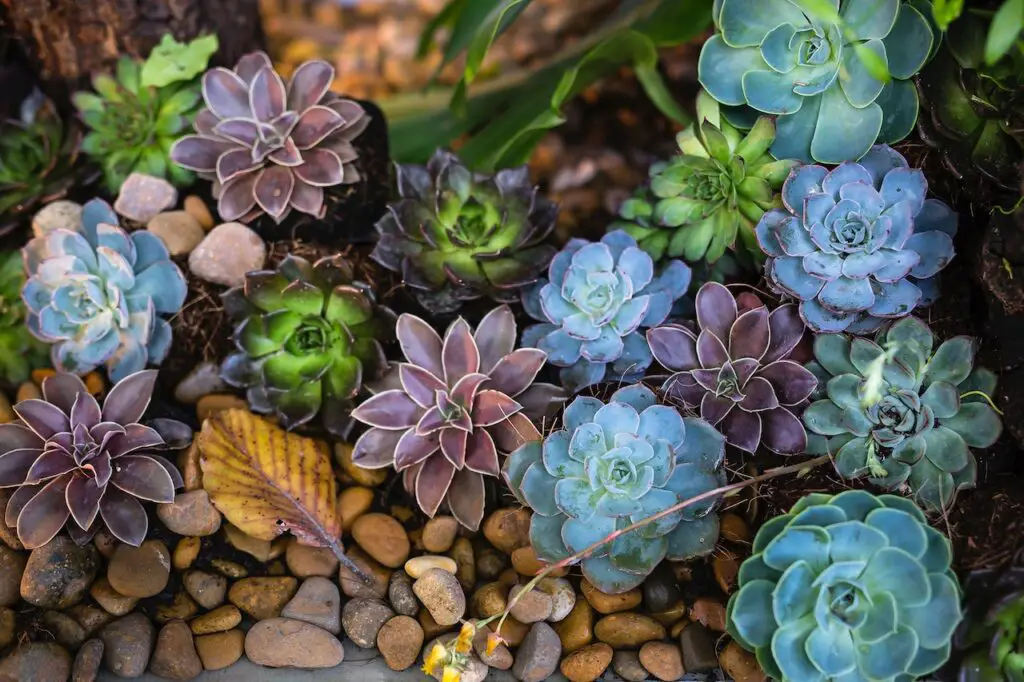 Succulents are some of the most popular desert landscaping ideas because they're easy to grow, low-maintenance, and beautiful! If you want something more colorful, consider planting different varieties of succulents together, like:
You can also get small pieces of decor for your smaller succulents, like hanging baskets and pots.
Oasis in the Desert Garden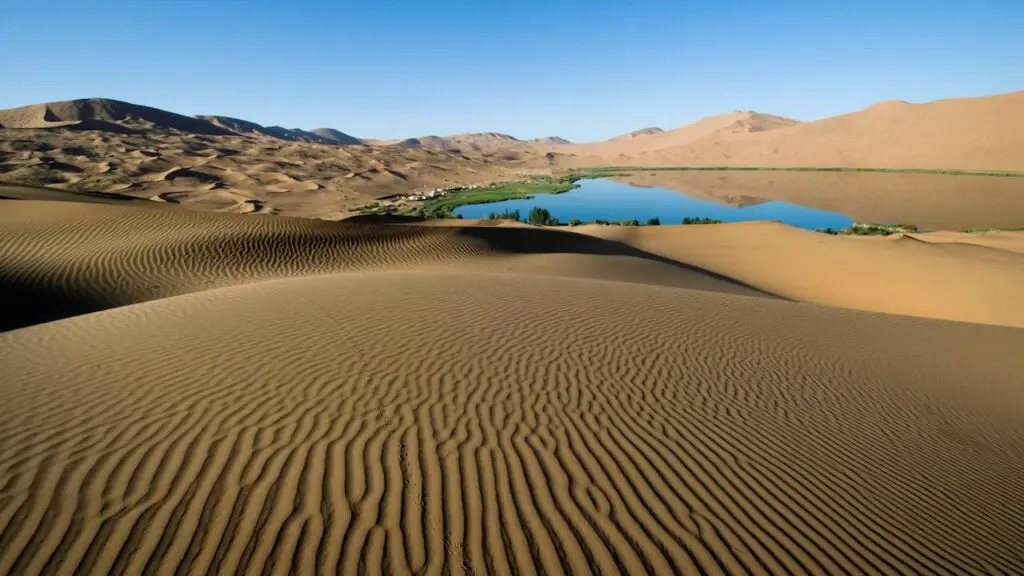 If you really want to add some life to your desert landscape, you could consider adding a small water feature. Even a tiny bubbling boulder or pondless waterfall would be a welcome oasis for any local animals looking for a drink. The water feature need not be large or wasteful. A small falls with a large basin for storing water can be an excellent yard addition. You can also direct all rainwater to this basin using piping from your downspouts to collect any natural moisture your yard takes on. 
By doing simple things like these, you can have a little slice of tranquility. You can add a fountain, a bench, and other interesting desert plants like ocotillo to add color and create visual interest.
Mirrored Luminescence
Other than providing water storage and refreshment for animals, a beautiful water feature in a desert landscape will always be a stylish but inexpensive design that adds to the aesthetic of your home. It catches the light quite nicely, adding sparkle to a dull space. Often, water features are easy to install and offer a natural touch that costs you nothing more than time and minimal spending.
Container Planting with Cinder Blocks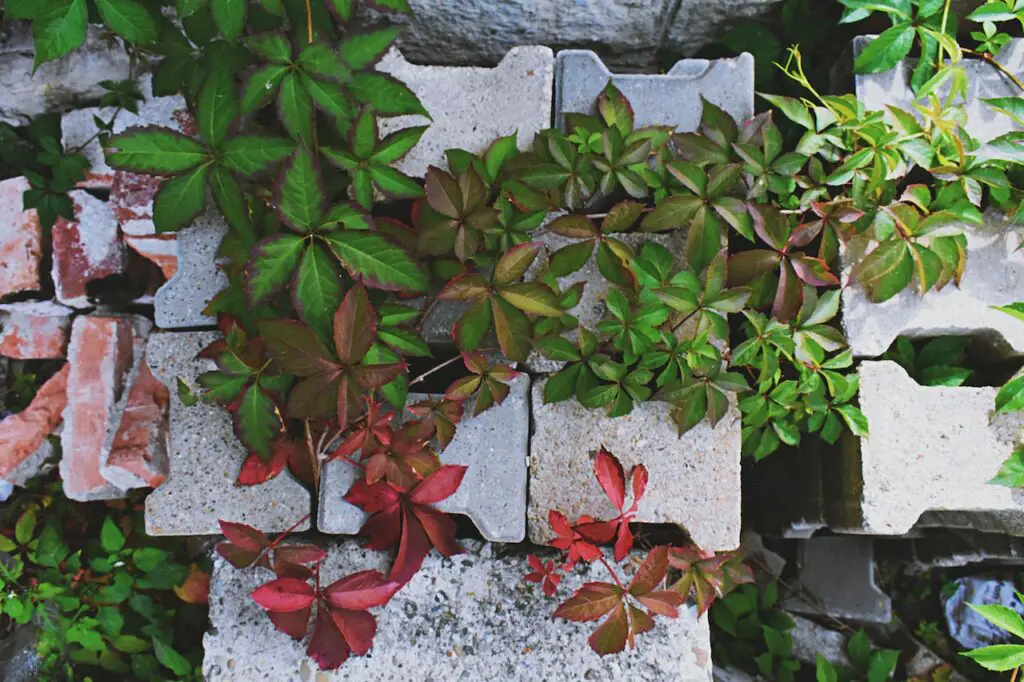 You can use cinder blocks as a functional element of your desert-themed design. Among the cheapest landscaping suggestions on our list are stacks of cinder blocks with Zebra Plants, Flaming Swords, or Snake Plants.
These simple but functional pots are made of recycled materials, making them easily movable if you change your mind.
Colorful and Vibrant Wildflowers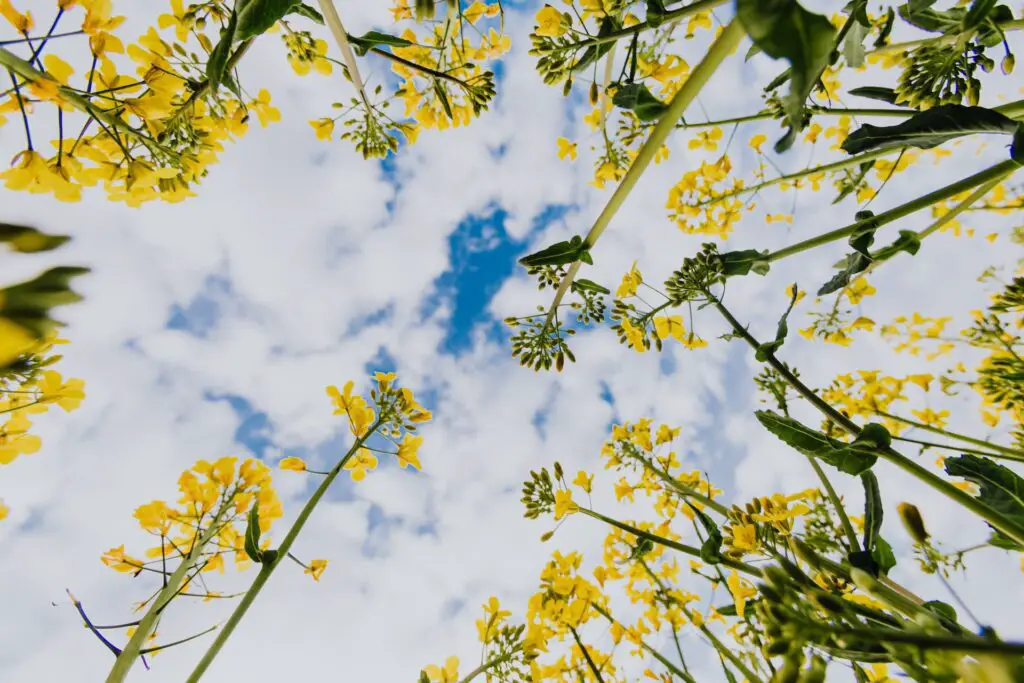 Add plants with fun, vibrant flowers that you can mix and match, like:
Chuparosa (Justicia californica)
Desert Marigold (Baileya multiradiata)
Apache Plume (Fallugia paradoxa)
California Poppy (Eschscholtzia californica) 
Desert Lavender (Condea emoryi)
If you have room for it, consider adding flowering shrubs or trees that will stand out among the desert landscape and add some energy to it! The best choices are wildflowers due to their low maintenance and bringing a lot of color without seeming overgrown.
Aloe Plants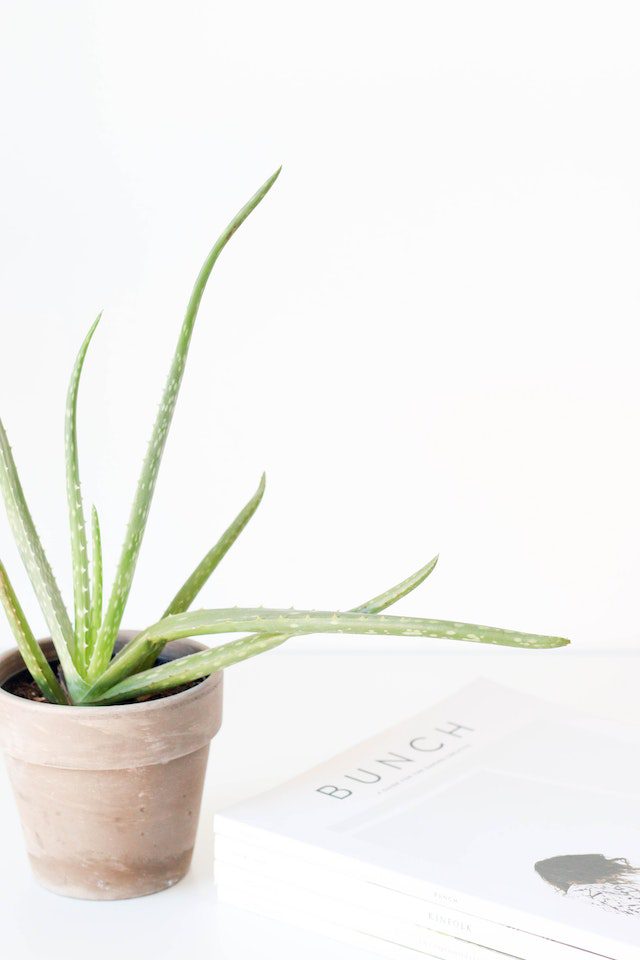 Aloe plants always add a beautiful touch to any landscape, and they're an inexpensive way to make your yard look greener and fresher! They are quite small, have a sleek, condensed look, and require minimal upkeep. Plus, you can use them for your health and beauty needs!
These tough succulent plants thrive on neglect and can even be grown indoors with artificial light. They look nice in a pea gravel bed close to the pathway.
Desert Plants Surrounding a Tall Cactus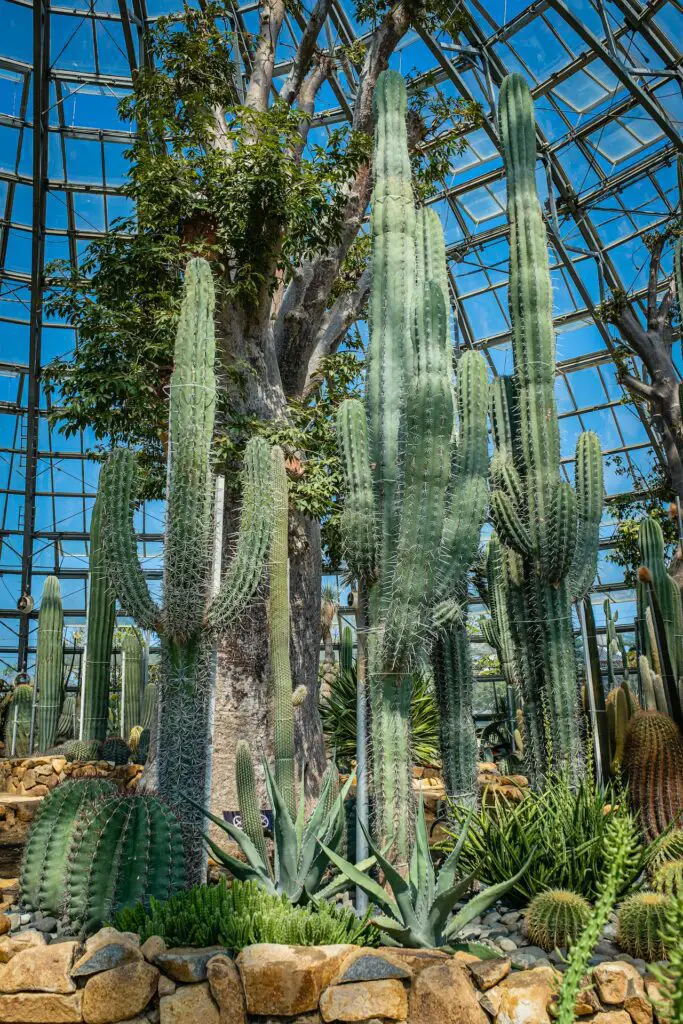 Cacti and succulents are both kinds of plants that thrive in dry, hot climates. But these aren't the only drought-tolerant plants you can put in your desert landscape! Deserts are ideal growing environments for small shrubs, grasses, desert trees, and many blooming species. They add interest and complexity when you place them close together due to their varying heights.
Big Boulders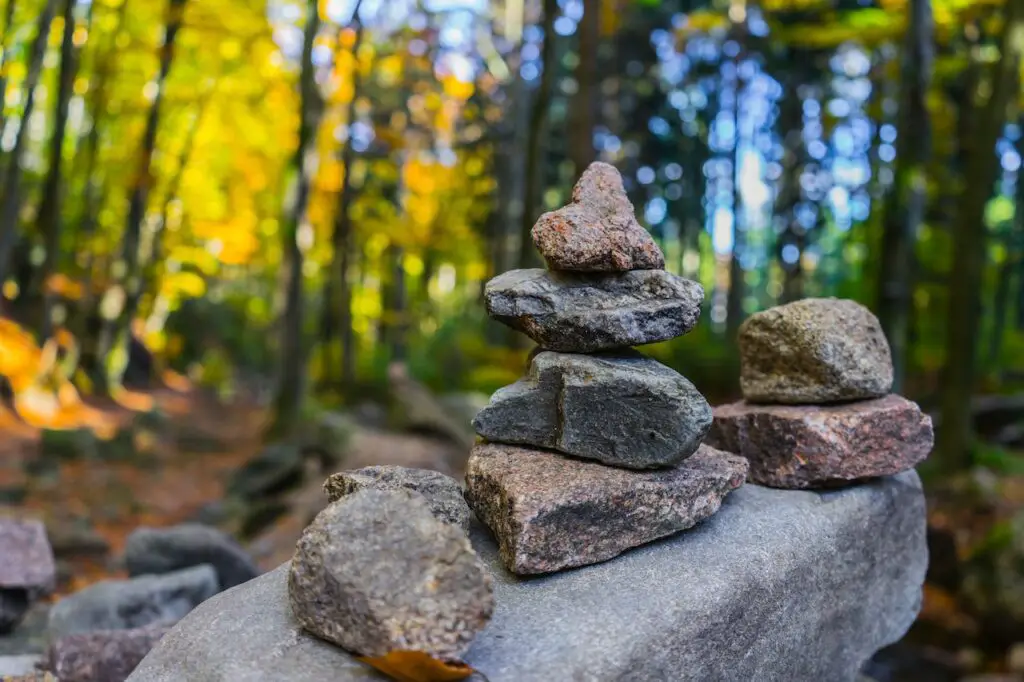 Large boulders (actually rock and boulders of any size) are a simple way to add a unique touch to your desert landscaping. They can be used as a focal point for your yard or garden, or you can use them as part of a larger naturalistic landscape. Moreover, you can position them in a way that creates an attractive walkway. Get creative with how you arrange your boulders—add some plants around them and enjoy the look!
Desert Landscape with Prickly Pear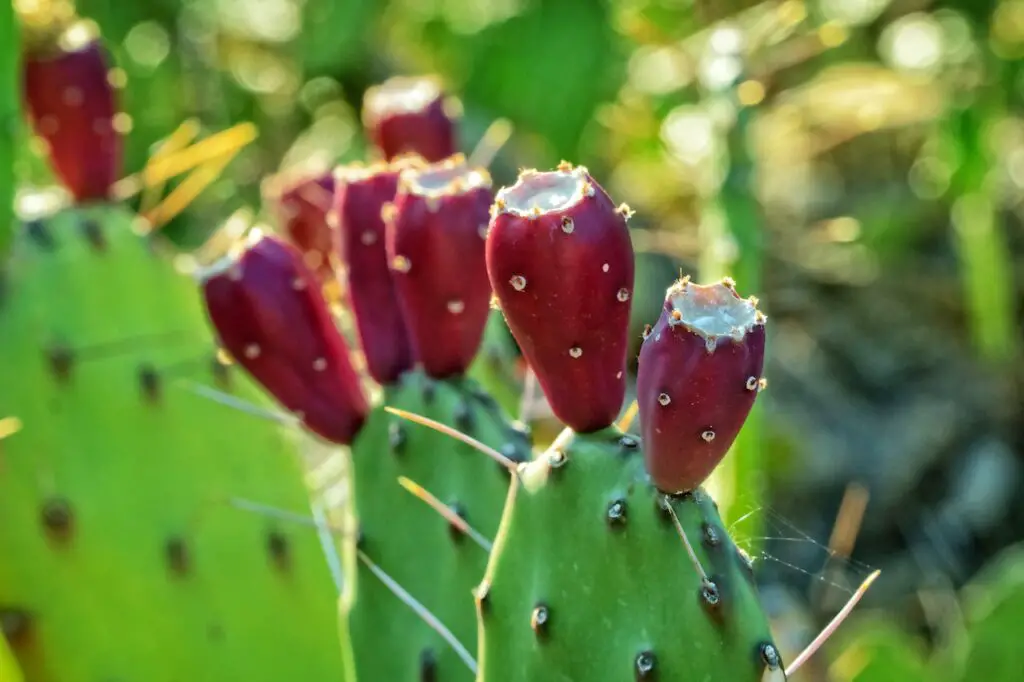 The prickly pear is a popular and versatile landscape plant that can be grown in many climates. If you have the space and sunlight to accommodate it, this is one of the best affordable desert landscaping ideas for your yard.
The prickly pear has showy flowers that bloom from spring through fall. Although they're not very showy compared to other flowers in your yard, they do have some pretty impressive characteristics:
It's drought-tolerant.
It's hardy in most areas.
It grows quickly.
It thrives in any soil type except sand or clay (though it will grow better with more nutrients).
Desert Garden Entertainment Spots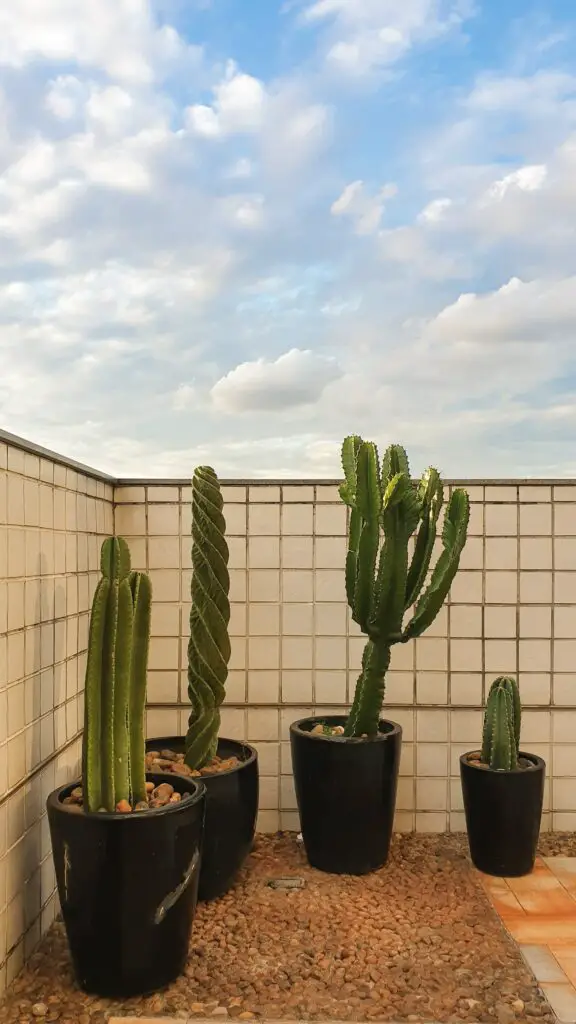 A well-designed desert landscape in the backyard is a great way to bring people together. These are spots where people can go for picnics, barbecues, and other activities.
There are many ways to make people want to stay longer and take pictures in your desert garden. You're pretty much set with a fire pit, fireplace, water feature, some furniture, succulents, and plant pots!
Texture and Structure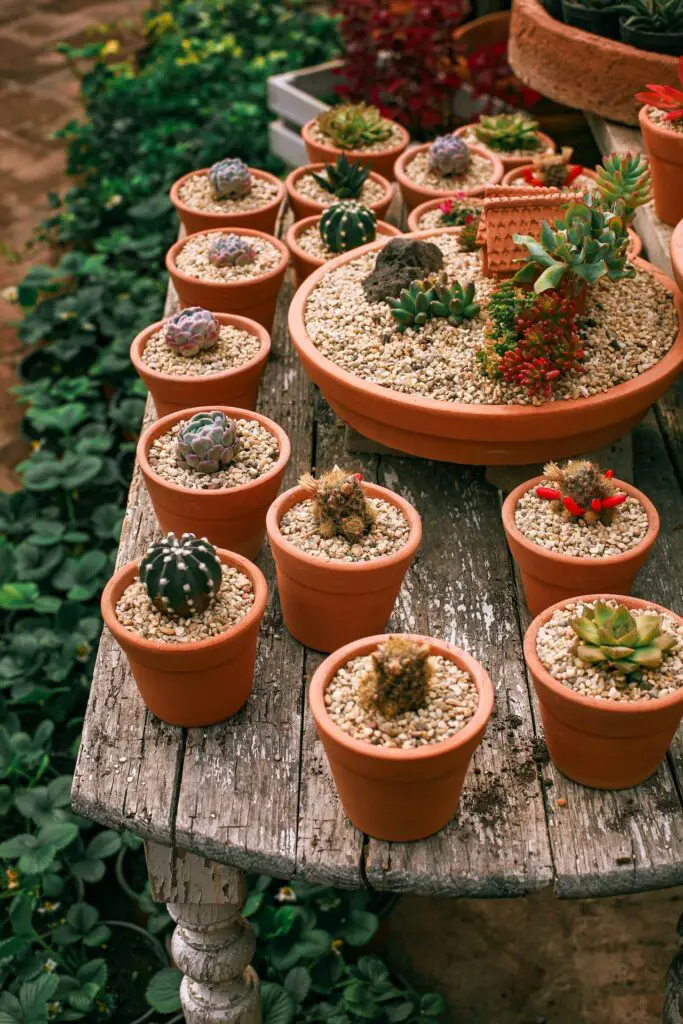 These are two of the most important elements to consider when making an inexpensive desert landscape. The texture is important because it helps to create depth, while structure provides a framework for plants and other materials to be placed in.
Texture can be achieved by using interesting cacti, such as the Golden Barrel Cactus, that gives a fuzzy look to the scene. And you can arrange multiple of the same plant in a uniform pattern. Meanwhile, the structure can be achieved through desert trees, saguaro cacti, gravel, and even rocks.
Desert Paradise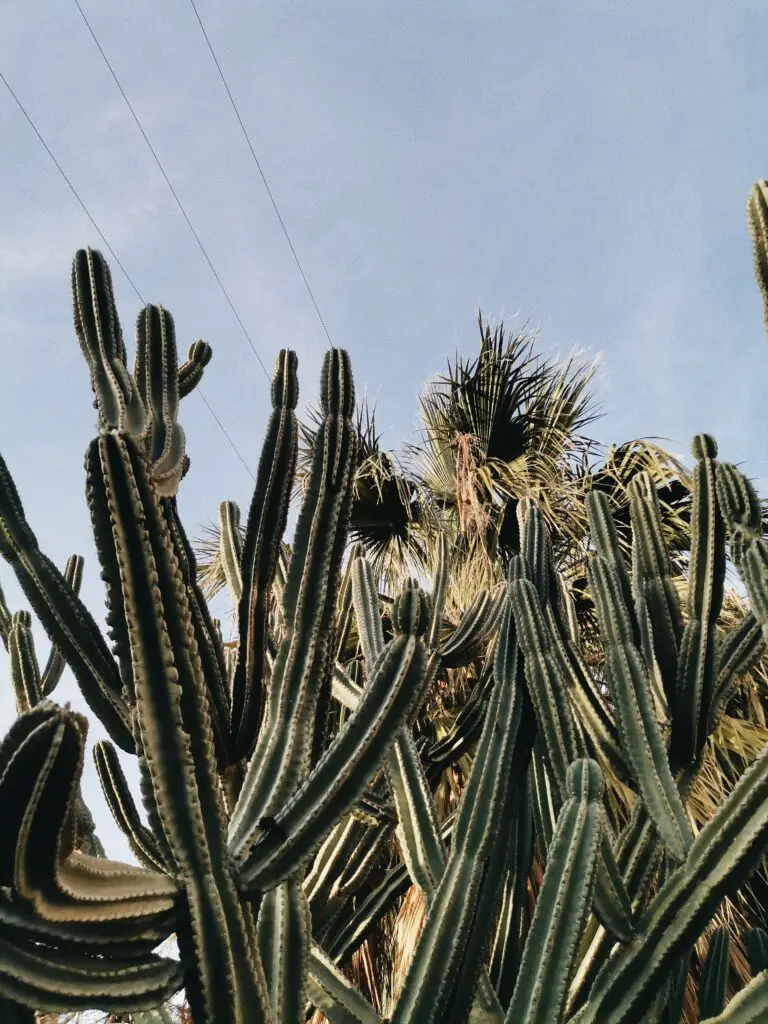 For the most economical desert paradise design, you might want to start with small plants and slowly develop your landscape over time. However, if you have a few bucks to spend, you may want to consider purchasing or transplanting larger plants to give your yard a jump start.
Agave and Cactus Arrangement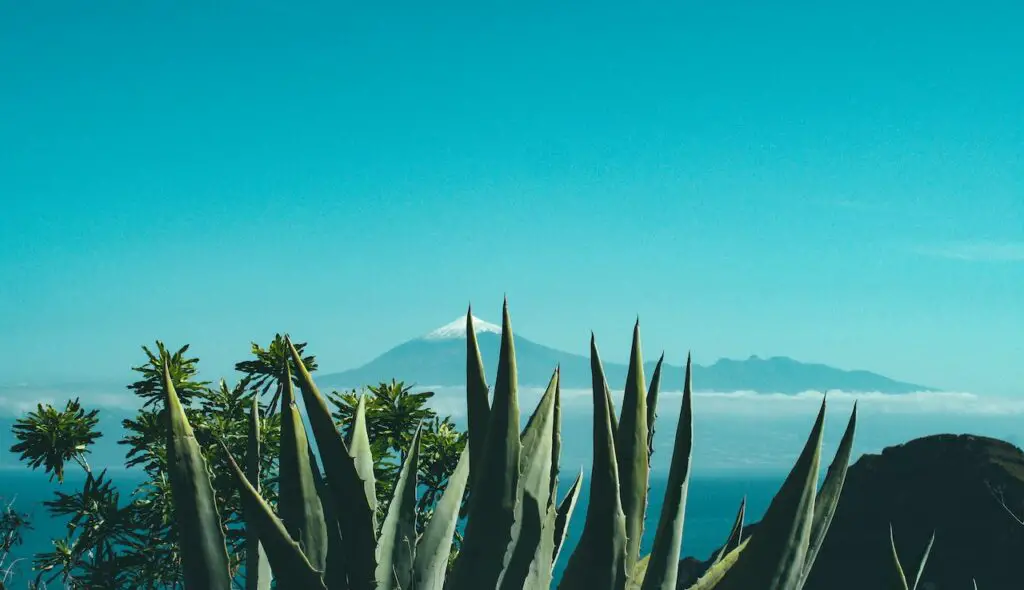 This is designed to exude desert vibes, with agaves and cacti arranged in a circle. It's simple and inexpensive but also pretty. This arrangement is perfect for a smaller space. It has the same feel as a traditional desert décor, but it's made up of only two elements. You can also add little accents like fabric flowers and cactus-shaped rocks around them to complete the look!
Rocky Garden Bed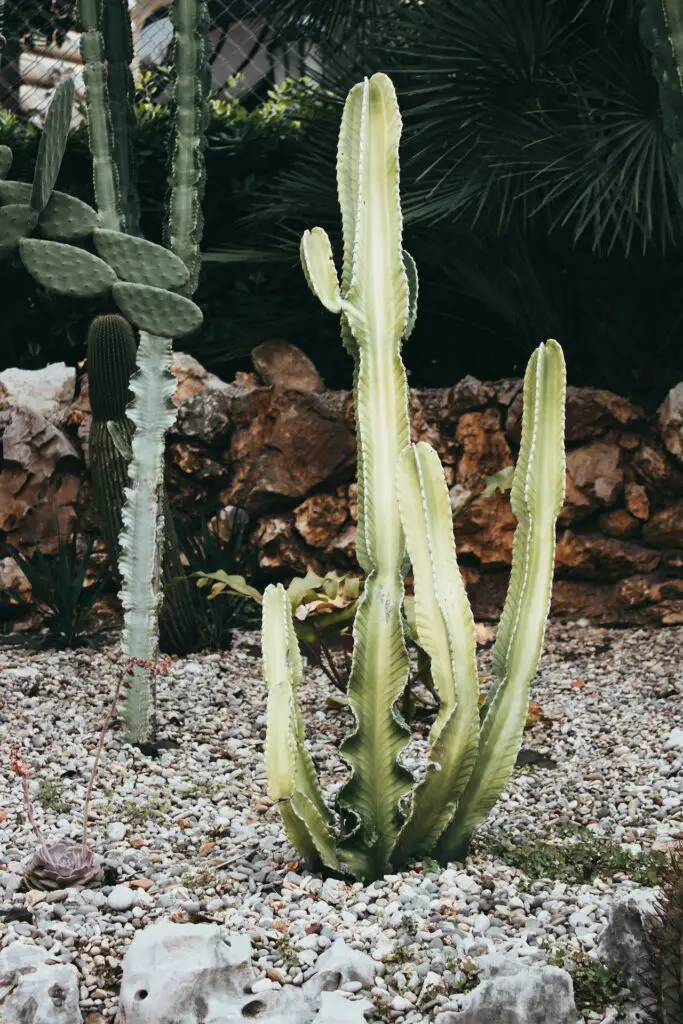 A garden bed with rocks is a cost-effective desert landscape idea you can apply to your front yard or patio, and it lends itself well to the urban landscape. It can be as compact as you like, which allows it to fit in small corners or gaps of your yard, and its design does not need high maintenance or frequent cleaning.
Xeriscape Hideaway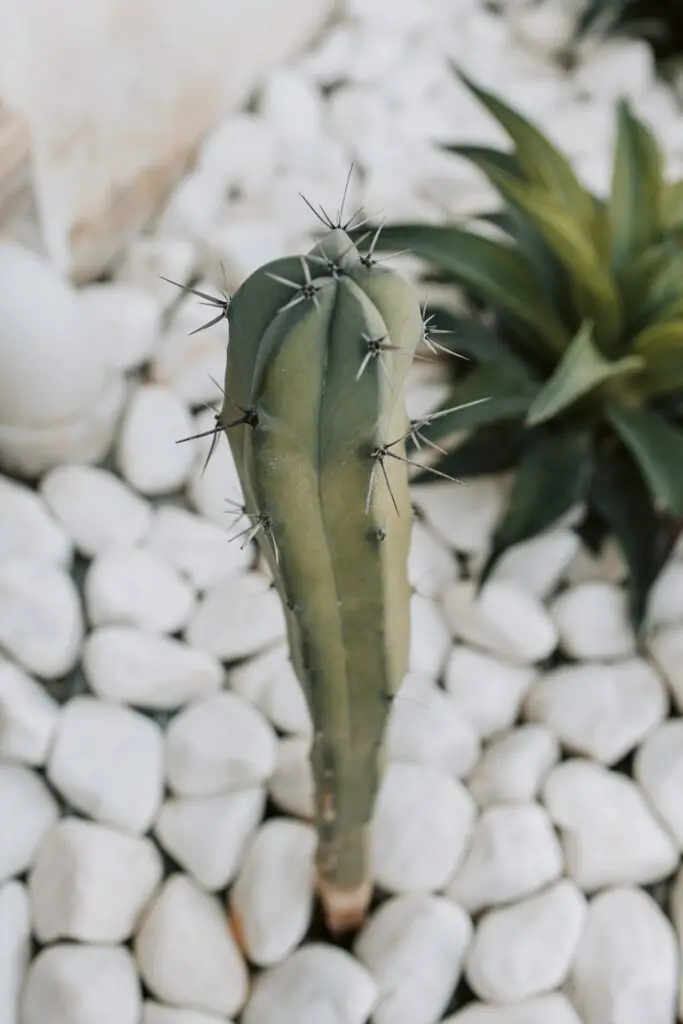 The word "xeriscaping" describes the practice of landscaping using rocks and pebbles as its primary building blocks.
The traditional Wild West-meets-Mexican atmosphere can be achieved simply by spreading pebbles and stones in groups or organizing them in patterns in your yard. Apart from that, having a large, open area in the backyard is usually a wonderful idea for summertime entertainment.
Palm Trees and Cactus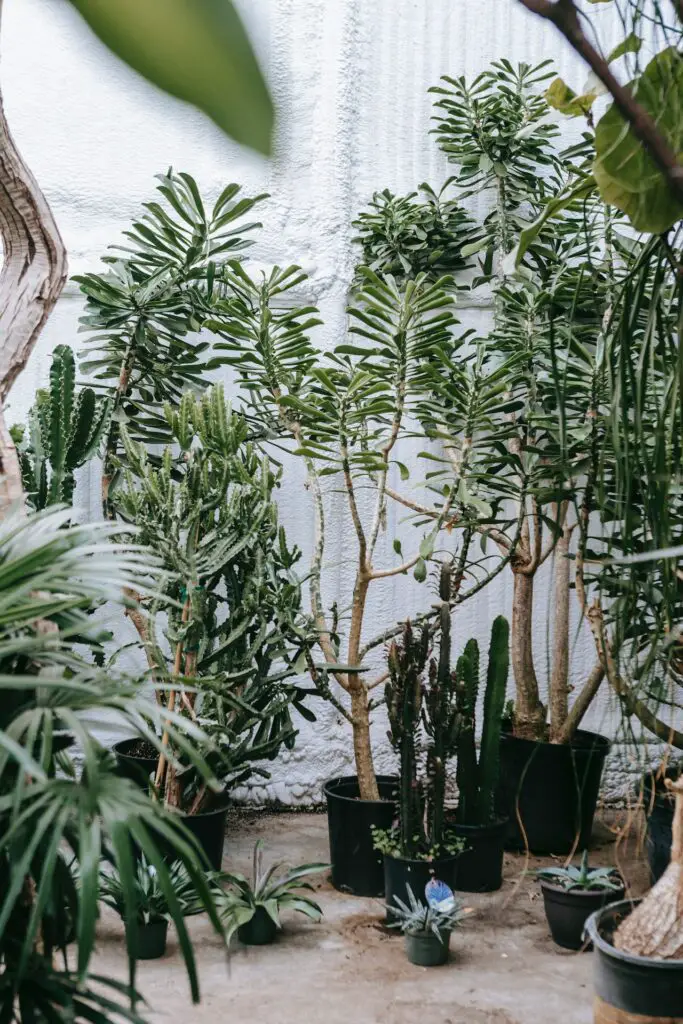 If you're looking for an inexpensive way to create a desert landscape, try planting palms and cacti. They look great together, but they also offer different benefits.
Palms add height and texture to any landscape. If your yard is sunny all day long, consider planting a smaller palm tree—or even just one with shorter leaves—to provide some shade in the afternoon or evening hours when it's hottest outside (and perhaps even at night). You must plant these plants in an area where they'll receive plenty of sunlight throughout the year so they'll thrive.
Cactus plants are great because they require very little maintenance once established in their new home. You can leave them in place without worrying about them being eaten by rabbits or squirrels.
A Border of Flowers
Drought-tolerant, showy flowers in beds and borders are a great way to add color to your space without spending much money. An inexpensive way to create a beautiful, simple flower border in the desert landscape is to use a single type of flower, like a Desert Sunflower or Barrel Cactus.
Ground Cover and Flagstone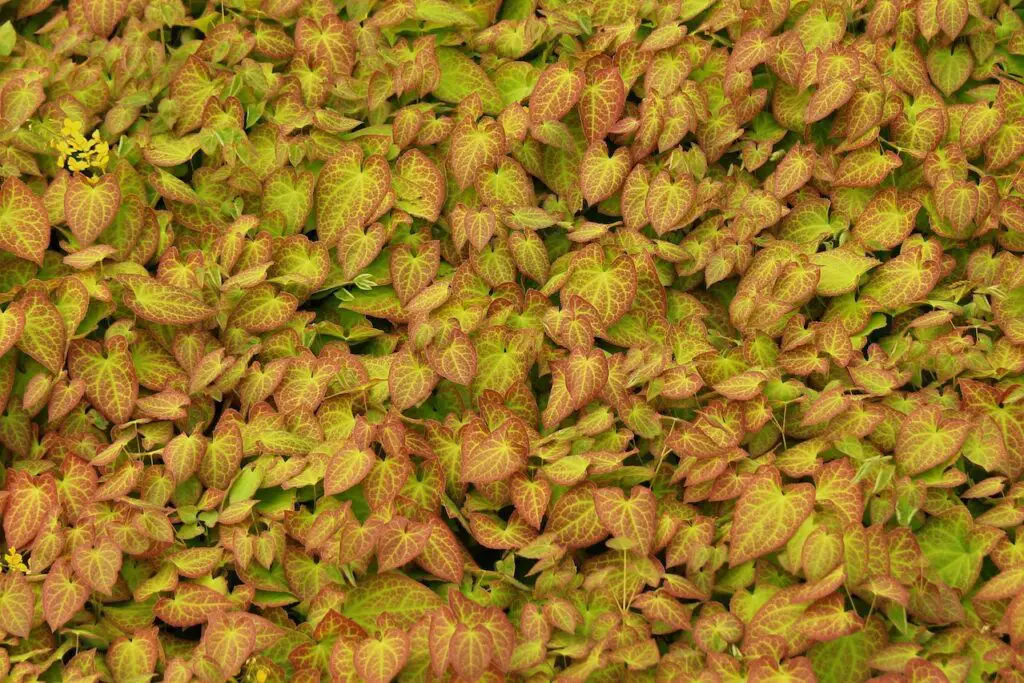 Ground cover plants are a great way to provide lushness and life in your desert landscaping, and they also add a lot of color and texture to your garden.
Whether you choose to put ground cover plants or not, flagstone is an excellent choice for your desert scape. This stone provides a unique look that will tie everything together.
You can add flagstone pavers over pea gravel to stretch your path to the street. Sedum and Creeping Thyme are both drought-tolerant ground covers that you can use to fill in the spaces between the flagstones.
Drought Tolerant Trees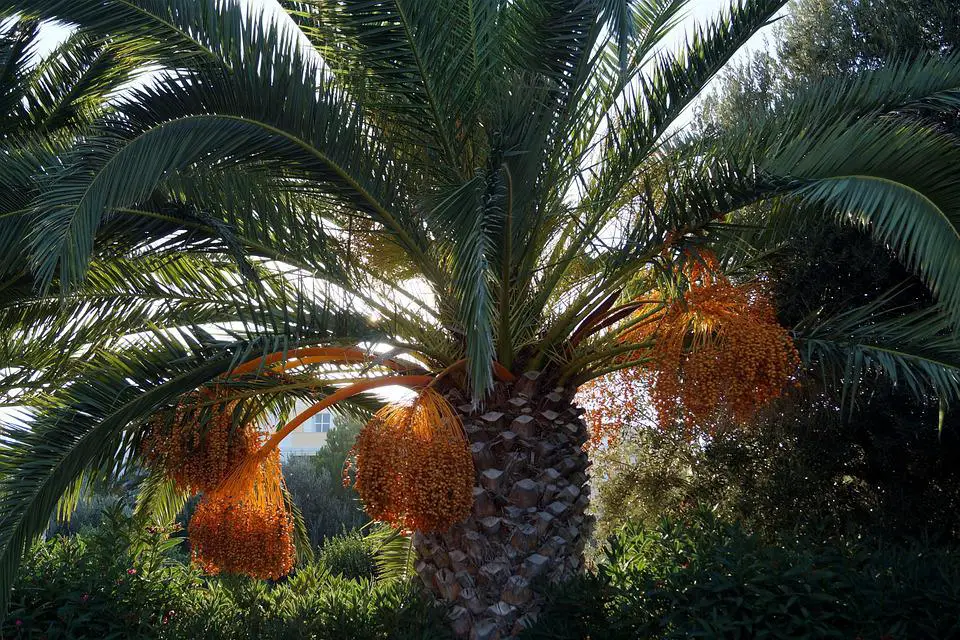 A Saguaro can act as the yard's centerpiece in the sunshine-laden desert landscape. Here are a few trees that thrive in dry environments and sandy soil:
Date Palm (Phoenix dactylifera)
Joshua tree (Yucca brevifolia)
Sweet Acacia (Vachellia farnesiana) 
Forman's Eucalyptus (Eucalyptus formanii)
Boojum (Fouquieria columnaris)
Conclusion
I realize that buying plant material for your desert garden may not be the most economical approach, but who says you need to buy all of this stuff? It is often possible to transplant a variety of plants into your yard from free sources, such as friends and family who may be in the same environment and may have already established beds that need some thinning. Also, if you get a bit creative, you can usually find some free spots to get rocks and plants.
REFERENCES
https://cals.arizona.edu/yavapai/anr/hort/byg/archive/buffalograss2013.html
https://www.sciencedirect.com/science/article/pii/B9780128000182000121
https://libguides.nybg.org/snakeplant
https://www.ncbi.nlm.nih.gov/pmc/articles/PMC2763764/
https://extension.unr.edu/publication.aspx?PubID=2157
https://greenhouse.biology.indiana.edu/features/cacti-succulents/Agave-americana.html
https://edis.ifas.ufl.edu/publication/EP473
https://www.bellarmine.edu/faculty/drobinson/Sedum.asp
https://gardeningsolutions.ifas.ufl.edu/plants/trees-and-shrubs/trees/sweet-acacia.html