Front yard potted plants can look stunning and inviting, creating a lovely atmosphere for the landscape. Even the most common flowers and foliage can look sophisticated when you thoughtfully arrange them in their suitable pots.
Potted plants are simple features that can do so much for the beauty of the front yard. You can place the pots, containers, or even recycled old objects in certain spots to add glamor or hide something.
What can I do to make my front yard appear beautiful with potted plants?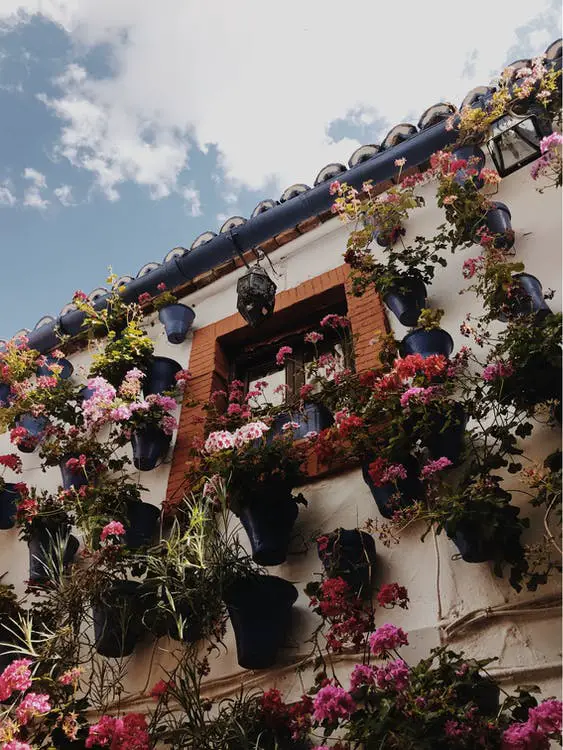 Potted plants bring color, depth, and intrigue to your front yard. Choose your plants like you would interior decor or artistic displays when designing the front yard. Colors and forms should blend and contrast with their backdrop to create interest.
Using potted plants to embellish your front yard requires very little effort or skill. In fact, utilizing pots or containers for your plants gives you the ability to make choices and then change your mind a moment later. Potted plants are very easy to arrange and re-arrange as you see fit.
Your landscape can have a different look every day if you take a bit of time to re-arrange your potted plants.
There are many ways to make your front yard look amazing with potted plants.
Potted Plant Landscaping Ideas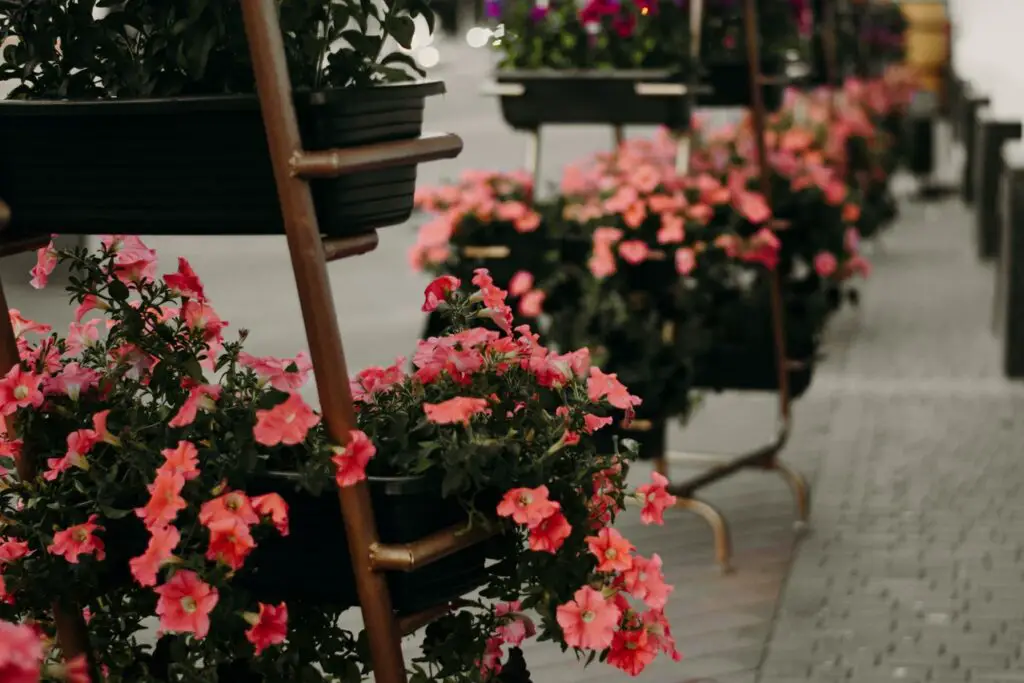 These are our top front yard potted planting ideas to spruce up the space that should make a great first impression.
Lovely Potted Plants by the Window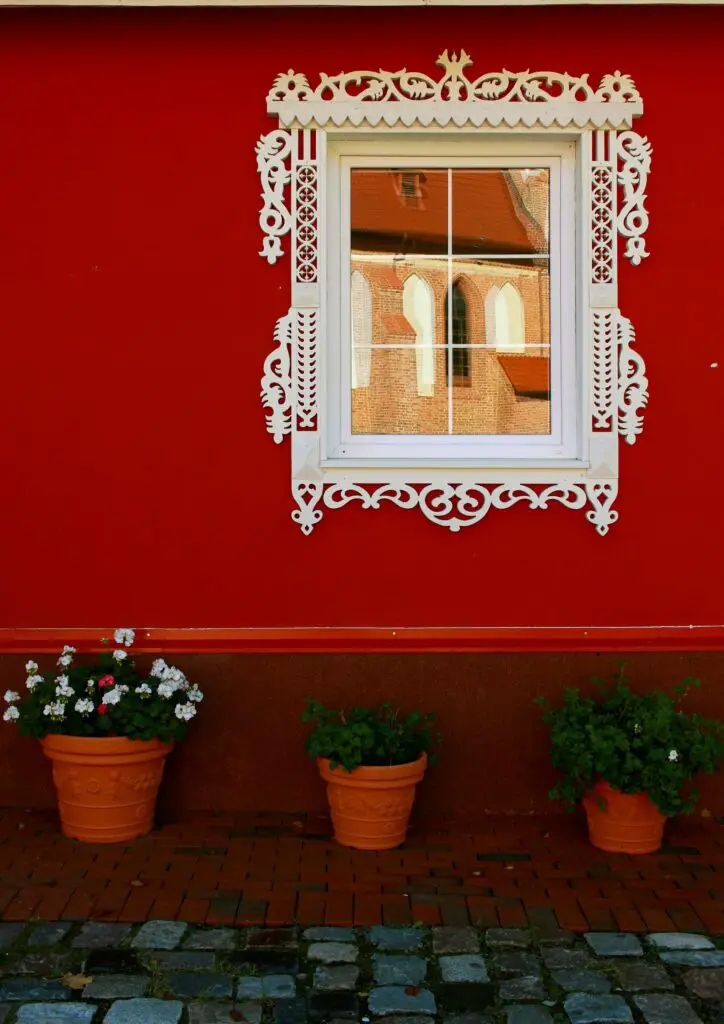 The window might be the number one spot in the front of the house where you can place potted plants for decoration. In France, they like to put flowers in containers to beautify their windows, which adds a romantic vibe.
Sometimes, people use planter boxes with drainage holes at the bottom, while some like to use hanging baskets for a more modern appeal.
Front Door Plants in Pots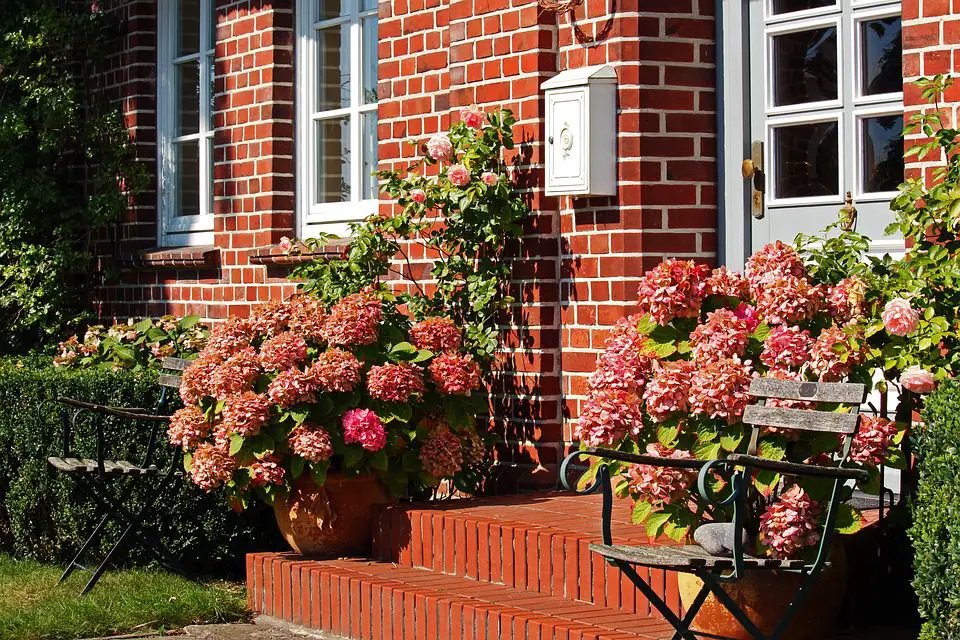 Even if your front door is right on the sidewalk, or if you don't have much room or want to spice up your front door, using containers to frame your entry point is a terrific option. One method is to place a relatively large planter on each side of the front door.
Another great option is to use various-sized pots only on one side of the door to create a bit of contrast and imbalance.
Size matters as well. The size of the plants and containers should relate to the size and scale of your home and the front entrance. A big house with a grand entrance might need potted small trees or large shrubs, while a small cottage might need some delicate annual flowers.
Keep in mind that your potted plants need proper watering, especially when the weather is hot. No matter what type of pots or plants you use, the fact that they are raised up out of the ground will always cause them to dry out more quickly than a plant in the ground.
Potted Plants of Assorted Heights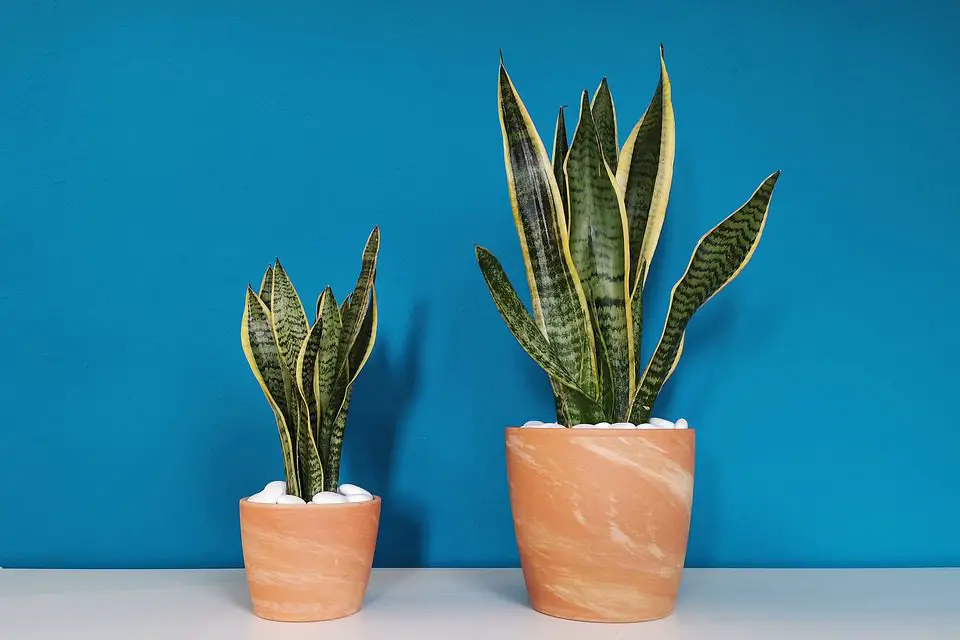 You certainly can take advantage of the variety in plant and container sizes. Consequently, you'll have a proportional-looking, harmonious display that's easy to modify when you feel like it. Taller plants can add vertical interest, while shorter ones allow the arrangement not to look too crowded.
Use a Single Potted Plant as a Focal Point in the Front Yard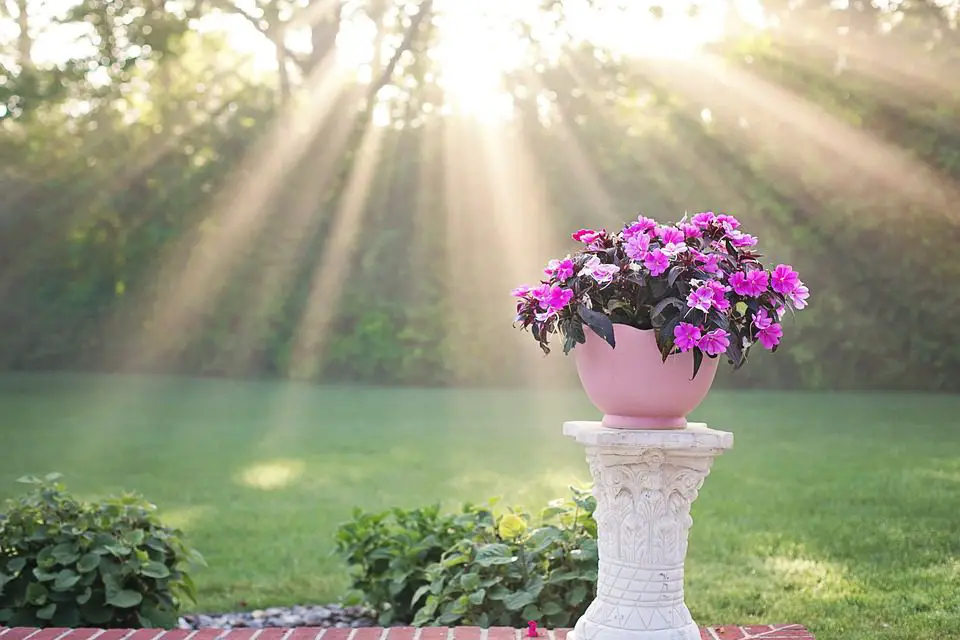 Sometimes you need a statement piece in the front yard. You can easily do that by placing your favorite potted plant near the front of the house. It can be a showy, brightly colored flowering plant or a shrub with unique foliage that stands out from the rest.
This also works pretty well if you don't have an abundance of plants in the front area of your home but you want to start building up your softscape.
Potted Flowers as Garden Furniture Decor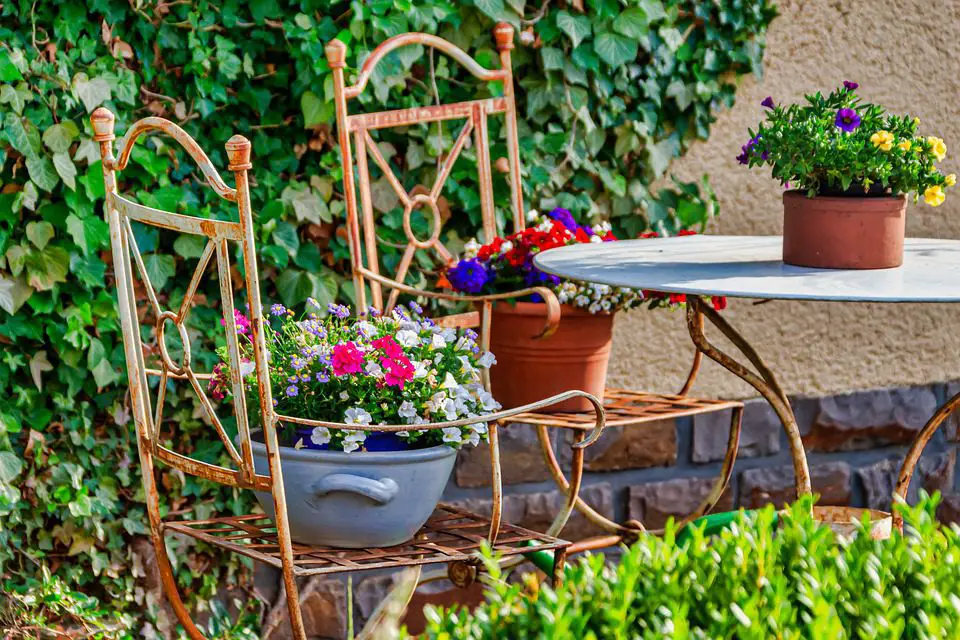 Plain outdoor furniture in the front yard could use extra help from potted ornamental plants. A couple of well-placed potted plants can add interest to a boring space. These rarely used tables or chairs outside might be the ideal stage for some artistic expression (using plants).
Even a single, well-placed potted flower at the center of the table can elevate the look of your setup. The design may be done in a variety of ways. For the most significant effect, use flowers in a single shade. Alternatively, combine different plant varieties, blending erect varieties with ones that overflow to the sides.
Square Planters (or Other Shapes)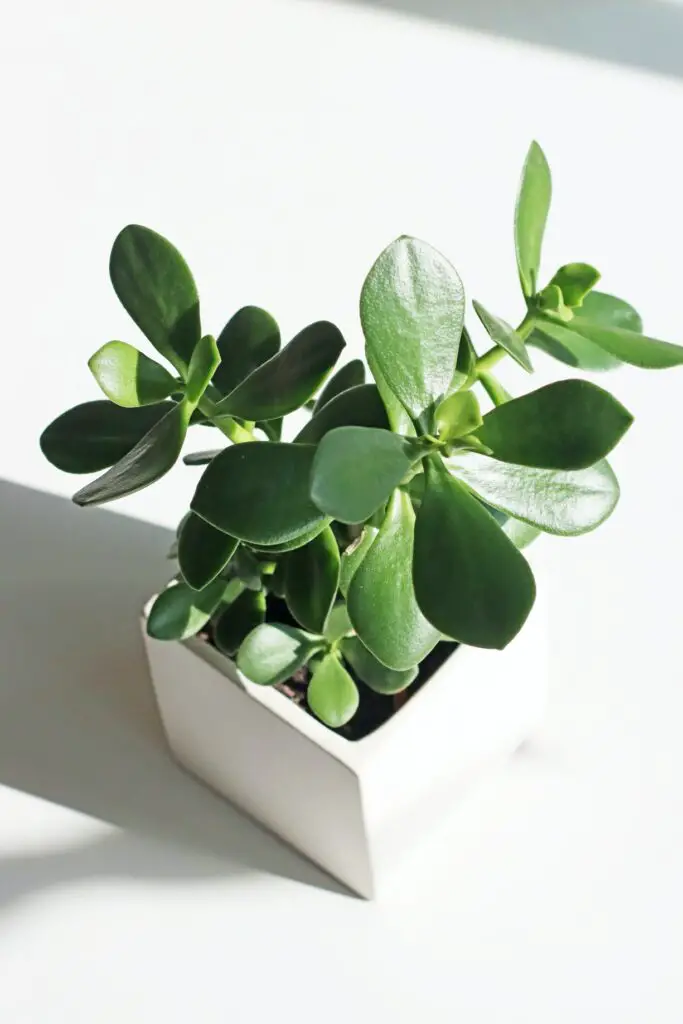 It's rare to see non-circular pots, and however, the aesthetic of square and rectangular containers, especially in a modern-themed home, is pleasing to the eye. If you decide to go that route, choose a single basic color (such as black or white) for all your pots, and it will make your front yard look more stylish and uniform.
Lined Up Terra Cotta Pots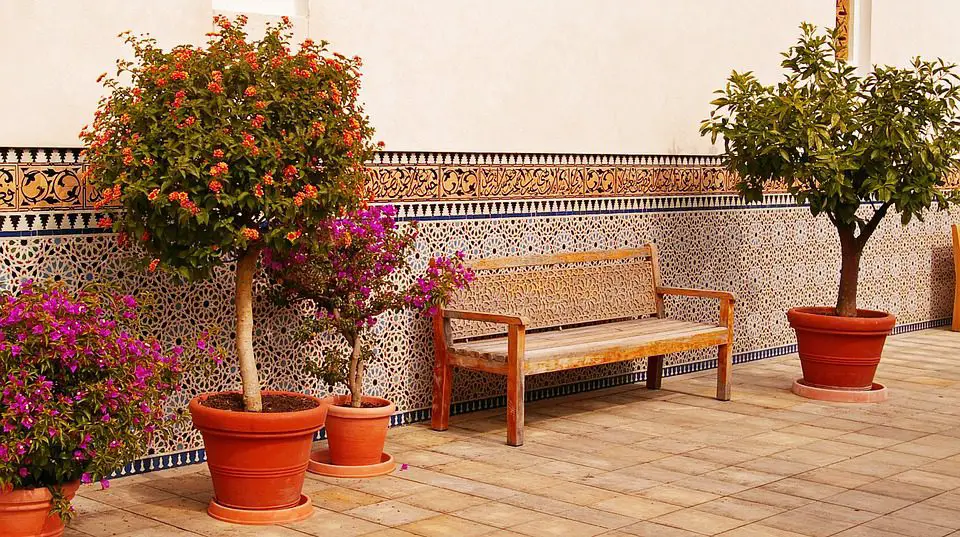 If you're inspired by the Mediterranean landscaping style, using terra cotta pots for your front yard landscaping will do wonders for you. Terra cotta pots create a classic, sophisticated look no matter what plants you put inside them. Put several of these pots together to create a stunning, Mediterranean vibe and add definition to your front yard.
Small Front Yard Trees in Pots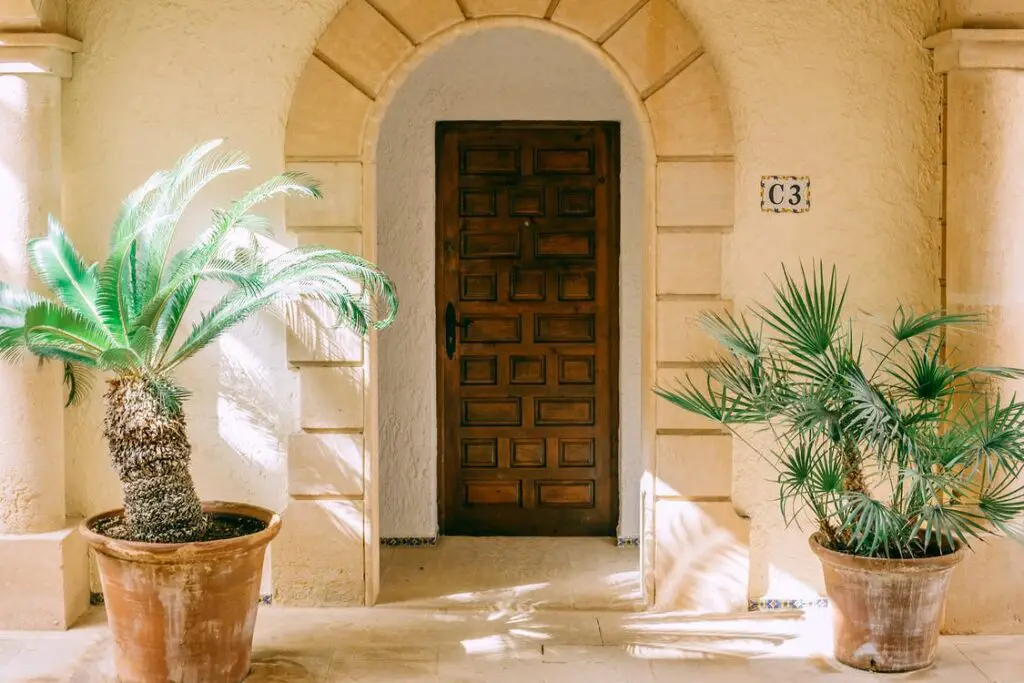 Small trees in the front yard already look lovely by themselves. However, the addition of a few beautiful pots provides complexity, structure, and vibrance to the most important space in the landscape. A couple of potted trees framing the door is a favorite of landscape designers everywhere. Pick a shorter tree (or a tall shrub) with a modest, controlled growth rate when planting a tree near your front door.
Recycled Plant Containers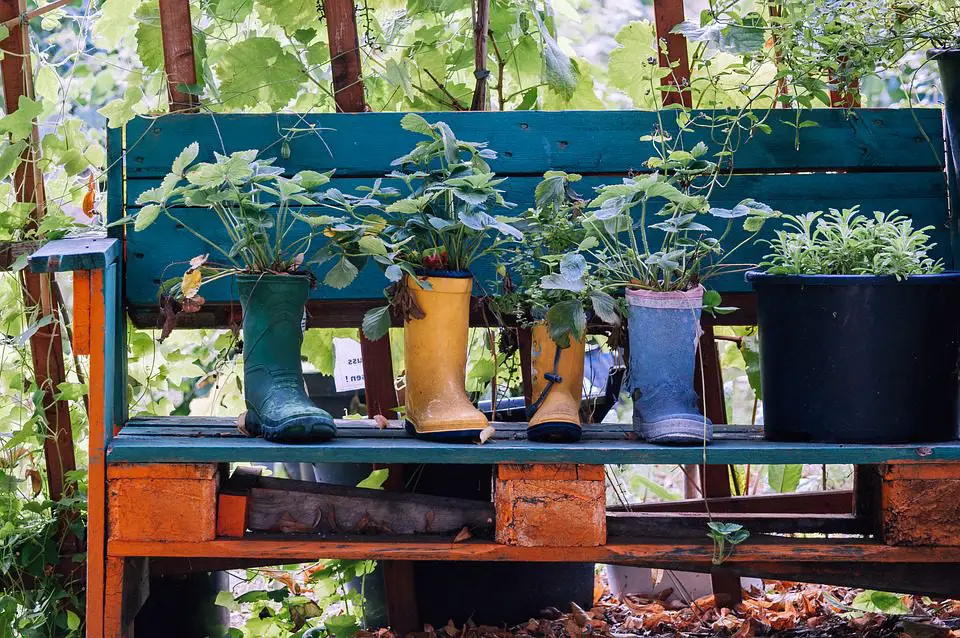 Here's an easy landscaping idea for the front yard: incorporate vintage pieces as plant containers for a picturesque and personal touch. You may repurpose old items by painting, fixing, and personalizing them. 
Recycling reduces oil consumption, CO2 emission, and the amount of garbage that must be disposed of. You're doing your part to minimize waste by not buying more pots for your plants by recycling.
Use Pots for Borders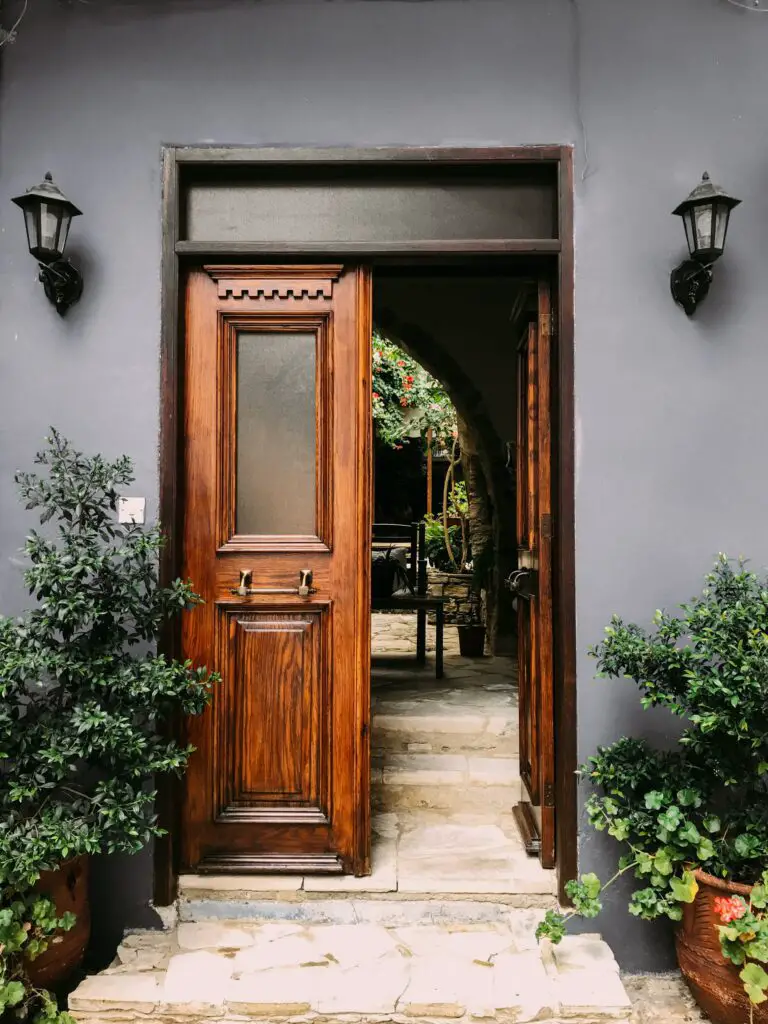 You may designate a border for your pathway with a few terracotta plant pots, a neat yard design choice that you can change as you please. It doesn't matter if it's a simple line of potted herbs or a vibrant display of flowers. You're good to go as long as you don't choose plant pots that are so big that they occupy most of the space or so tiny that they fail to make an impact.
To Conceal Unpleasant Sights, Use Containers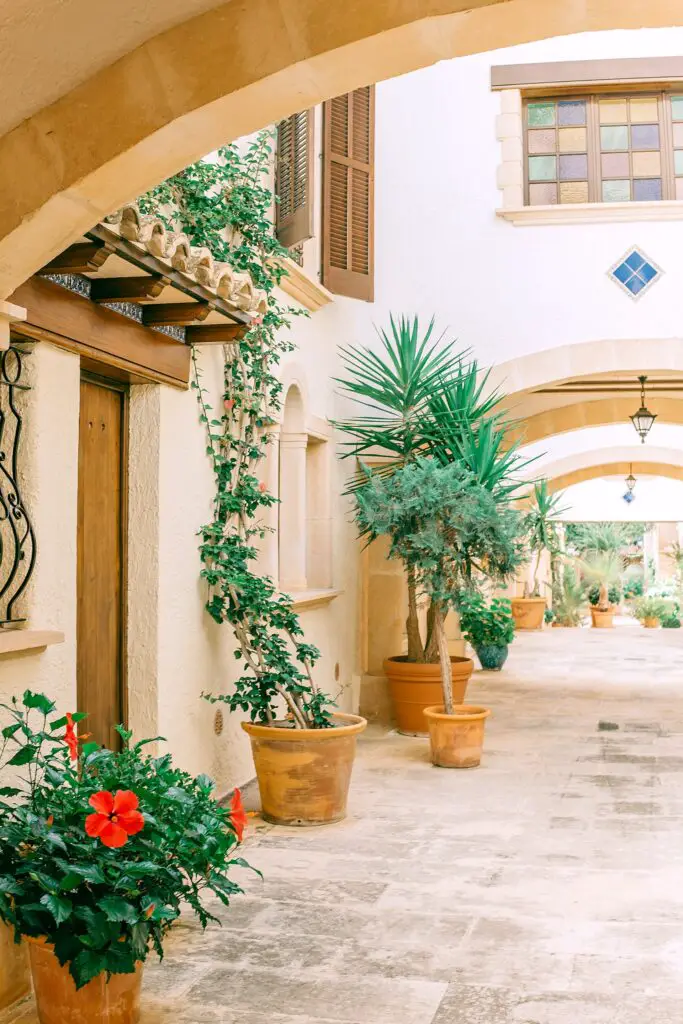 Another use of plant pots in landscaping is for hiding outdoor eyesores. For instance, you're looking to hide the air conditioning unit or the utility boxes. Choose fascinating plants to decorate critical sections of your yard. You can place trailing plants like petunias coupled with plants with lush foliage, such as Hostas. It's a smart way to turn something unsightly into something chic.
Potted Succulents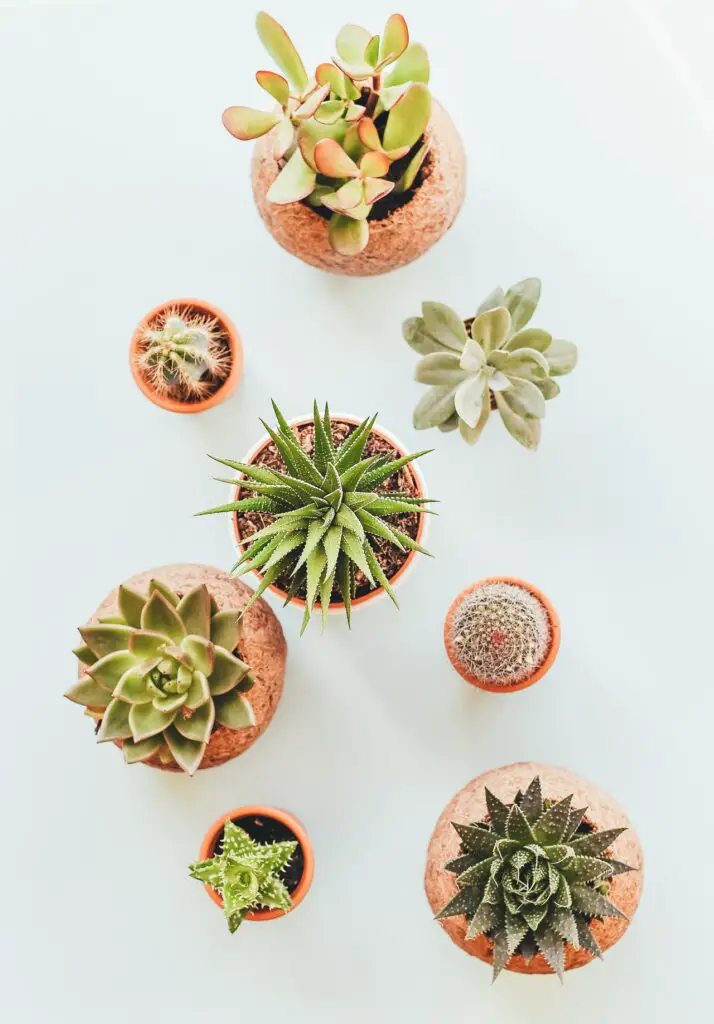 Use pots with a basic form and a simple, single-colored surface that complements the succulent plants' interesting, symmetrical shapes. If you like a well-coordinated landscape design, ensure that the appearance of the pots conforms with the front yard's style. The best thing about potted succulents is their extremely low maintenance.
Conclusion
Planting in containers is easy to do and can easily ramp up your landscape's creative look and feel. Treat yourself to any easy landscape upgrade by buying a few new pots and a few flats of your favorite annual flowers. These and a bag of potting soil, and you will be well on your way to a new landscape look. Don't forget the garden hose because those plants will need to be watered regularly.
REFERENCES
scienceline.ucsb.edu/getkey.php?key=4718
https://bio.libretexts.org/Bookshelves/Introductory_and_General_Biology/Book:_Introductory_Biology_(CK-12)/09:_Plants/9.10:_Flowering_Plants
https://doi.org/10.1016/j.sbspro.2016.10.238
https://www.jstor.org/stable/27654149
https://www.ncbi.nlm.nih.gov/pmc/articles/PMC2873020/
https://www.frontiersin.org/articles/10.3389/fpls.2016.00072/full
https://pss.uvm.edu/ppp/articles/growhostas.html
https://extension.wvu.edu/lawn-gardening-pests/indoor-plants/succulents-101